Balancing school and family can be a very difficult thing to do, but Alayna is able to do both and still look great while doing it. She rocks her casual style and is an inspiration to all college students and new mothers.
Alayna 101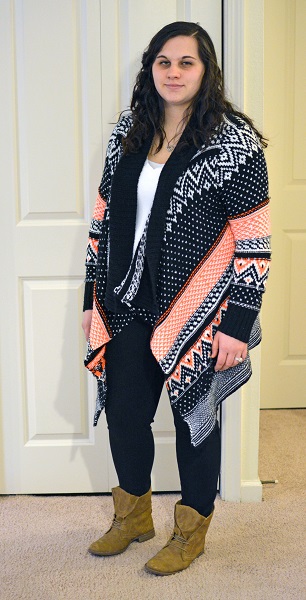 Name: Alayna
School: Parkland College
Year: Freshman
Major: Nursing
Let's Talk Fashion
Where do you like to shop? "Places with good deals."
How would you describe your sense of style? "Comfort, because I am a new mommy and time is very limited on getting ready. I just go with the flow with whatever is clean in my wardrobe."
Why did you choose this particular outfit? "I'm wearing these pants because they are the only ones that fit right now, and the cardigan is really comfortable and I love the color of it."
What fashion advice would you give to other students looking to improve their style? "Just go with the flow and wear what makes you feel beautiful."
What are your favorite trends right now? "I love cardigans right now. They keep me warm during the below freezing weather and they are cute, too."
What do you do for fun – do you have any unique hobbies or interests? "Taking care of my newborn boy is what takes up most of my time right now."
If you could raid anyone's closet, who would it be and why? "Aria from Pretty Little Liars. I love her clothes. I just really like the different styles that she has in each episode."
Elements of Alayna's Outfit
1. Patterned Cardigan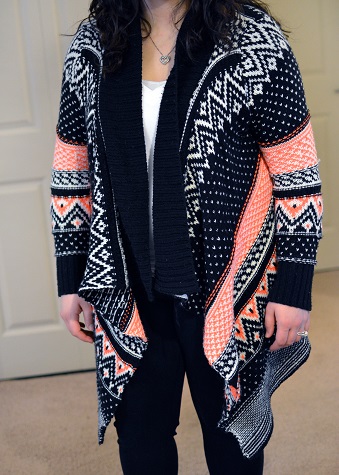 Alayna's black-and-white ensemble is spiced up with this fab patterned cardigan, which also adds a bold pop of color to her look. Alayna is a busy new mom, and this comfortable sweater helps her stay cozy and warm on those chilly spring days.
2. Boots
Alayna's cute boots are from Shoe Carnival. These boots help to dress up her comfy and casual outfit. The light brown color contrasts against her black pants, and that really makes the outfit pop.
What do you think of Alayna's outfit?
Would you wear this look? What do you think of her booties and cardigan? Comment below and share your thoughts!