I first stumbled upon Christine's old-world style on Instagram and soon realized she was in Oxford too! I wasted no time arranging to interview her, as I'd been admiring her cute clothes for a while and couldn't wait to see what she had to say about her fashion inspirations.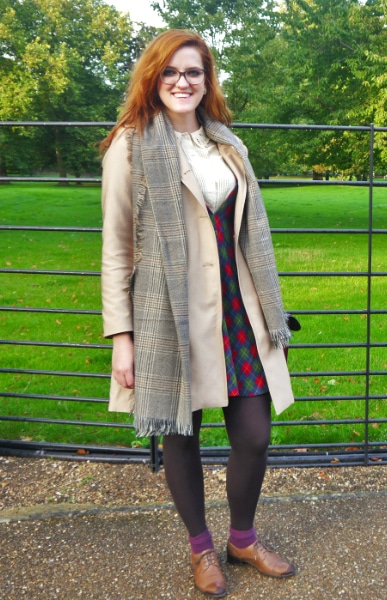 Christine 101
Name: Christine
Hometown: Thüringen, Germany
School: Technische Universität Dresden
Year: Third Year
Major: Art History with a minor in English Studies
Let's Talk Fashion
What inspires your style? "I'm a huge fan of Great Britain, so I buy a lot of clothes [here], and I love checks and tartan, as well as cute collars. I think a lot of blouses and shirts look much cuter with a nice Peter Pan collar, like this one with the flowers. However, I also have to pick outfits that are comfortable all day long, so I don't wear trousers very often. I prefer tights and dresses or skirts with blouses. I want to look comfortable, but also serious, because I'm a tutor and want to look professional."
What inspired your choice of outfit today? "Trench coats are perfect for fall, especially on rainy days like today. Otherwise this is just a normal look for me; it's casual but still professional enough for the gallery where I'm working right now."
What advice would you give to students who want to improve their style? "A lot of students at my university only wear sweats, which is quite scruffy, and I believe you should dress for the job you want, and not the job you have. I'm not a professional or even a perfect student, but I try and dress to be one regardless."
If you had $1000 to spend on one piece of clothing, what would you buy and why? "I would buy a Burberry trench coat because I love the brand and adore their whole collection, even their oxblood lipsticks. But the trench coats are so classic and so British, so I would spend all my money on one of those!"
If you could go anywhere in the world to shop for clothes, where would you go? "That's quite a hard question. Probably Harrods in London!"
If you could raid anyone's closet, whose would you choose? "Maybe the characters in Jane Austen's novels! I love Georgian style."
Why do you love British fashion? "I love it because it's very traditional, and here – much more so than in other countries like Germany – you dress up a bit even in daily life, which just doesn't happen in Germany, where style is much more casual. I don't think you have to save all your effort just for formal events. Why walk around looking like you spend all your time on the couch?"
Elements of Christine's outfit
1. One Standout Piece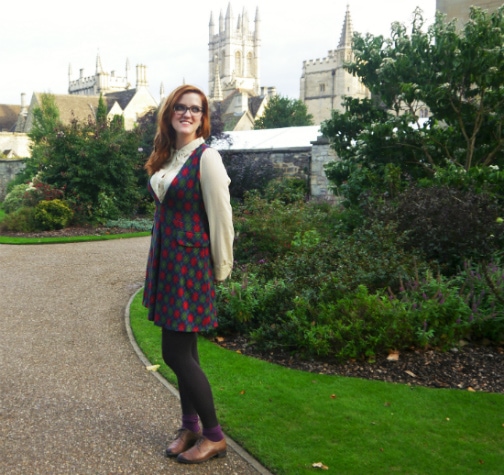 Many newcomers to fashion worry about wearing bold prints, as there's a risk of overpowering your outfit with too much busy-ness. Christine shows us the right way to wear a bold print. She makes her printed dress the focal point of her look by keeping everything else neutral.
2. Detailed Collar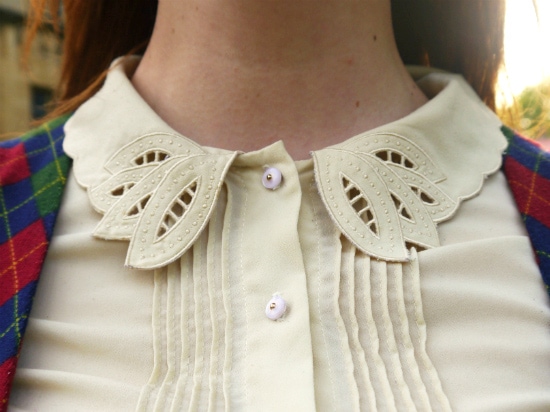 Christine is a big fan of interesting collars and even makes her own! This is not quite a Peter Pan collar and not quite a pointed flat collar. The flower detailing makes it truly unique, giving the whole outfit a vintage vibe. Detachable collars are a cost-effective way to customize an ordinary garment and make it your own.
3. Neutral Accessories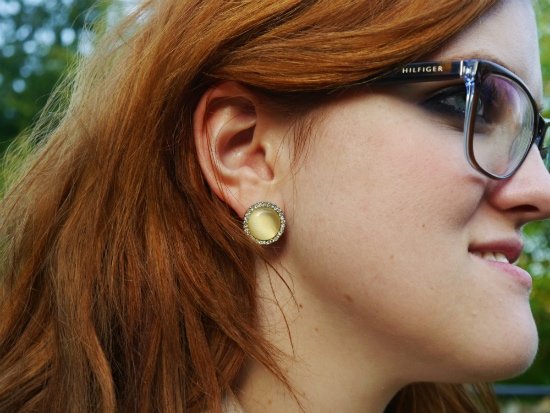 No outfit is truly complete without accessories, and Christine once again demonstrates that less is more. These vintage-inspired costume earrings pop next to her red hair. Her tortoiseshell Hilfiger specs blend in effortlessly while still lending the look a studious air.
4. Versatile Watch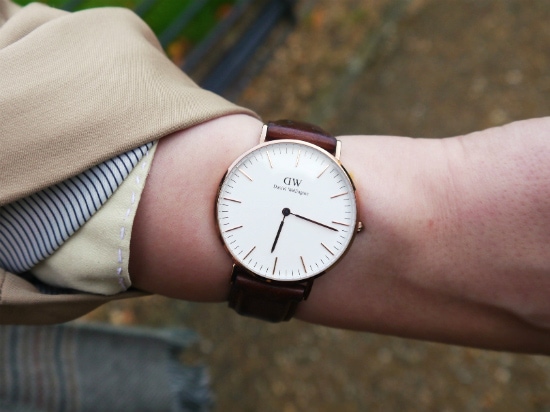 Christine's Daniel Wellington watch, a firm favorite of Instagram celebrities, is striking enough to catch the eye but not obtrusive enough to distract from the rest of her outfit. Gold and brown are classic colors and an excellent choice for anyone shopping for a timepiece.
5. Cambridge Satchel (with a personal touch)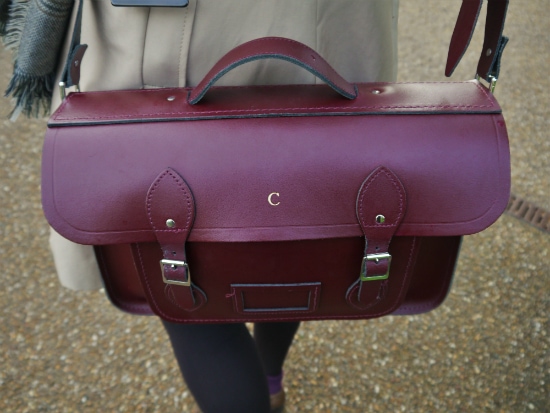 Come to Oxford during term time and you'll spot a Cambridge satchel in every corner. There's a reason that these bags are so popular: They're excellent quality and hold up to years of carrying books from the college library. Christine's was a gift and has her initial on the front. This gorgeous oxblood color is a bold but classy choice and would be suitable for both student and professional life.
6. Classic brogues with a colorful twist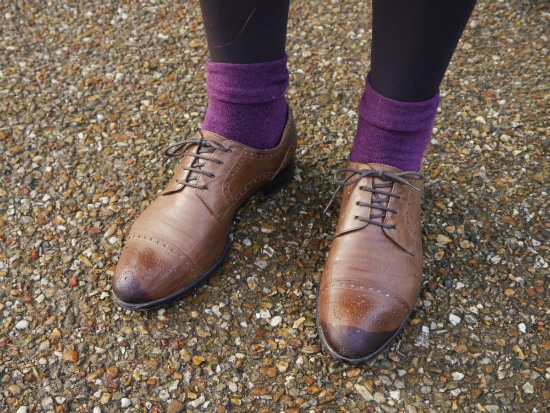 Christine's brown shoes beautifully complement her other neutral pieces, while her plum socks keep her warm and link her satchel to the rest of the outfit. These choices pull her whole look together in a very deliberate way.
If you're interested in seeing more of Christine's romantic British style, follow her blog at http://www.teabooksandtweed.co.uk/ or her Instagram at @tea.books.and.tweed.
What do you think of Christine's style?
Do you love her English-influenced taste in fashion? Do you ever wear brogues? What elements of her outfit are your favorites? Comment below and share your thoughts with us!