It's miserable, dark, and foggy in Britain right now, so when I spotted Jasmine walking to the bus stop in her splendidly cheerful tights, I absolutely had to approach her.
I live in East Oxford, which is an amazingly diverse area populated by students of both the University of Oxford and Oxford Brookes University, so it's perfect if you've got an eye for quirky fashion. With that in mind, I had the chance to ask Oxford Brookes student Jasmine a few questions about what style means to her.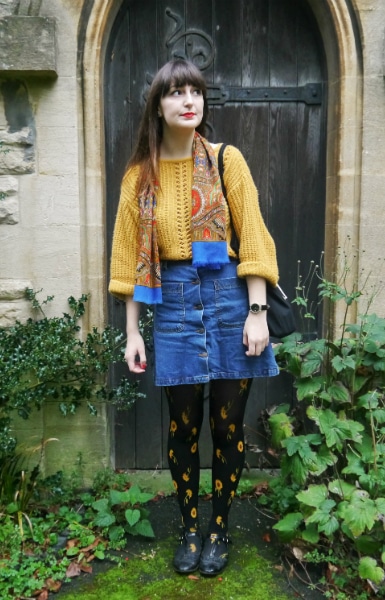 Jasmine 101
Name: Jasmine
Hometown: Bristol, England
School: Oxford Brookes University, England
Year: Second Year
Major: English (with a minor in Philosophy)
Let's Talk Fashion
Who or what inspires your style? "Usually I dress how I feel in the morning. So if I feel like I want to look cute, I'll wear a dress no matter what the weather, and if I want to look sporty, I'll wear an Adidas jumper or a tee shirt, jeans, and Nike trainers. If I open the curtains and see it looks nice, I'll go for an autumnal color scheme. But when I'm going on a night out, I go through Alexa Chung's Instagram for inspiration!
I like my look[s] to be empowering, so if I feel like I need confidence then I'll wear matching underwear and red lippy is a definite must! I buy my makeup from LUSH, as it's cruelty-free and I try and keep my fashion choices as ethical as possible."
If you could raid anyone's closet, whose would it be? "Jane Birkin. She's very feminine but also works shirts and formal clothing to make them look more casual and informal. She pulls off cute and sexy at the same time, which is what I'd like to do!"
What advice would you give to students wishing to improve their style? "Take a whole day off and spend it shopping. You don't have to buy anything, but try on loads of things, and wear whatever makes you feel confident, even if you're worried no one else will like it! As I get older, I worry much less about what people think."
Elements of Jasmine's Outfit
1. Yellow Jumper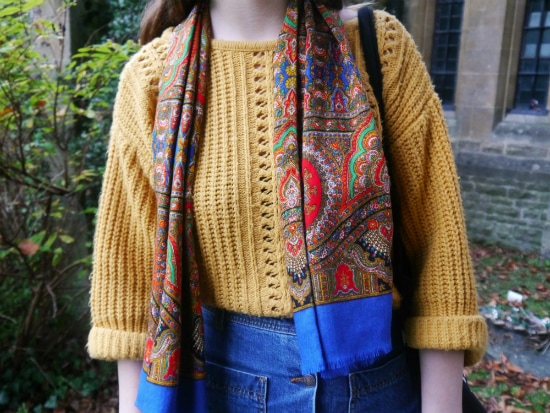 Jasmine picked up this gorgeous cable-knit jumper from a vintage stall at a truck festival for an absolute steal! It's a great reminder to be a little more open-minded when clothes shopping, as you'll win both on originality and price points.
2. Denim Skirt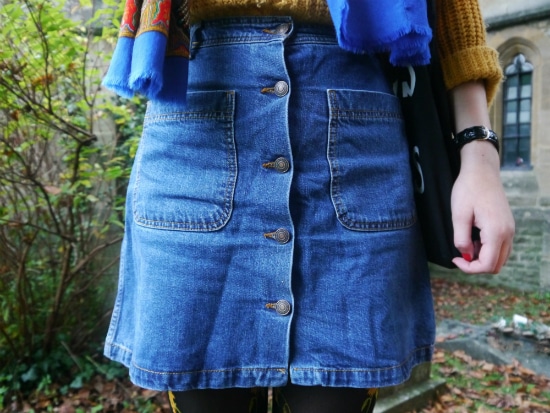 An a-line denim skirt is both flattering and appropriate for a busy day of classes and assignments; it's wearable without being too formal.
3. Sunflower Tights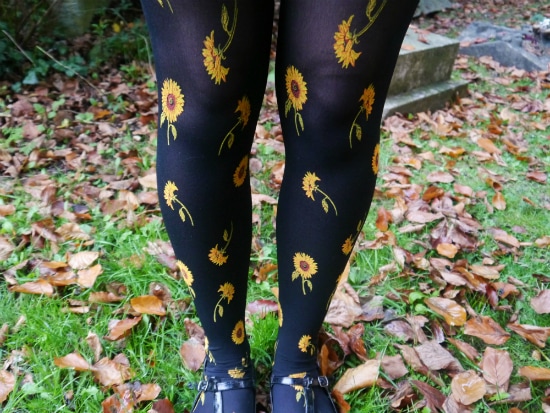 These are definitely the showstopper of Jasmine's outfit, and are expertly matched with the jumper. Patterned tights can seem quite scary, but if you pair them with a neutral outfit to begin with, they'll be fun without being over the top.
Sometimes it just takes a little touch of originality to push your style boundaries, as opposed to a whole new wardrobe!
4. Political Tote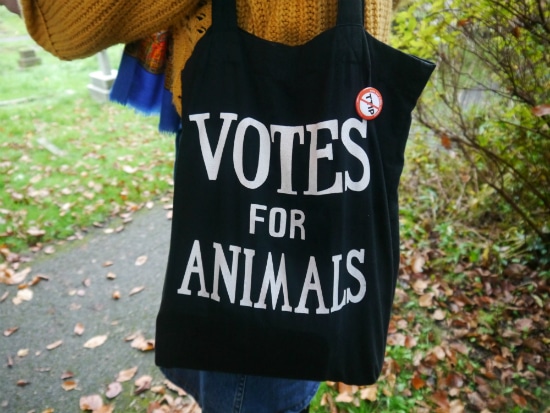 Jasmine is passionate about ethical fashion and animal rights. She finds a lot of people can't help but comment on her bag, which is a great conversation starter.
5. Patterned Scarf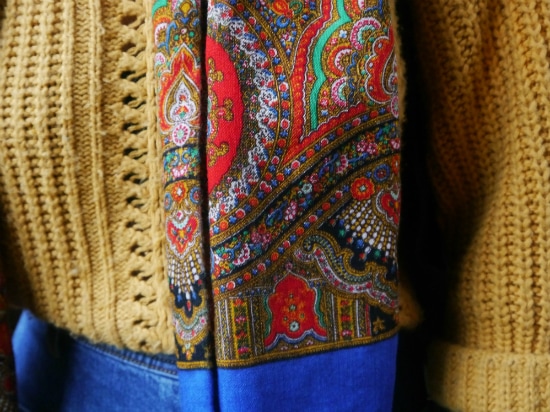 This fun scarf was a Christmas present and is a perfect example of how to incorporate two completely different patterns into an outfit without them clashing – they just need to be sufficiently far away from each other. The bright colors in this scarf complement the rest of Jasmine's outfit and add a cheery note to this grey November afternoon.
6. Classic makeup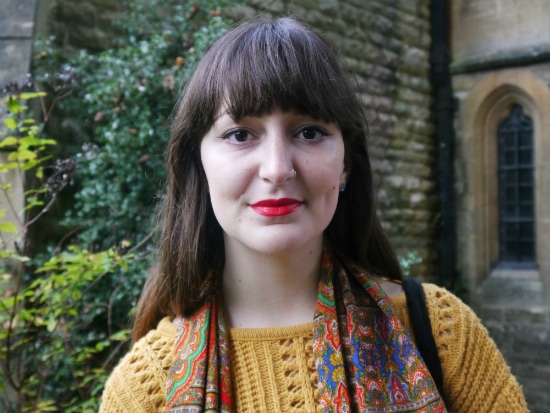 Jasmine demonstrates that simple can sometimes be best, with a classic red lip and winged eyeliner. Her red lipstick ties in with the red in her scarf, and a small amount of eyeliner is just enough to balance out the look without being too much.
7. Accessories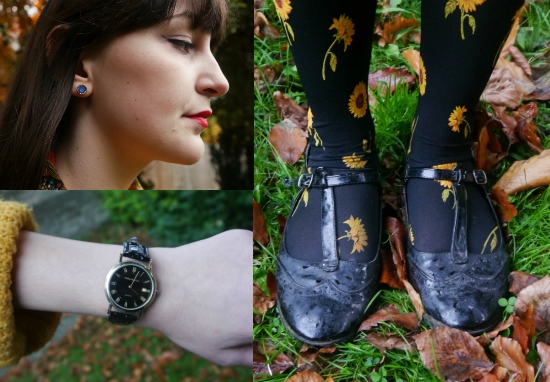 As she's opted for daring choices in her scarf and tights, Jasmine wisely keeps it low-key with her accessories. Her black watch, black shoes, and blue earrings match colors already present in her outfit, so the overall effect is harmonious, rather than jarring.
Do you love Jasmine's fall-forward outfit?
Would you wear patterned tights like hers? What do you think about her classic makeup choices? Comment below and let us know!