As a cold front hits many parts of the country, wardrobes shift into the same dark jacket-and-sweater combos. Even though it's chilly out, there are still ways to set your style apart from the crowd, which is what first struck me about Anika.
I was shopping for groceries at the Whole Foods near New York University, when Anika's classic, sensible, and sharp sense of style stood out immediately in a sea of leggings and sweatshirts. After chatting with her further, I realized she also had some very smart shopping tips from which all college girls could benefit.
Anika 101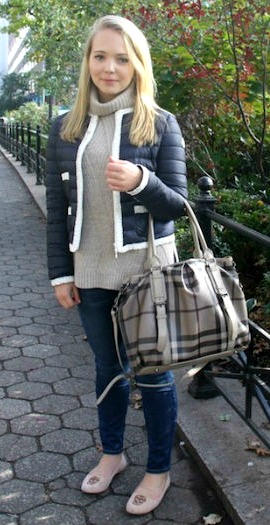 Name: Anika
Major: Marketing and Management
Year: Sophomore
Home Country: Germany
School: New York University
Let's Talk Fashion
Where did you get each piece of clothing that you're currently wearing? "It's been quite chilly here in the city, so a good turtleneck keeps me warm. I actually picked up this Vince sweater from Bergdorf Goodman yesterday! The jacket is Moncler which I purchased it this past summer while on vacation in Rome. The jeans are by Current/Elliott which I got at Saks.
I bought these loafers from Alexander McQueen in Germany. Last but certainly not least, my beloved purse is from Burberry. It's my everyday schoolbag and I could not live without it!"
Who or what inspires your style? "Even though I currently live in midtown, the classic Upper East Side style appeals to me the most. Everything about Madison Avenue screams timeless and chic. New York is a very vibrant place to be for a variety of fashion tastes; everyone here can find their niche."
How would you describe your style? "My style is much more 'uptown.' I do have to say, everything I wear has a practical purpose as well. The Moncler puffer I'm wearing today is a prime example of that… it's just plain chilly here!"
What are your favorite trends right now? "I love all the deeper hues for fall such as burgundy, maroon, and forest green. They make a deep red version of the Alexander McQueen loafers I'm wearing. They are stunning. I'm also seeing a lot of waxed denim or leather-paneled pants. They're not my style, but I love the way they look on other people. Midi skirts are so trendy at the moment, too! I'd love to invest in a classic full midi skirt in a fun fabric for special occasions."
What fashion advice would you give college students that are looking to improve their styles? "I'd say to them, definitely look like you made an effort with your appearance. In Germany, we always say it's a matter of respect. You don't run around like a slob! It's just rude!
Also, always dress according to your body shape. That's very important. Seek out clothes that fit. It's never a good look when you can tell someone is squeezing him or herself into a size they're not. There is just no need for that!"
Who are your favorite designers or brands? "I shop at Vince a lot because their items are such great quality and last forever. In terms of designer labels, I'm a huge fan of Chanel. Although it's nothing I could afford right now, I deeply appreciate the classic and ageless aesthetic about Chanel."
What do you do for fun? "I'm really into horse riding, which is unfortunately a bit hard to practice here in New York City. I also love weightlifting! Surprise, surprise. Going to the art museums is often part of my weekend routine. It's so lucky to be in the city where art exhibits frequently rotate and there is something new to see every day."
Elements of Anika's Outfit
1. Statement Bookbag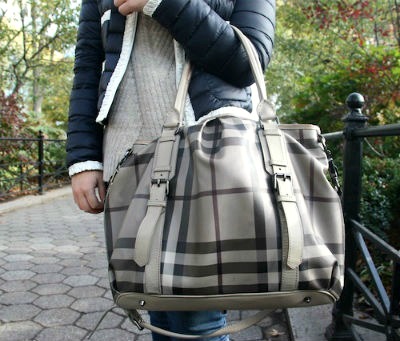 I'm not going to lie – I'm secretly in love with Anika's Burberry purse! After talking to her about it, I discovered that she's had it for three years and uses it every single day as her school bag. The muted grey and brown color palette is not only universally flattering to any outfit, but the classic pattern also makes a subtle statement.
2. Turtleneck Sweater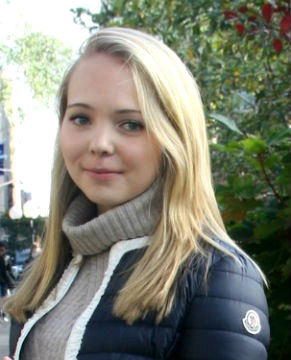 If you haven't jumped on the turtleneck bandwagon yet, allow me to tell you why they're such a fab piece to invest in: they are so warm and deliciously comfortable when it's cold outside.
As we approach holiday weather, an oatmeal-colored turtleneck sweater like Anika's will keep you warm and cozy. We love how the neckline of Anika's puffer jacket cuts just below the turtleneck. The two pieces managed to complement each other beautifully on a cold autumn day.
3. Comfy Loafers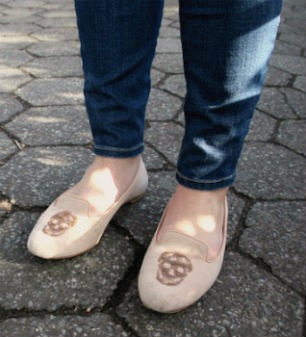 How adorable are the sequined skulls on these smoking slippers?! According to Anika, they are very comfortable to walk across campus in. They give her very classic style a bit downtown cool vibe, while the rose gold sequins keep it girly and consistent with the rest of her outfit.
What do you think of Anika's classic look?
Would you wear her outfit? What is your favorite piece: her skull loafers, her puffer jacket, cozy turtleneck, or bold bookbag? Do you have any tips for dressing in chilly winter weather? Let us know by leaving a comment below.