Like most college students, I enjoy attending campus events, and I see Aniya at many of them. I've long been a fan of her classic yet contemporary style, as well as her great hair.
Since it has been colder than usual here in New Orleans, I was pleased to find someone who was staying warm and comfortable without resorting to wearing a giant hoodie around campus.
Aniya 101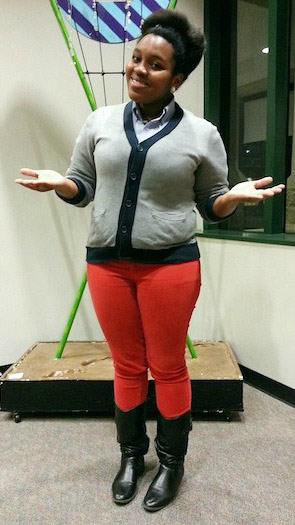 Name: Aniya
School: Loyola University New Orleans
Year: Sophomore
Major: Political Science
Let's Talk Fashion
Who or what inspires your style? "My grandmother. I was raised by her, so she has a really big influence on everything that I do."
Where do you like to shop? "When I have money, I like to go to Banana Republic. I have to be creative, so I go to thrift shops and vintage shops. I like to challenge myself to get the nicest thing I can with the lowest amount of money spent."
How would you describe your sense of style? "I definitely like to do pieces I know will never go out of style, so classic pieces, but I like to give them a modern twist."
Why did you choose this particular outfit? "I had a meeting today, so I had to find something dressy enough for a meeting, but I wanted to be comfortable, too."
What fashion advice would you give to other students looking to improve their style? "Never try to be a carbon copy of someone else. If you like something wear that! You should always be proud to be the way that you are."
What are your favorite trends right now? "I do not really follow current trends."
Do you have any favorite fashion designers? If so, who? "B Michael, he produces a line for Macy's."
What do you do for fun – do you have any unique hobbies or interests? "I have started to become an exercise nut. I like to read and paint. It is a really nice stress reliever, and I like to cook."
If you could raid anyone's closet, who would it be and why? "Jackie O's, always!"
Elements of Aniya's Outfit:
1. Layering an Oxford Blouse and Cardigan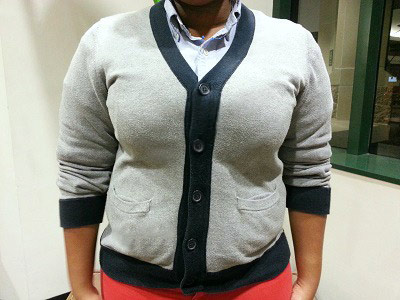 Aniya uses light layers combat to the cold weather. Here, she wore a light blue button-down underneath a gray sweater, and the combination really complements her brightly-colored pants. Layering like this is a nice alternative to a sweatshirt, especially if you have meetings with professors. Her look is a great example of how to keep warm and still look put-together.
2. Pop of Color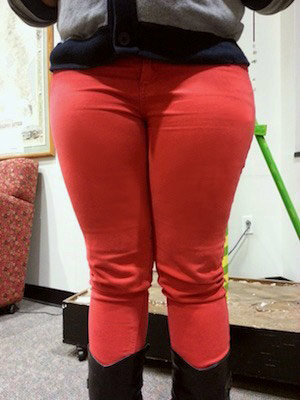 Aniya's pants add a bold dose of color that brings her outfit from classic to totally cool. Brightly-colored denim is the perfect way to stay comfortable, but still look chic and on-trend. Pairing these jeans with neutral shades makes for a modern look that really pops.
3. Flat Boots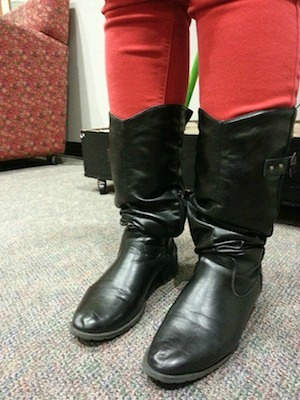 In New Orleans, it rains sporadically, and no one wants to walk around all day in rain boots when it's rainy one minute, then sunny the next. Flat black boots are a practical yet cute way to combat the weather here. The contrast between Aniya's boots and her bright jeans create a unique contrast, but also matche her color-blocked cardigan.
Thoughts?
What do you think about Aniya's bright pants and flat boots? How do you keep your style from seeming drab in the cold, winter months? We want to know what you think, so leave a comment below.