When I started college here in Raleigh, I discovered a little local store called Sugar Magnolia. It has a cool, bohemian vibe, and everything is $15 or less. It quickly became this college girl's favorite go-to place for breezy dresses and boho prints. Recently, I was browsing their summer merchandise, and I met Arika, one of the employees, whose cute style is right in line with the store's laid-back atmosphere.
Arika 101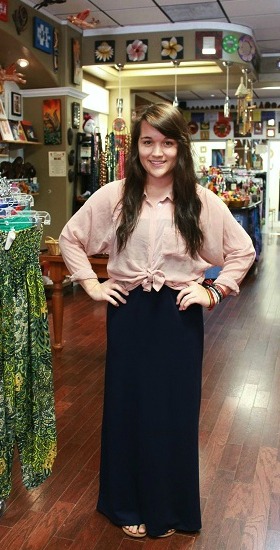 Name: Arika
School: NC State University
Year: Senior
Major: Creative Writing
Hometown: Outer Banks, NC
Let's Talk Fashion
Who or what inspires your style? "I get a lot of inspiration from the store! I also live at the beach, so I like loose and comfy clothes. I also get a lot of inspiration from punk music – if you had come any other day, I would probably be in studded high-waisted shorts!"
Where do you like to shop? "I get a lot of clothes from Sugar Magnolia, but I like Forever 21 a lot too. It can be overwhelming, but it pays off when I find really good stuff! I also love thrift stores."
How would you describe your sense of style? "I would say beach hippie punk!"
Why did you choose this particular outfit? "My coworker actually suggested it! She was looking at an Ann Taylor lookbook and saw a girl wearing a button-up over a maxi dress. I was originally wearing shorts with this top but liked the dress idea!"
What fashion advice would you give to other students looking to improve their style? "Be comfortable – that's the biggest thing. If you can't walk around in it all day, don't wear it. A big smile is that best part of any outfit, and I always smile when I'm comfortable!"
What are your favorite trends right now? "I love high-waisted shorts – I have a ton! I also love lots of bracelets, studs, and loose button-ups."
What do you do for fun – do you have any unique hobbies or interests? "I'm studying creative writing, so I love writing poetry. I'm working on a collection of poems and would love to write a book one day! I also lived in Japan for four years, so I'm continuing to learn the language. I also have a pet bunny that I love playing with!"
If you could raid anyone's closet, who would it be and why? "Mila Kunis – I love how she does the "boho" look so well!"
Elements of Arika's Outfit
1. Knotted Top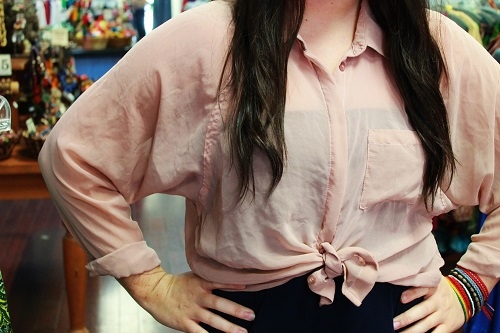 Arika gets to escape the summer heat when she's working! Knotting a flowy top – like this one from Forever 21 – over a maxi dress is in keeping with comfort while still looking styled. Her strapless black maxi is from Sugar Magnolia, but I've recently seen similar ones at Target!
2. Colorful Bracelets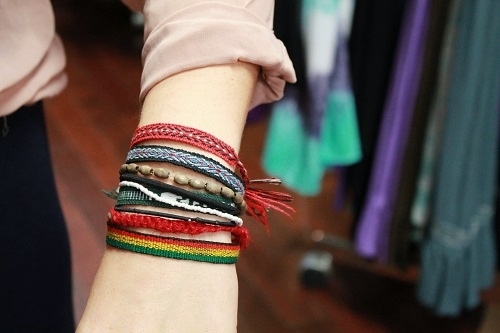 Does anything say summer more than friendship bracelets? Arika has collected her eclectic mix over time since she's worked at the store. She totally has me inspired to dig out my embroidery thread and get my DIY on!
What do you think?
What do you think of Arika's outfit? What kinds of music or places are inspiring you lately? Do you have a certain article of clothing that never fails to make you smile? Share your thoughts with us!