Katelyn's unique style and bubbly personality makes her stand out at Mount Mary University. When I spotted her on campus in some high-waisted leopard print shorts, I had to know what inspired her look, since she rocked this fashion-forward piece with ease.
Katelyn 101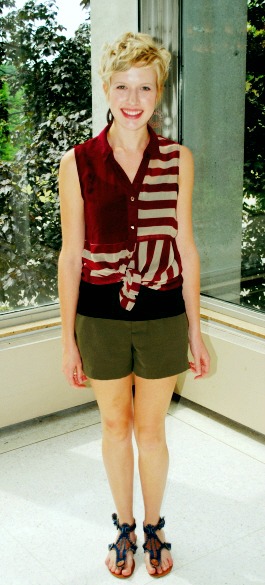 Name: Katelyn
Hometown: Brodhead, Wisconsin
Age: 23
School: Mount Mary University
Year: Senior
Major: Fashion Design
Let's Talk Fashion
Who or what inspires your style? "A good statement piece always inspires me. Like a killer handbag or a pair of shoes. Anything that's leopard, or has spikes or studs. Or anything that is glittery."
How would you describe your sense of style? "My style is feminine and edgy."
Why did you choose this particular outfit? "Leopard is an everyday staple for me, so I paired it with mint, which is really popular right now, too. I also love gold accents."
Where is your outfit from? "I made my shorts. My shirt is from Forever 21, shoes are from ShoeDazzle, my bag is from Lilly's Kloset and my earrings are from Icing."
What fashion advice would you give to other students looking to improve their style? "Learn to dress your body type, and remember that there are no rules in fashion."
What are your favorite trends right now? "I'm really into high-waisted bottoms with crop tops. I like to accent that with almond-shaped nails and knuckle rings. Also anything denim (and/or ombré)."
Do you have any favorite fashion designers? If so, who? "Oh yes, Balmain is my favorite."
What do you do for fun – do you have any unique hobbies or interests? "I'm a fashion student, so I love creating and sewing garments, but I also enjoy painting and drawing. I love a good book, too."
If you could raid anyone's closet, who would it be and why? "Rihanna's tour closet — she often wears Balmain and just seems to nail it every time. She's powerful and feminine, everything I love about fashion."
Elements of Katelyn's Outfit
1. Glitter Top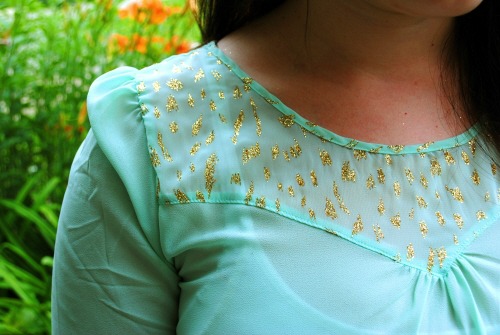 Katelyn's top really pulls her outfit together. The mint green shade is on-trend for summer, while the glitter adds an extra pop of style without being overwhelming. She pairs it perfectly with her leopard print shorts, which she made herself.
2. Studded Sandals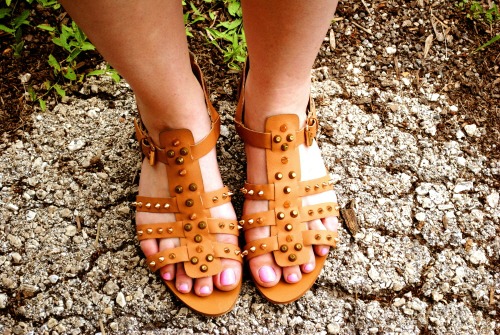 These studded sandals add that edgy quality to Katelyn's outfit – an essential part of her personal style. The gold studs accent the gold in her shirt, as well as her jewelry, which brings the whole look together.
3. Fashionable Bag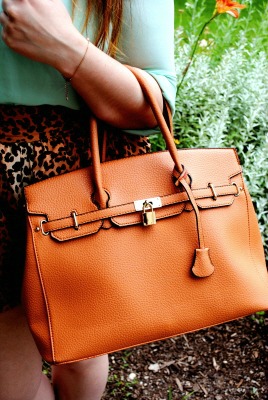 Who says you can only use a backpack to carry your books for class? Not Katelyn! She uses this sleek and fashionable Birkin-esque bag to carry her supplies. The structured design allows it to stand out, while the neutral color helps balance out the prints, colors, and embellishments found elsewhere in her ensemble.
What do you think?
What do you think of Katelyn's outfit? How do you feel about a bold printed short? What is inspiring your fashion this summer? Let us know in the comments!