Taking a risk with fashion can be somewhat daunting. After all, even though you may want to step out of the box, you also don't want to lose yourself along the way.
When I spotted Natalie, it seemed like she had figured out how to push the boundaries within her own style, so I just had to stop and talk to her about her about her edgy, rock-inspired look:
Natalie 101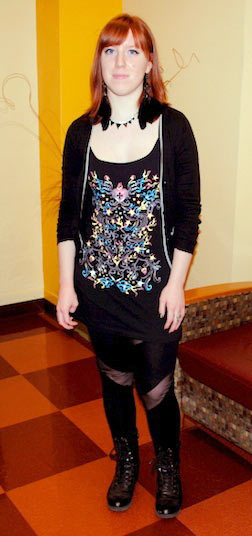 Name: Natalie
School: Mount Mary University
Major: Fashion Design
Year: Senior
Let's Talk Fashion
Where is your outfit from? "My boots and sweater are from Boston Store, my leggings and dress are from Blackheart, my necklace is from Forever 21, the earrings are from Kohl's, and my rings [are] from Six."
How would you describe your style? "I am really inspired by the Victorian era and metal/rock music."
Where do you like to shop? "I love Buckle! Most of my clothes are from Buckle. I also like Express and Vanity."
Why did you choose this outfit? "It represents an exaggeration of my style. It [is] more out there than [the outfits] I usually wear."
What fashion advice would you give to fellow college students? "Have clothes that exaggerate your style and push your boundaries. They're great to dress up or down an outfit. They are more versatile than you think."
What is your favorite trend right now? "I love the over-embellishment [trend] that is happening right now."
Do you have a favorite fashion designer? If so who? "Crash and Burn is my favorite brand right now and my favorite designers are Zuhair Murad and Valentino."
If you could raid any celebrity's closet whose would it be? Why? "I would have to say Hayley Williams. I love her rock-inspired outfits and her awesome hair!"
Elements of Natalie's Outfit
1. Studded Combat Boots
Combat boots are a hot commodity these days, and these bold lace-ups stand out thanks to some cool studded detailing. Natalie paired her boots with edgy cut-out leggings, which really add to the rocker vibe of her look.
2. Graphic Print Dress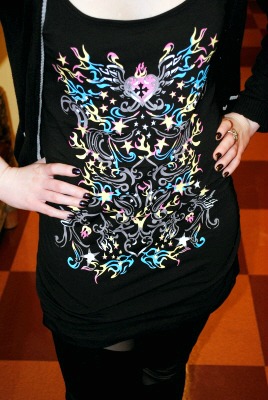 Graphic prints add both color and interest to an ensemble, so it's an fun way to spice things up style-wise. Natalie shows us how she does it with this Blackheart dress, which adds dimension to an otherwise monochromatic outfit. With a sweater on top, she's ready to brave chilly classrooms while expressing her style.
3. Statement Jewelry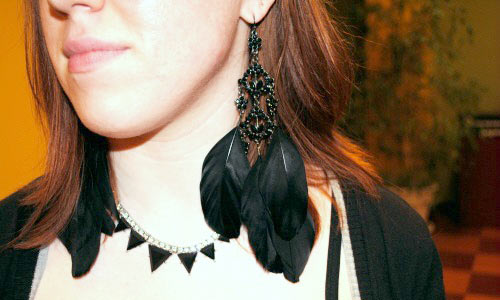 If you want earrings that make a statement, then this feathered pair from Kohl's is a fantastically frugal find. They look super glam for a night out when paired with a trendy triangle necklace from Forever 21. The combination of these edgy yet glam accessories is the epitome of rocker chic.
What do you think of Natalie's rocker style?
Do you love her bold accessories and combat boots? Have you been wearing graphic prints this season? Let us know what you think by leaving us a comment below!