Now that we are well into the semester, fall is finally here, and the changing of seasons typically results in a sea of yoga pants and hoodies. While it may be easy to throw on sweats for an early morning class, it's always best to keep in mind that your teachers and peers could be future employers; you just never know who you will run into!
Alyssa caught my eye for this very reason. She didn't take the easy road, which made her stand out amongst the other students on campus. From her funky pants to her cool jewelry, Alyssa created a perfect outfit for wearing to class.
Alyssa 101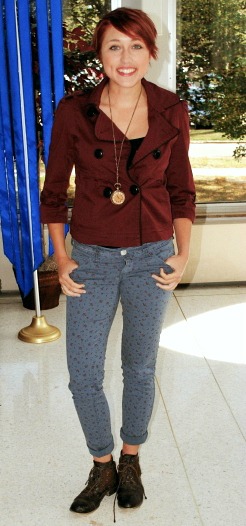 Name: Alyssa
School: Mount Mary University
Major: Art Therapy
Year: Freshman
Let's Talk Fashion
First, where is each element of your outfit from? "My printed pants and jacket are from Macy's. I got my shoes from Forever 21, this cuff earring is from Claire's, and the necklace is from a small boutique in Cedarburg."
Who or what inspires your style? "I really like dressing for the different seasons. For fall I feel like maroon is a great color, which is why I picked this jacket. My style gets much more light and flowy in the spring months, and much more neutral during the winter."
Where do you like to shop? "Some of my favorite stores are Forever 21, Delia's, and H&M."
Do you have a style philosophy? "I don't have a particular style. It depends a lot on my mood. If I'm feeling really happy I'll dress up. For more normal days I like to dress more casual in sweaters and scarves. I have a tendency to mix up my look a lot."
Why did you choose this outfit? "Like I said, I think maroon is a great color in the fall, so I've been wearing this jacket constantly. I really like to match my outfits together. Since maroon is a very fall color to me, I wanted to pick pieces that complemented it."
What fashion advice would you give to your fellow college students? "You should always wear what you want and feel comfortable in it. Confidence is key to wearing an outfit – really wearing it – and owning it."
What is your favorite trend right now? "I really like cut-outs! I was looking at dresses for homecoming and one had a heart cut-out in the back. It was very feminine but showed just the right amount of skin… I loved it."
Do you have a favorite fashion designer? If so who? "I really like Lauren Conrad's line (Paper Crown). It's very girly but it's always right on-trend. It [provides] great styling inspiration, too. The lookbooks are always so darling."
If there was a musician or movie who captured your style, who or what would that be? "I really love John Mayer right now. His music is very relaxed and so is my style!"
If you could raid any celebrity's closet, whose would it be? "Hands down, Taylor Swift! I love the vintage dresses that she wears and obviously I am obsessed with her high-waisted shorts."
Elements of Alyssa's Outfit
1. Vintage-Inspired Jewelry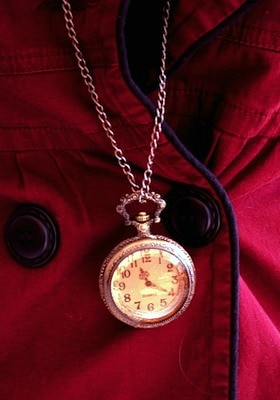 Alyssa's necklace immediately drew me in. I am obsessed with her contemporary style that has little touches of vintage elements. This cool timepiece necklace could easily be from a different era, making it an immediate conversation piece.
2. Lace Brogues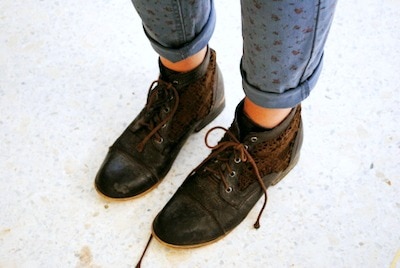 Brogues are an incredibly versatile footwear choice. They look amazing with cuffed jeans, skirts, dresses, and even shorts. These brogues, with their lace side panels, are the perfect mix of cute and casual. These shoes keep in line with that throwback look Alyssa has going on, and they could not be more in-style right now.
3. Printed Pants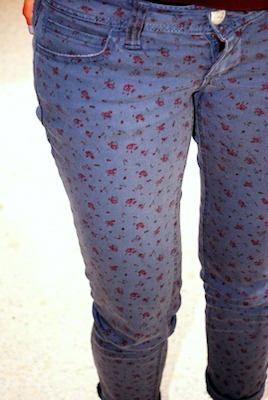 It seems like everywhere you look, printed pants are around, and this pair is a fresh twist on a plain jean. The small, red floral print doesn't overwhelm Alyssa's outfit, but adds a little extra oomph.
4. Ear Cuff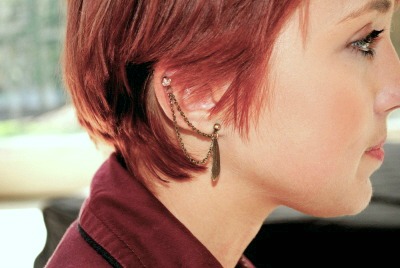 Ear cuffs are a fun, edgy jewelry trend that we're still loving this season. While many people are on the fence about them, Alyssa went right ahead with her accessory choice and I couldn't respect her more for it! It's a really cool look, especially with her cropped haircut.
What do you think of Alyssa's look?
Do you think her outfit is perfect for class? She loves maroon; what colors are you drawn to this season? Do you love the vintage elements in her outfit? Let us know your thoughts below!