On my way back from out of town, my family and I stopped in a few consignment shops that are about thirty minutes from my tiny college. They have the best unique and vintage pieces, which I love! I ran into Annie at one of them, whose parents happen to own one of my beloved shops.
Annie 101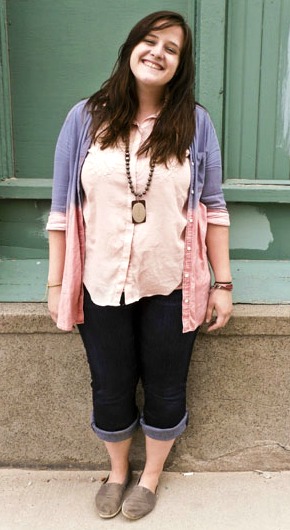 Name: Annie
Major: Intercultural Studies
Hometown: Olathe, KS
College: Mid-America Nazarene University
Let's Talk Fashion
Who or what inspires your style? "I like to look in Anthropologie, but [since I'm] on a college budget I go to other stores and find things that remind me of something I might find there, and find it for a much cheaper price."
Where do you like to shop? "American Eagle, consignment stores, thrift shops, and Anthropologie."
How could you describe your sense of style? "Some might call me a hipster and I would say that's pretty mainstream of them. Reality is though, I try and wear eclectic rare items that you can't just find at every store."
Why did you choose this particular outfit? "I wanted something that was multiple layers for the ever-changing weather of Kansas. Also something that is going to be comfortable until the end of the day. I try and stick with a neutral color palette with one thing that is going to grasp someone's attention."
What fashion advice would you give to other students looking to improve their style? "Don't try too hard. Just be yourself even in the way that you dress yourself. You don't have to dress up to dress nice. Also, have fun with your wardrobe. Wear something that maybe you normally wouldn't. It will throw people off and that is what is really going to catch someone's attention."
What are your favorite trends right now? "Denim. I love denim shirts and all the different patterns and styles that they have for them. They are great to pair with a pair of colored skinnies, another one of my favorite things. In the summer time too it's always nice to have a wide selection of bro tanks. It's a go-to item that you can wear anywhere from the pool to hanging out with friends."
Do you have any favorite fashion designers? If so, who? "I love Michael Kors. I just love the fact that he is devoted to the everyday women and isn't afraid to just throw some wild colors into each collection."
What do you do for fun? Do you have any unique hobbies or interests? "I like to travel the world for fun. Just recently I went to Jiri, Nepal for a month and actually saw the top of Mount Everest."
If you could raid any person's closet, whose would it be and why? "Well first off I would want every shirt from Kourtney Kardashian's closet. She always has a pair of black skinnies on and some amazing shirt, and I can totally respect that. Next, I would have to hit up my girl Demi Lovato. I really look up to her rocker style and that fact that she will honestly wear whatever she wants, no matter what people think. Lastly, I would go to the set of Glee and steal just about everything that Lea Michele has worn on the show this season. The second they introduced Rachel to Vogue her life turned around. See what clothes can do for you!"
Elements of Annie's Outfit
1. Girly Top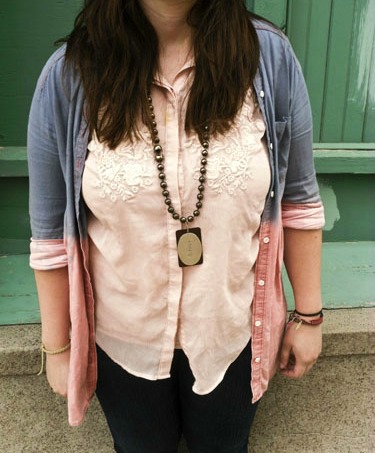 Annie found this adorable top at Nordstrom. It's the perfect color for springtime weather. But with the Kansas weather being so random, it can work for any climate. Layer it with a chambray shirt like Annie did for a windy day, with a spring jacket, or just by itself. This shirt is multi-faceted!
2. Custom Necklace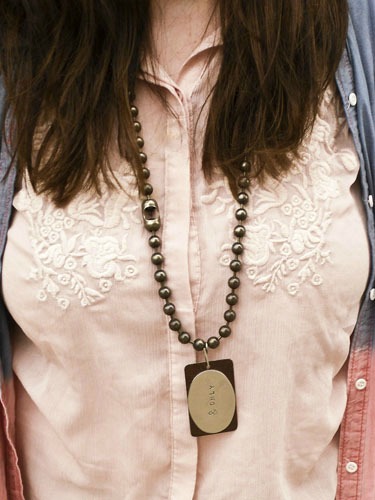 This necklace ties together Annie's style. She found this piece at a consignment shop near her parents' store. Annie describes herself as "hipster" and this necklace fits that style. A one-of-a-kind piece of jewelry can add a unique twist to any outfit!
3. Chambray Top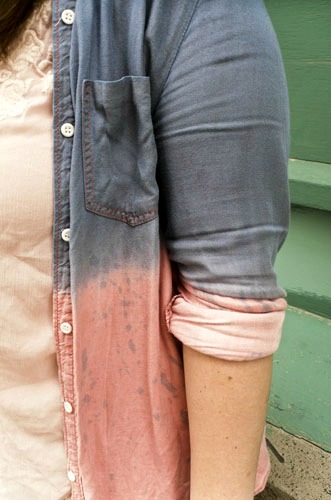 This chambray top is also from Nordstrom, and works perfectly with Annie's outfit. I love the two-toned look – it really makes this shirt stand out and contributes to Annie's one-of-a-kind style.
What do you think?
What do you think of Annie's outfit? Do you love the colored denim trend? Do you shop thrift stores? Where else do you find unique pieces that you can match with any outfit? Tell us your thoughts in a comment!