With summer on its way out, I'm enjoying my last few weeks wearing all of my favorite breezy, warm weather pieces. That's why I was drawn to Audrey's look: It's the perfect end-of-summer ensemble.
When I spotted her on campus, Audrey was decked out in a button-up with high-waisted shorts and some killer costume jewelry. After talking for a bit, I was not only impressed by her outfit but also by her frugal shopping skills, great sense of humor, and refreshing outlook on self-expression as a student.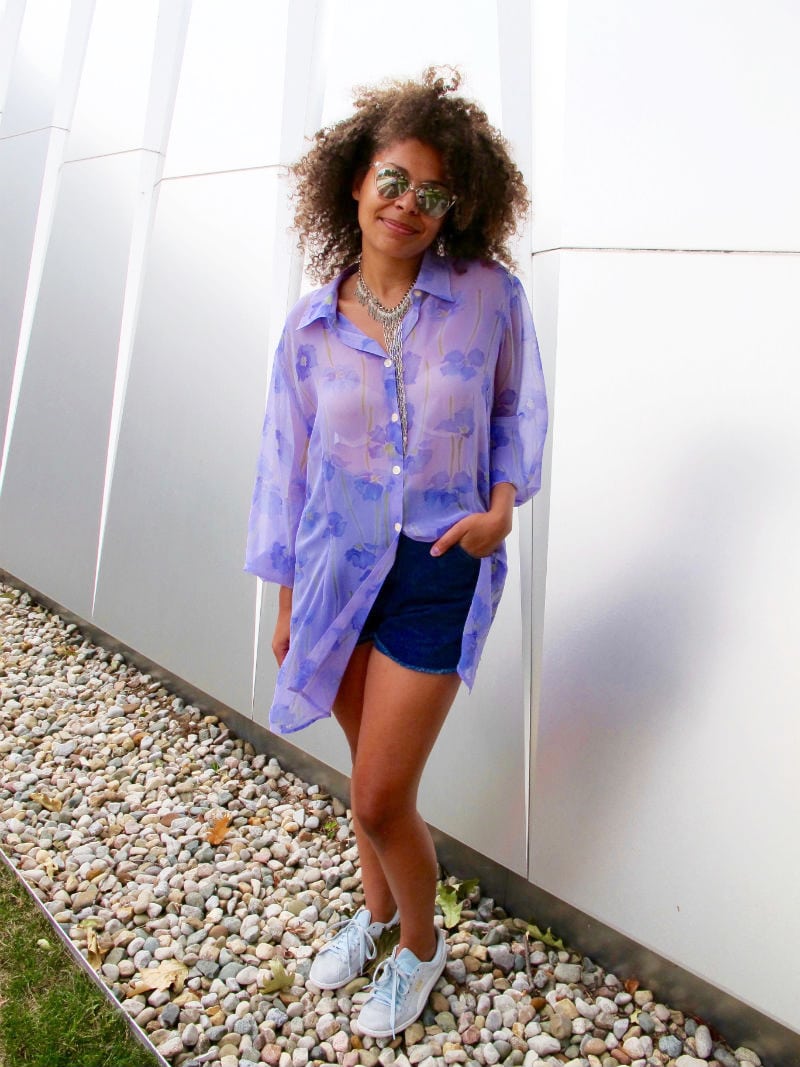 Audrey 101

Name: Audrey
Year: Junior
Major: Arts & Humanities/Media Information
Hometown: Okemos, MI
School: Michigan State University
Let's Talk Fashion

Who or what inspires your style? "This is kind of a cliché, but the women in my life. My grandma is really into costume jewelry so I take that and kind of tone it down. My mom is a very casual dresser – but very classy! – so I think I embody both of their styles in my own way."
Where do you like to shop? "Thrift stores. Since I was young, I've been thrifting hard, but for standard stores, I really like Forever 21 for the cheaper stuff. I'm also really into Fashion Nova, a website for curvier women, and I love ASOS for everything. They're my number one."
How would you describe your sense of style? "Granny swag, [but] with no cash and no grandkids. I'd say I have more of a quirky look too. During school, it's very much about baggy mom jeans with a fitted top and sneakers. But I'm a Gemini so it changes day to day."
Why did you choose this particular outfit? "I thrifted this top at a Goodwill with my friend. I loved it, she loved it, done! And when I was shopping I actually had on these same shorts so when I tried on the shirt I was like, 'Yessss this is it.' But I've just been too self-conscious to wear it [until] today. As I was walking out the door, my parents went 'Woah!' at the shirt [be]cause I usually don't go this sheer, but I'm twenty, I'm young, [so] it's fine. This is me becoming a woman, you know? I'm growing up and trying new things. I'm evolving."
What fashion advice would you give other students looking to improve their style? "I get irritated when people say, 'Oh you could pull that off but I couldn't' because that's what stops people from having good style, when they think they can't pull things off. I mean, yes, get clothes that fit your body and that you're comfortable in, but don't be afraid to mix it up! College was also helpful for me because school is so big that you don't really matter. People really don't care what you're wearing! Just do you."
What are your favorite trends right now? "I really like the rugged [and] frayed ends on jeans when they graze your ankle. And culottes! Oh – and what I really love are the off-the-shoulder tops that are happening! So feminine, so pretty."
Do you have any favorite designers? If so, who? "I really like Diane von Furstenberg because I just really like her personality. I also like Vivienne Westwood. Honestly, I probably like them cause they're older women who don't give a damn. See? I'm telling you, I'm inspired by the old ladies! It's all coming full circle. #grannyswag!"
What do you do for fun – do you have any unique hobbies or interests? "I'm a manager at the student radio station and I also really like Tarot cards. My freshman year, I'd read cards for people in the dorms all the time, but other than that I'm just pretty casual. My friends and I like to eat, so that and watching funny videos on YouTube."
If you could raid anyone's closet, who would it be? "Zolee Griggs! She is what I would like to dress like, but I just don't take myself seriously enough right now. I'm just not that stylish. I'd mess it up a flawless outfit with, like, cheetah socks or something."
Elements of Audrey's Outfit

1. Sheer Top + High-Waisted Shorts + Statement Necklace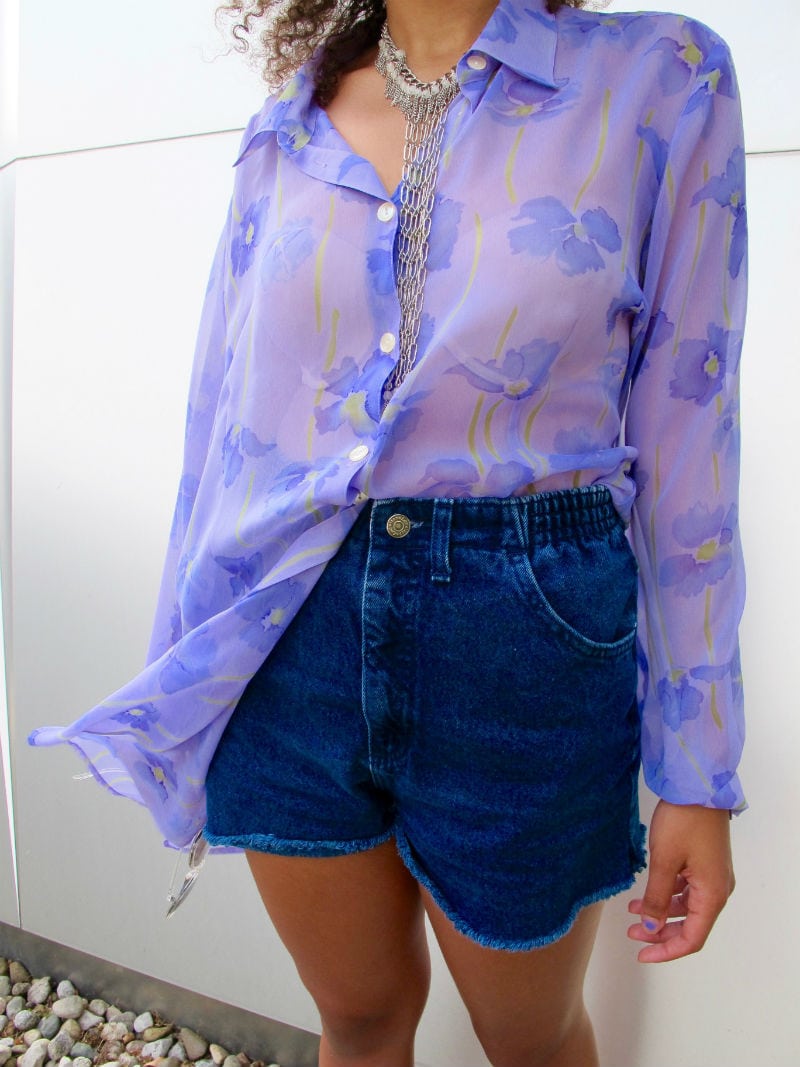 High-waisted shorts are a summer staple and Audrey's shorts add some structure to her flowy fabric top.
Even though Audrey was a bit nervous about the sheerness of the top, the more mature elements of the shirt (collar, long sleeves, floral pattern) add maturity to an otherwise edgy trend. As a bonus, both of these pieces were from Goodwill, so it goes to show that you can find on-trend items without breaking the bank.
I also loved Audrey's statement necklace: A gift from her grandma, the chain necklace is both unique and sentimental. While you may not be able to find an exact replica, statement necklaces are all the rage and can be found everywhere.
2. Reflective Sunglasses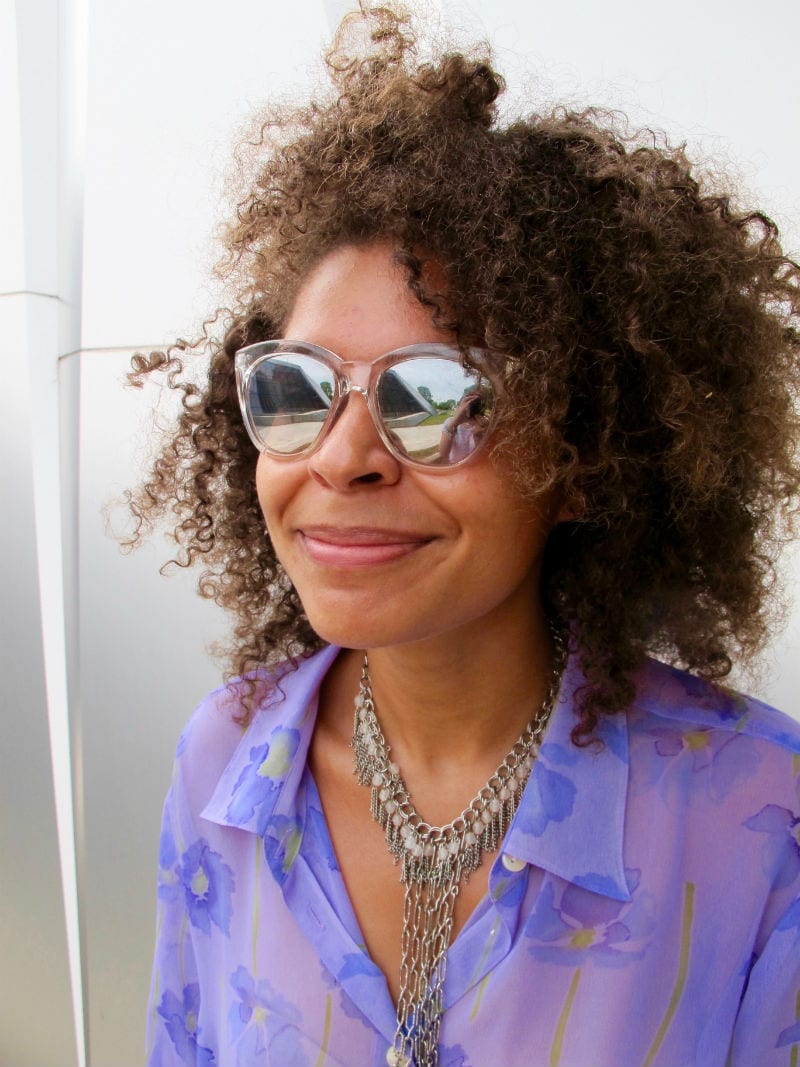 Sunglasses are essential during the summer and Audrey's plastic shades add an extra punch to her outfit because they're reflective and bold. Whenever an outfit needs an extra pop, sunglasses can be that last accessory that take your look to the next level.
3. Casual Footwear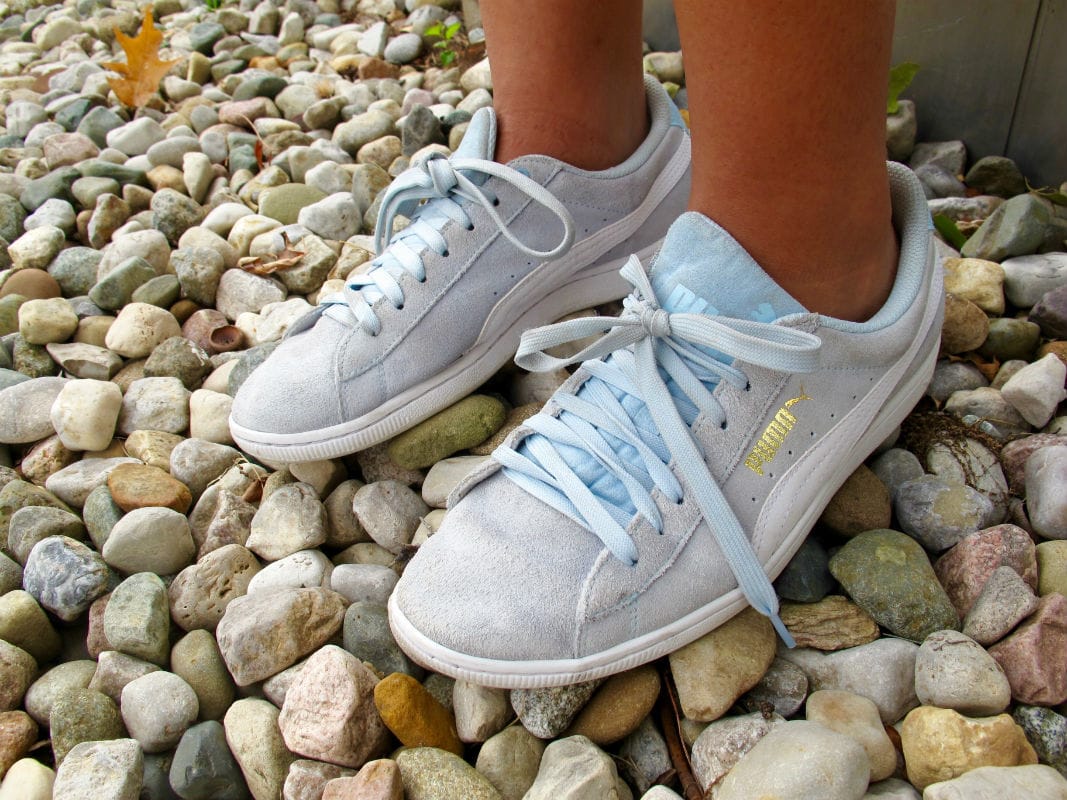 When you're running from work to class, comfortable shoes are a must. Audrey picked these up on sale and the pastel colors lend themselves to a whole slew of outfits.
What do you think of Audrey's summer look?

Would you wear a sheer shirt? How do you style statement jewelry? Do you have any tips for following trends on a budget? Comment below and let us know what you think!