I've learned to never be too quick to dismiss a trend –- I always end up eating my words. This is exactly how I was with wedge sneakers. When they first popped up on the blogosphere, I stood on my metaphorical soap box, preaching about how silly I thought they were. Now, not only do I own a pair, but I've got my eyes out for another to snatch up.
Wedge sneakers haven't exactly taken my campus by storm yet, so Bani's sleek black ones stood out to me. I've had classes with Bani before, and she has definitely mastered the art of "less-is-more" style for school, which I would venture to guess was a direct result of her time spent studying abroad in Paris. Meet Bani and check out her effortless style!
Bani 101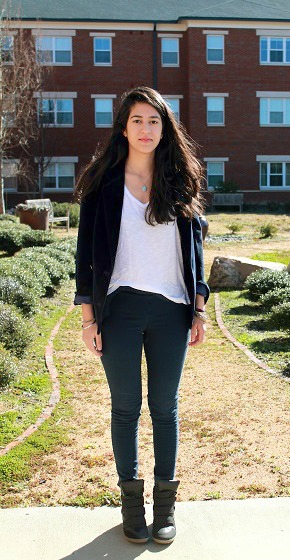 Name: Bani
School: Meredith College
Year: Senior
Major: Fashion Merchandising
Minor: Marketing
Hometown: Chandigarh, India
Let's Talk Fashion
Who or what inspires your style? "I love Olivia Palermo's style, and I'm also inspired by bloggers and street style."
Where do you like to shop? "I really like to shop all over, but my heaven on Earth is Zara! I also love collecting things like jewelry from flea markets and my travels. I'm not into shopping a lot at malls because I don't like having what everyone else has."
How would you describe your sense of style? "I don't really think I have one – I used to dress 'cutesy', but that changed after I studied abroad in Paris. I guess I would call it 'edgy minimalist'."
Why did you choose this particular outfit? "When I go to class, I want to be comfy without looking like a slob, but I don't want to be overly done-up either. I think this outfit does that, and the pieces work easily together."
What fashion advice would you give to other students looking to improve their style? "Be more individual, don't just follow trends – that bothers me. It's much better to take risks. Do whatever you want! Also, don't wear Uggs and shorts… it's just not logical!"
What are your favorite trends right now? "Being a fashion major, I know about trends, but I don't always follow them. I do want to try leather leggings and other leather accents, though. I also like mixing metals and dainty jewelry."
Do you have any favorite fashion designers? If so, who? "I interned with Rick Owens when I was in Paris, and I love how his stuff looks crazy on the runway but is made up of simple unique pieces. I also love Prabal Gurung – I went to high school with his niece! Dries van Noten is another one of my favorites."
What do you do for fun – do you have any unique hobbies or interests? "I watch a lot of fashion shows and read blogs – I tell myself it's educational! I also love to read magazines and watch excessive amounts of TV."
Confession time. Have you ever committed a fashion faux pas? "I wore uniforms for school, and the skirts were always really hiked up! I also wear combinations of white, brown, and black. Sometimes when I'm in my apartment – never in public – I wear flip flops and socks… my friends tease me, but it's so comfy!"
Elements of Bani's Outfit
1. Wedge Sneakers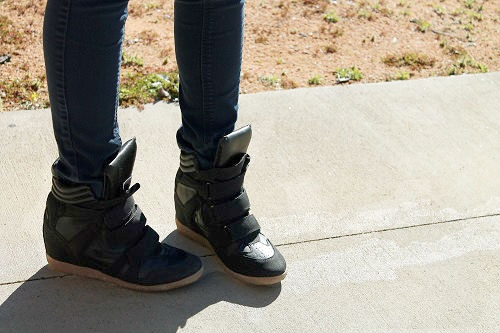 All the comfort of a sneaker with the fun of a wedge! Sometimes I feel self-conscious wearing anything other than a casual flat around campus, but I love having a little bit of height. Wedge sneakers are a good way to get around this issue – since they combine both height and comfort in the profile of a sneaker.
2. Jewelry with a Story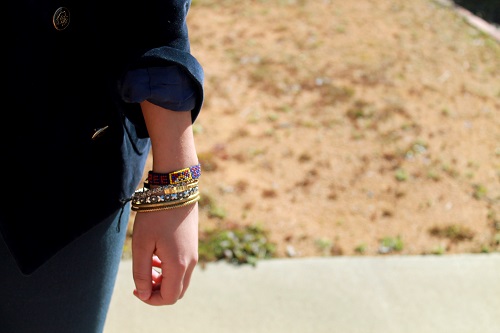 Bani likes to pick up dainty pieces whenever she travels, which gives her style a personal touch and makes for a great conversation starter. I love that fashion not only reflects your personality but your life experiences, as well!
What do you think?
What do you think of Bani's outfit? Are there any trends that have grown on you? How do you like to balance style and comfort? Study abroad alum – was your style influenced by your travels? Comment and let us know!