It's a funny thing, but students at UNLV tend to dress like the weather. When it's sunny and warm, bright colors abound. When it's cold and dreary, students match the gray clouds and dress in dark and neutral colors.
Marco is in my British Literature lecture, and on one particularly dreary day, I noticed that his monochromatic outfit stood out from the rest of the darkly-clad class because of his self-assurance and distinct personal style. Marco's all-black outfit combines elements of the dapperMad Men-era with punk and Gothic-inspired styles, creating one uniform look.
Marco 101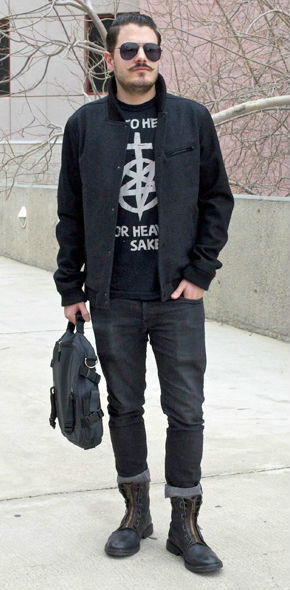 Name: Marco
School: UNLV
Year: Senior
Major: English
Let's Talk Fashion
Who or what inspires your style? "I really like Mad Men and the dapper style. Any classic look. I love UK style, too. British GQ is way better than the American GQ. I think British style is definitely more classy as opposed to American style, but American style does have a lot of unique things that I like about it too. I really like American graphic t-shirts."
How would you describe your own sense of style? "Definitely black. I just love black. Everything has to be black, but not all the time. I like grey, white… I never dress colorfully unless it's summer. [Once the weather gets nice,] then I'll start wearing some color."
Do you have any fashion advice for other students? "I think the best advice I give people is just layer. That's all it is! Just put something else on, add to it, because I see people wearing something plain: jeans, shoes, shirt, when you could throw a jacket over it. Throw on an accessory, a hat or beanie, a necklace. Anything could add to the look. It doesn't have to be a brand. You can get stuff from Goodwill and it's great because you can get all kinds of styles and bring them together in one cohesive look."
What do you do for fun? Do you have any hobbies or interests that influence the way you dress? "I think tattoo culture definitely influenced my style. I'm definitely into Gothic art, Gothic styles, dark colors… Obviously music. I'm in a band. I play rock music so I'm definitely into punk rock and wearing tight jeans and boots and that whole deal. And I love literature, too."
Elements of Marco's Outfit
1. Classically Styled Hair
A hairstyle can be a wonderful form of self-expression. Marco is able to take inspiration from the dapper, gentlemanly styles prevalent in Mad Men to display his affinity for a classic aesthetic by greasing his hair, then combing it back with a defined side part. Marco also uses his facial hair as an accessory – he shared that he styles it differently, depending on his mood and outfit.
2. Letterman Jacket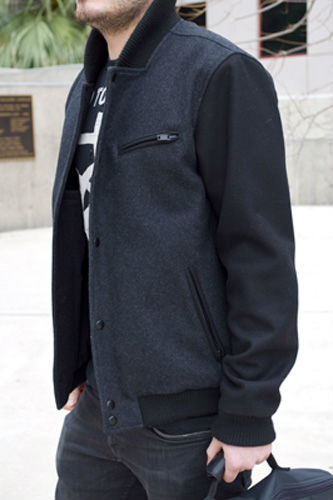 Marco's black AllSaints jacket has a vintage Letterman structure, once again taking inspiration from classic styles. The black fabric adds intensity to the monochromatic theme while adding a layer to dress up his graphic t-shirt and jeans.
3. Zip-Up Leather Boots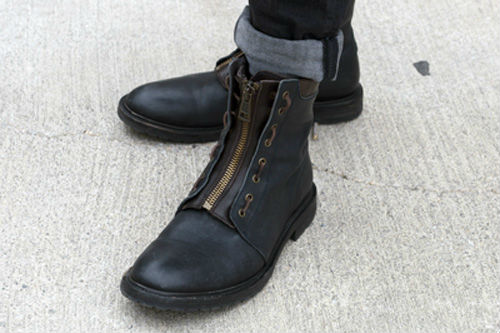 Marco's leather boots, also from AllSaints, do an amazing job of giving his outfit a hint of punk rock style. The exposed zipper creates interesting contrast next to the leather lacing up the side of the boots, which we can see beneath his cuffed black jeans. By rolling his hems, Marco maintains his classic style while showing off his edgy footwear.
What do you think?
Do you like Marco's outfit? Have you ever worn a monochromatic outfit? Marco loves black — what color do you wear the most? How do you make your hair part of your style? Let us know in the comments below!