Spring weather has officially arrived and students here at Marist can't get enough of the sunshine and warm breezes. Although some people are still wearing their puffer coats, most of us are breaking out the lightweight sweaters and layers.
I noticed Ashley when she sat down next to me in the Fashion Lab. Her unique patchwork cable knit sweater was striking, yet simple, and I loved that she paired it with cropped wide-legged denim jeans. Of course, my curiosity about her ensemble drew me to her and I couldn't help but snap a couple shots of her fabulous outfit.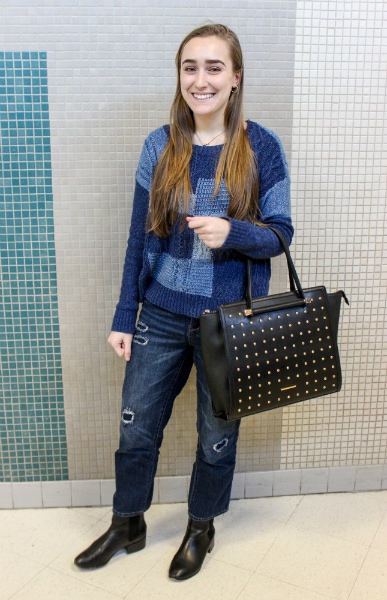 Ashley 101

Name: Ashley
Year: Freshman
Major: Fashion Merchandising, Business concentration
School: Marist College
Hometown: Hamilton, New Jersey
Let's Talk Fashion

Who or what inspires your style?
"One of my favorite fashion bloggers who I like to take inspiration from is Danielle Bernstein of We Wore What and the singer/actress Zendaya.
"
Where do you like to shop?
"Topshop, Zara, Forever 21, and American Eagle for their jeans.
"
How would you describe your sense of style? "I think my style is all over the place because there will be days where I'll wear all black but then there are days when I'll be wearing something like patchwork jeans, like I'm wearing right now. So overall I think my sense of style is [just] fun."
Why did you choose this particular outfit?
"Well I like this sweater and we're having pretty nice weather outside right now. I usually like to wear this sweater with my hair down and thought why not wear patchwork on patchwork?"
What fashion advice would you give other students looking to improve their style? "Look around for inspiration because there's inspiration everywhere. Just look at other people's styles' you like and you can steal their style if you want because imitation is the best form of flattery.
"
What are your favorite trends right now? "Patchwork, black, cut-outs, bright colors in the summertime, and looks from the Breakfast Club (Molly Ringwald's character inspired looks)."
Do you have any favorite fashion designers and if so who?
"Chloé for their bags and Spring/Summer 2016 collection."
What do you do for fun? Do you have any unique hobbies or interests?
"I'm a typical fashion major so I like shopping and online shopping, but I also like to play soccer in my spare time for fun.
"
If you could raid anyone's closet who would it be and why? "Kendall Jenner because I love her style. She has a wide variety of different types of clothing like athleisure wear and high-fashion pieces."
Elements of Ashley's Outfit

1. Patchwork Cable Knit Sweater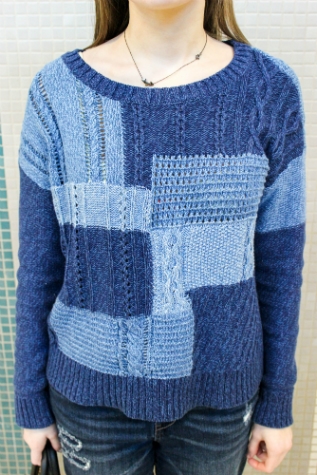 Ashley's blue cable knit patchwork sweater is the center of attention in this outfit. This sweater really works thanks to its mix of textures and shades of blue. No need to pair much else with this sweater – it's striking enough on its own.
2. Cropped Wide-Leg Jeans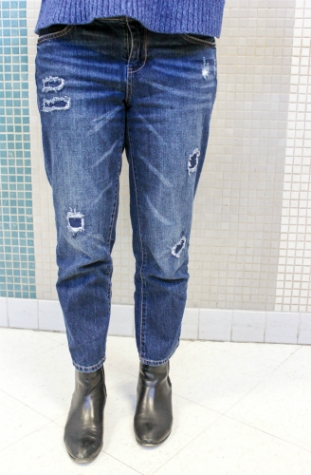 These cropped wide-legged patch jeans are so unique and different – they're not the kind of piece you see on campus every day. I love that Ashley took a risk and rocked something so unconventional. To me, her risk paid off in a major way.
3. Chelsea Boots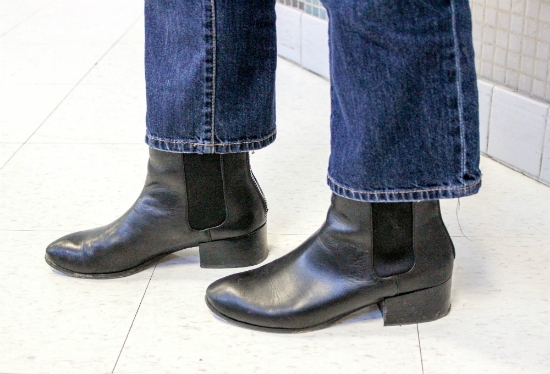 Chelsea boots are practically a wardrobe essential these days. They can be paired with any style of outfit and are extremely comfortable – perfect for walking around campus. Ashley pairs hers with her wide-legged jeans to give her outfit a minimalist, modern vibe.
4. Studded Tote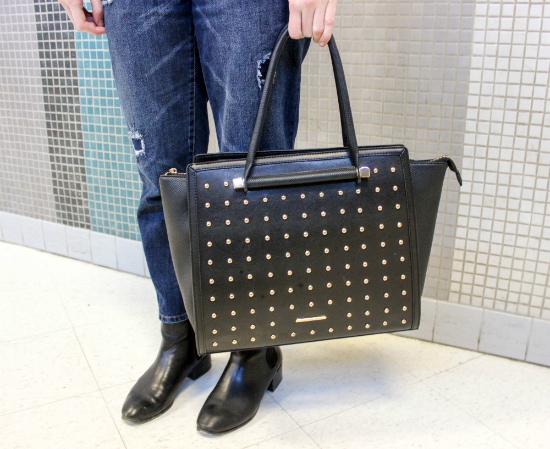 To finish off the look, Ashley added this big black studded tote bag, which she uses as her book bag. Both stylish and practical, this bag keeps all her supplies in one place and adds a little hint of edge and style to any outfit.
Are you loving Ashley's patchwork?
Would you wear her bold sweater? Do you own Chelsea boots? Comment below and let us know!