On the way to work from my Psychology lecture, I spotted Zola strutting through the halls of the law school. Amongst the rushing hordes of students, she was impossible to miss. Zola is the infamous freshman glamazon of Morse residential college at Yale. Bubbly with a striking sense of humor, she's also a member of Kappa Alpha Theta, an avid participant in the numerous community service opportunities that our university has to offer, and will be featured in Yale's upcoming Commencement Musical, Pippin. She also has fantastic style.
Ladies and gentlemen of College Fashion, I give you Ms. Zola.
Hometown: Murfreesboro, TN
Major: Biology
Graduation Year: 2013
What are your hobbies and interests? "Theatre, any team sport, and DANCING!"
How would you describe your style? "I find my style to be really simple. I like having several pieces of clothing that can easily be mixed and matched to create several different outfits for different occasions or different weather. An outfit can look radically different with a change of belt or heels instead of flats."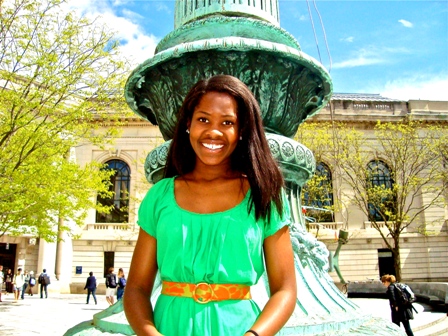 Now for a really tough question:Describe your style in three words. "Blazers, belts, and boots. But those aren't exactly descriptive words, are they? Oh well…"
What is your favorite style decade? "I LOVE the 20s, but I think it's mostly because of my slight obsession with Josephine Baker."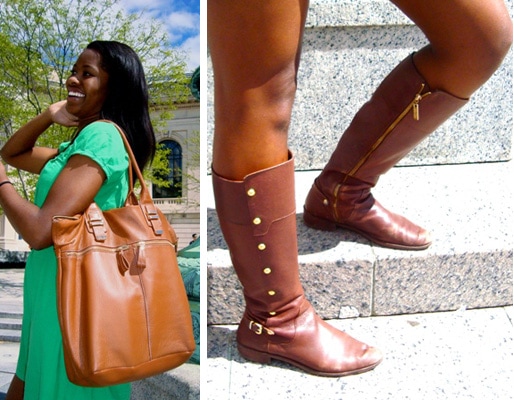 What are your pet peeves (fashion-related or not)? "Ugh. One-word text messages and stray marks on chalkboards."
Favorite stores? "H&M, J. Crew, TJ Maxx."
Why did you choose this outfit? "I chose this outfit because I LOVE DRESSES. And I've had this dress for a couple years now, but it always feels new when I put it on. Since this dress is so simple, a lot of accessories work with it, so creating a whole new outfit is easy."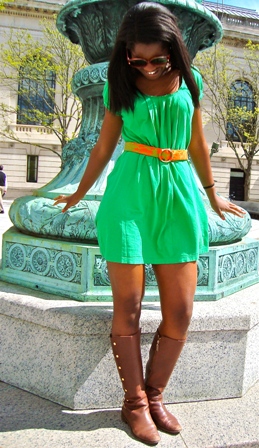 What do YOU think?
Do you love Zola's style as much as we do? Have your worn your boots this spring? Have you tried them with a dress? And what about the color of Zola's dress?! Can you see yourself in that color? Leave a comment and tell us what you think.