The first time I saw Zoe, she was wearing a sparkly red top, a purse shaped like an eyeball, and one of her famous flowery headbands. I was in a rush to get to class, but knew that I had to find her again and interview her properly for College Fashion.
Fortunately, she easily stands out in a crowd! I was excited to talk style with the most fashion-forward girl on campus, and the interview did not disappoint.
Zoe 101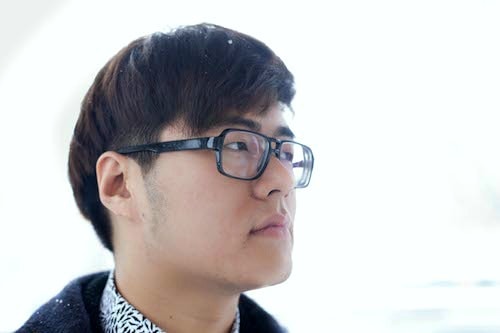 Name: Zoe
School: Rhode Island School of Design
Major: Foundation Student (Textiles)
Hometown: Nashville
Let's Talk Fashion
What inspired you to wear this outfit? "I just bought this sweater at Savers thrift store the other day, which I based the rest of my outfit around, hence the polka-dot tights and socks. I also love the idea of wearing a sweater with a white oxford button-up shirt.
Leather is one of my favorite trends right now, which is why I opted for the jacket and miniskirt. Leather-on-leather is kind of fun. I also felt like being tall today, so I wore these shoes – even though they're not the most practical for Providence's cold weather on campus."
I'm sure there's a story behind your fantastic headband. "I make all of my headbands. I have close to 30. I sell them on Etsy also."
I heard you're also a blogger. When did you start that? "I started writing my personal style blog when I was a freshman in high school in 2009. I wrote a post every day for a year. A lot of them weren't very exciting posts, but I made sure I posted every day. After that, I haven't posted every day, but I've kept up with it since. I try to post at least once a week. It's strictly a personal style blog. It's an outlet for me to share my thoughts on fashion and my outfits. It's called Girl With The Flower."
Flowers must be a sort of a signature for you. Tell me more. "I've worn flowers in my hair since I was in the eighth grade. I started buying flower hair-clips from Forever 21. It just kinda stuck. Like, I bought one and I wore it some, and then I started wearing it every day because I liked it so much. Then I bought more, and then I started looking for more places to buy flowers, and before I knew it, I had a huge collection of flower clips.
And then, I realized I could buy flowers from Joanne's and Michael's, glue them onto headbands, and put in rhinestones and little animals. It just kind of grew from there."
What advice would you give to girls trying to find their own style? "I'd say that looking at fashion magazines and looking at Style.com runway shows is a good place to start. A lot of my initial inspiration came from places like that. Especially Teen Vogue. I really love Teen Vogue and I really like the aesthetic that they represent. I don't really have any set advice other than to wear what you want and not care what people are going to say about [it]."
Some people might be nervous about trying out a new look, especially a bold one. What would you say to those people? "I would say to just go for it. Nine times out of ten fashion risks pay off. I think other people tend to admire your fashion risks more than they hate on them. And if they do hate on them, then whatever… it doesn't matter much."
What kind of reception do your outfits get? "There are a lot of people who really love what I wear and there are those who really hate what I wear. But I do it for myself."
Where do you like to shop? "Thrift stores. Savers. Goodwill. I would scout out all of the Goodwills in Nashville and make rounds frequently. I do some online shopping. I hit up sale racks wherever I go. Right now I'm trying to focus on quality over quantity. Instead of buying a ton of junk from Forever 21, I wanna take that and put it towards something that's high-quality and will last me a long time."
Do you have any favorite designers? "Hmm.. Meadham Kirchoff, Comme des Garcons, Suno, and Opening Ceremony."
If you could switch wardrobes with anyone who would it be? "Frida Kahlo or Lady Gaga."
What Zoe is Wearing:
Necklace – Shop Bananas (a boutique in Providence Federal Hill), Sweater – Savers, Button-down – Target Men's section, Leather Jacket – Online motorcycle supplier, Skirt/tights – Target, Socks – Happy Socks, Shoes – YRU, Bag – Milly, Lipstick – Lime Crime, Glasses – See Eyewear
Elements of Zoe's Outfit
Zoe demonstrates such careful attention to detail and combines interesting individual pieces together to create her truly one-of-a-kind look. While Zoe likes to meld together a lot of different pieces in an eccentric manner, each of her pieces is wearable in a non-art-school environment, too.
1. Polka Dot Sweater and Biker Jacket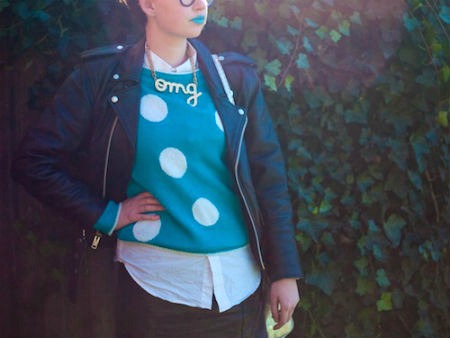 Wearing a sweater over a button-down shirt is a timeless look, but Zoe's bold pop of pattern add some serious oomph to the ensemble. When paired with a men's leather biker jacket that fits her like a glove, there's no doubt that she's the coolest-dressed girl on campus.
2. Necklace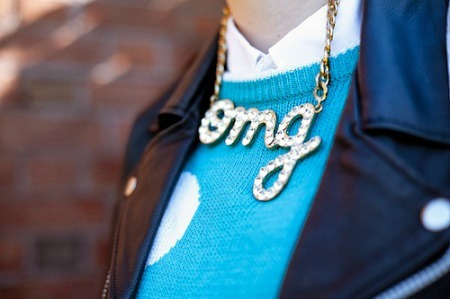 If you've never met a necklace with some personality, allow me to introduce you to Zoe's bling. Her "omg" necklace is the icing on her already delectable outfit. The rhinestone letters stand out against the bright blue backdrop of her sweater, and also mimic the silver sheen of her Milly bag.
3. Leather Skirt & Patterned Tights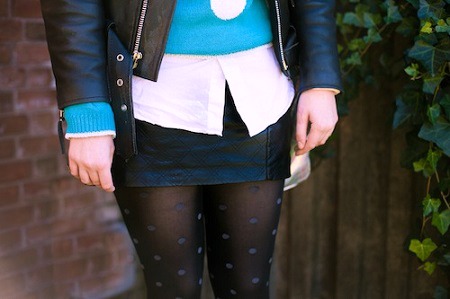 This pleather skirt from Target is a winner. It's just the right length; not too short and not too long. Zoe's skirt is ultra-trendy, but she demonstrates they can be worn with a variety of styles. Her polka-dot tights are also an adorable addition, since patterned tights liven up any ensemble.
4. Shoes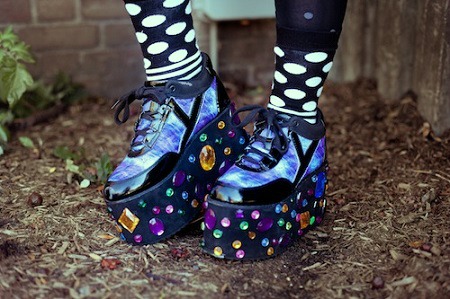 Zoe's shoes are absolutely killer. Even Lady Gaga would be jealous! They have a retro vibe but still look contemporary. Zoe also added the gems on the bottom, which takes these platform sneakers to a whole new level style-wise.
5. Circular Glasses & Headband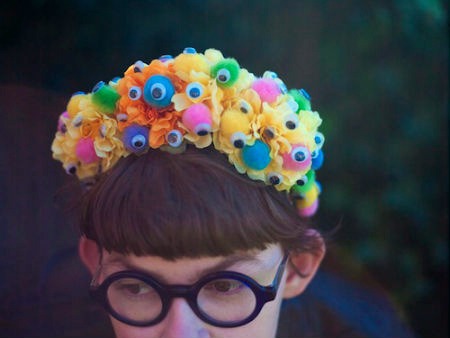 Can we talk about Zoe's glasses for a minute? They are insane, in a great way. If Harry Potter and John Lennon were to collaborate together on an accessory, these glasses would be the outcome.
Also, Zoe's headbands are downright fun. Googly eyes, pom-poms, and flowers are reminiscent of childhood whimsy. What makes Zoe's fashion sense so fantastic is her ability to let go of society's preconceptions of what we should wear; she wears what she wants and doesn't apologize for it. That is a trait we should all admire.
Now we want to know your thoughts?
Do you love Zoe's bold headbands? Which of her pieces is your favorite: the killer shoes, the funky glasses, the bold lipstick, or her menswear jacket? Does your personal style relate to hers? Let us know your thoughts by commenting below!