Each time I see Yuli on campus, I love what she is wearing. Whenever I stop to ask her where she got her outfit, it never fails; she always responds, "from back home in China." Now I know what it feels like when I respond to the same question with, "it's vintage."
Nevertheless, I die for all of her kitschy, girly clothes that would make even Zooey Deschanel jealous.
Yuli 101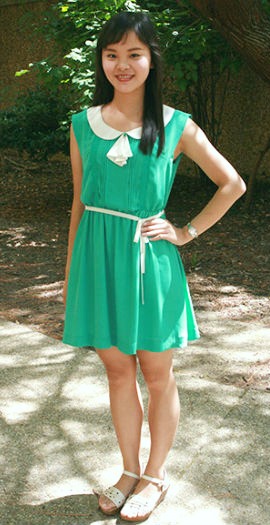 Name: Yuli
School: Louisiana State University
Major: PhD candidate in Apparel Merchandising
Let's Talk Fashion
Who or what inspires your style? "My mom definitely inspires my fashion taste. She always says that as you get older, you have less selection of colors that look good on you. She tells me to try different colors at this stage in my life. This is actually my first green dress! I usually try to wear red because it makes me feel joyful and is more traditional."
Where do you like to shop? "I like shopping in China more than here in the States. Here I like Abercrombie & Fitch, Ann Taylor, PINK from Victoria's Secret, and The Limited."
How would you describe your sense of style? "Traditional, like Tommy Hilfiger. I like the 'school-girl' look."
Why did you choose this particular outfit? "I'm still not ready for summer to be over and this green reminds me of leaves. When I purchased it the salesperson told me it would look good in pictures, and here I am getting photographed!"
What fashion advice would you give to other students looking to improve their style? "Be confident. If you are not from the U.S., try new brands here and different colors to see what fits your personality. Learn to match!"
What are your favorite trends right now? "I really like skater circle skirts for girls and cross-body bags."
Do you have any favorite fashion designers? "Christian Dior and Vera Wang."
What do you do for fun? Do you have any unique hobbies? "I love to swim — backstroke, butterfly, I enjoy it all!"
If you could raid anyone's closet, who would it be and why? "Jennifer Aniston and Anne Hathaway. Anne is so pretty and I would like to copy her style."
What TV show, movie, or music artist would you say describes your style? "I love watching Gossip Girl and Revenge— not only are those shows entertaining, the characters also have excellent fashion sense."
Elements of Yuli's Outfit
1. Flirty Flatforms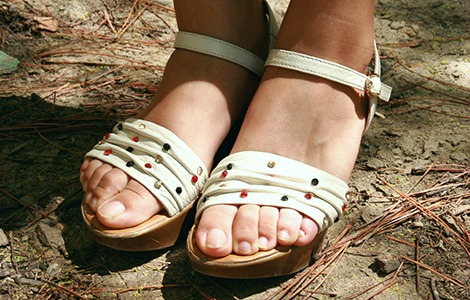 Most female students on LSU's campus stick with sneakers, so it is refreshing to see someone wearing funky flatforms! Props to Yuli for walking the uneven streets of campus in these. The multi-colored jewels add a great pop of color and ensure that these shoes can go with just about anything her wardrobe.
2. Bodice Details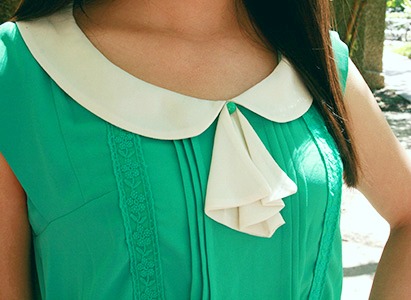 A Peter Pan collar! A pussy bow! Lace! Buttons! Pleats! Normally, all of these details in one small area of the body would look overwhelming, but each of these details are small, making the top of the dress look dainty and not overwhelming.
What do you think about Yuli's schoolgirl look?
If you are new to the U.S. what advice can you give to other newbies on how to adjust to fashion here? What are some non-U.S. retail stores that would be great to check out while overseas? Do you like the prim and proper look or do you have a more edgy style? Leave a comment below and let us know!