When searching about Japanese street fashion, one typically finds that Japan began to emulate Western styles as far back as the 19th century, which has influenced its fashion culture tremendously over the years. This has formed a style in which the wearer mixes elements of both current and traditional trends. Yuka is a perfect example of that, as she defines her style as both classical and modern and wears jewelry from the U.S. while pairing them with clothes from Japan.
Yuka is an English major in her home country, but decided to study Hospitality Management in the U.S. as she hopes to get involved with tourism and tourism marketing once she goes back to Japan after she graduates.
Yuka 101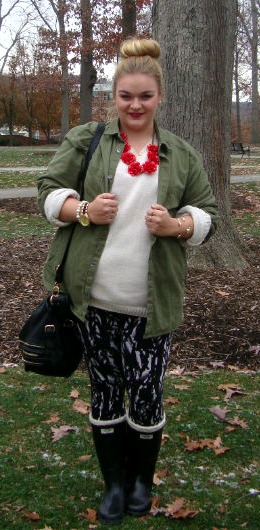 Name: Yuka
College: Indiana University of PA
Hometown: Osaka, Japan
Major: Hospitality Management
Age: 20
Year: Junior
Let's Talk Fashion
Who or what inspires your style? "A lot of people on Instagram or Twitter. Especially Ayano Sasaki and Alisa Ueno, who are Japanese designers who have their own brand(s)."
Where do you like to shop? "Tokyo! I like to shop online for accessories in American stores like Forever 21 and H&M. But Tokyo has many different types of clothes and brands. There's just so much variety, so that's why I like it."
How would you describe your sense of style? "That's difficult. Maybe classical and modern at the same time."
Why did you choose this particular outfit? "I actually usually wear heels to go to class. Japanese people are always dressing up. Also, I just wanted to wear this top today!"
What fashion advice would you give other college students? "I think that balance is important. If you're wearing a loose top, pair it with leggings or skinny jeans, and if you're wearing a puffy skirt, pair it with a fitted top."
What are your favorite trends right now? "I'm really liking gold accessories, so that's my trend right now."
What do you do for fun? "My hobby is cooking. And then I also like to find relatable people to follow on Instagram and other social media as well."
If you could raid anyone's closet who would it be and why? "Alisa Ueno's! I love her brand Fig & Viper; it's just really cool."
Elements of Yuka's Outfit
1. Polka-Dots + Suspenders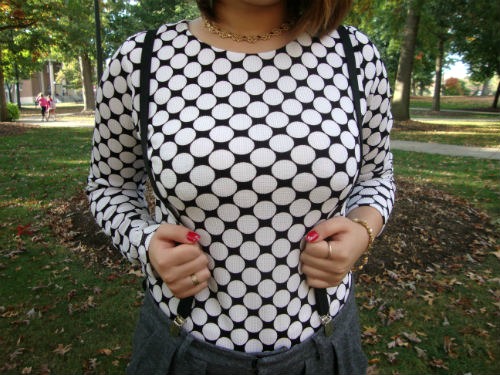 Yuka pairs her dark gray trousers and black suspenders with a large polka-dot print long-sleeve top. This is a great way to wear darker colors, and the bold print is such a fun touch. It makes the black, white, and gray tones look much less serious. Overall, this is a cool and fashionable ensemble for an early fall day!
2. Classic Elements + Funky Nail Polish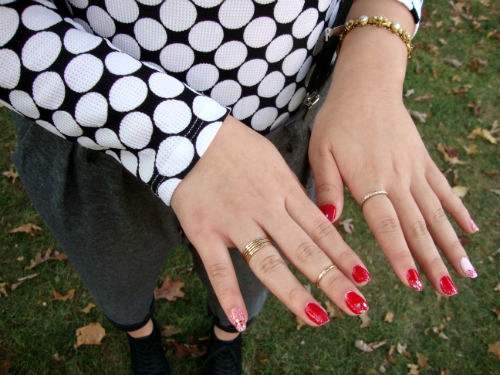 Nothing screams "classic" more than the glamour of gold jewelry with pearl beads. When paired with midi rings and dramatic nail art, this snapshot perfectly showcases her modern yet classic sense of style.
3. Hybrid Combat Boot/Sneakers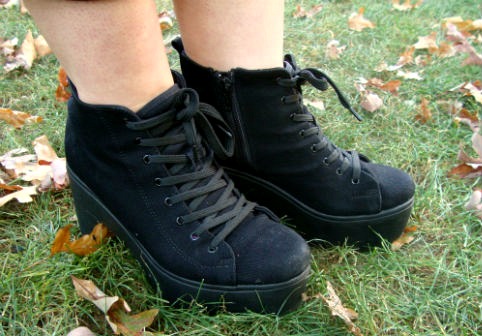 Yuka purchased these chunky rubber block heel ankle boots in Tokyo, and we love the edgy and on-trend touch they add to her outfit. Even though they have heels, these shoes look comfortable enough to rock when you're on your feet all day.
What do you think of Yuka's Japanese-influenced look?
Would you wear suspenders or combat boot sneakers? What do you think of pairing classic elements with contemporary styles? Let us know what you think about this fall-friendly outfit in the comment section below!