Hartwick College isn't exactly a city school, but that certainly doesn't mean our student body lacks that city-chic style.
When I saw Yessenia in her all-black attire with contrasting gold accessories, it looked as if she had just stepped out of the streets of New York City. Turns out, Yessenia grew up in the Bronx, and it's clear she has taken her city style to college with her.
Yessenia 101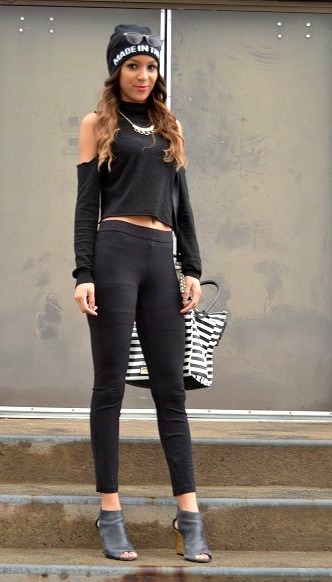 Name: Yessenia
Year: Freshman
Major: Business with a minor in Political Science
Hometown: Born in the Dominican Republic, but grew up in the Bronx
Let's Talk Fashion
Who or what inspires your style? "My mood. When I'm happy, I wear bright colors, and when I feel risky, I'll wear dark colors."
Where do you like to shop? "Rue 21, Charlotte Russe. Macy's has everything. H&M and Ann Taylor for classy looks."
How would you describe your sense of style? "Ghetto fabulous! Just kidding. Risky. Willing to wear what others don't and take it where others won't."
Why did you choose this particular outfit? "I was feeling like I wanted to wear black and gold. I call it D-Day or Definite Day… my friend and I made it up. It's where we wear black and gold."
What fashion advice would you give to other students looking to improve their style? "Don't worry what other people think of you. Wear what makes you happy."
What are your favorite trends right now? "I don't follow trends. I wear whatever the hell I want to wear."
Do you have any favorite fashion designers? If so, who? "Gabrielle Perezutti. She's one of my old bosses."
What do you do for fun? Do you have any unique hobbies or interests? "For fun, I put outfits together."
If you could raid anyone's closet, who would it be and why? "Kate Hudson because, like me, she is on the wild side. She isn't afraid to mix different looks, styles, or attitudes together."
Elements of Yessenia's Outfit
1. Statement Hat & Gold Accents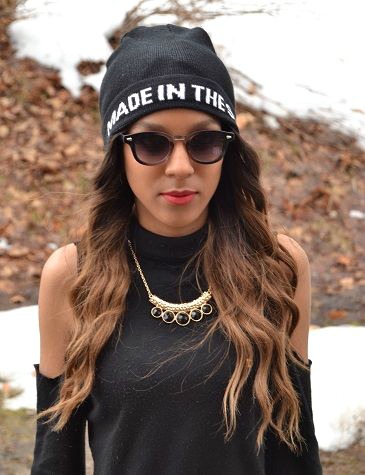 The accessories in this outfit —the "Made in the '90s" beanie, dark sunglasses, and gold jewelry— are all seamlessly put-together to create that "cool girl" look. These pieces make a trendy statement that doesn't look over-the-top.
2. DIY Cutout Sweater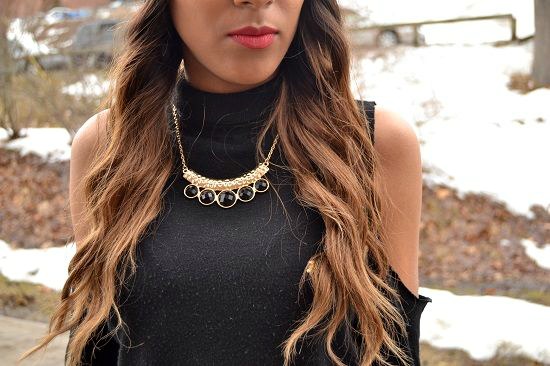 When I first saw Yessenia's outfit, I didn't realize that she had altered her sweater herself. The bold risk of slashing the sleeves made this sweater a sartorial success.
3. Peep-Toe Wedges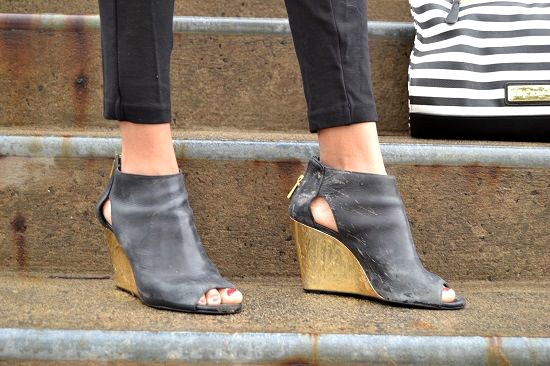 The black leather exterior and metallic gold wedge heel create the most lust-worthy shoe ever! They definitely make those stairs we have to climb on campus worthwhile.
What do you think of Yessenia's city girl style?
Would you wear her outfit? Have you ever DIY-ed your own sleeves? What do you think of her black-and-gold look? Comment below and share your thoughts!