Any friend of Orin's has no doubt as to what a privilege it is to know her; her smiling face is guaranteed to light up your day! Her elegant clothing choices reflect her intelligent and thoughtful character, so I was excited to talk to Orin about style vs. comfort, overcoming fashion fears, and quality over quantity.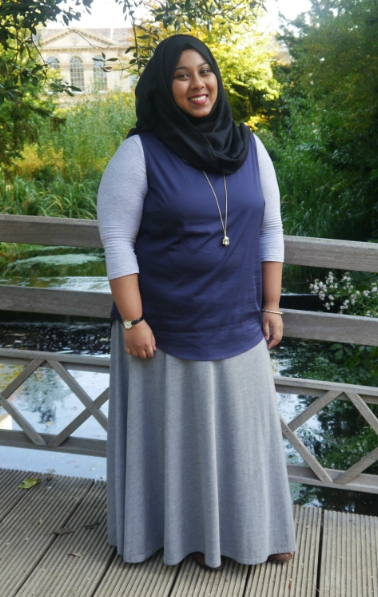 Orin 101
Name: Orin
Hometown: London, England
School: Worcester College, University of Oxford
Year: Third Year
Major: Jurisprudence [Law]
Let's Talk Fashion
How would you describe your sense of style? "It's very seasonal, but I'm also a huge comfort seeker, so whatever's most comfortable! I don't really wear things like heels unless it's for a formal occasion and if I can get away with flats, I will try! I like bright colors, but for autumn and winter I prefer jewel colors and autumnal hues, like dark brown and dark blue. I don't follow a certain trend or anything in particular; it's just what I like to wear and is comfortable for the season."
Where do you shop for clothes? "I go to a lot of different places; there are the usual high street shops, but I also go to a lot of markets where you find lots of unique things that you won't necessarily find in H&M or New Look. A lot of my hijabs are from markets because there's a much better range and variety with lots of different types of materials and embellishments. I love to shop around! Charity shops [thrift stores] are a great choice as well, because they have the most awesome clothes – you can go retro or ultra-modern. They're such great value as well, which is definitely what I'm looking for as a student!"
If you could raid anyone's closet, whose would it be? "Frida Kahlo, because she's the most epic person. She's one of those people who's like, 'I don't care about other people. I will look how I want, and wear what I want, and do my makeup how I want, and it's just going to be me.' I think a lot of people lack the confidence to do that. I love her floral prints, her whole unique look, [and] her unashamedly being who she is. Everything about her is amazing and I wish I had the confidence to do that! She's so iconic."
If you could shop for clothes anywhere in the world, where would you go and why? "I really like the 1920s flapper look because I studied the history at school and really looked into the fashion during that period. So I'd love go to 1920s America and buy some flapper dresses and a few feather boas!"
If you had $1000 to spend on one item of clothing, what would you choose and why? "I'd go very traditional then and go to India and buy the nicest Banarasi saree I could find! I love my traditional wear and have a huge collection, but a really good Banarasi saree is the perfect accompaniment to any South Asian woman. The quality, and the fact that it's all hand-loomed, play into it so you're not just buying any saree off the shelf; you're buying a history. Banarasi sarees have such a big history in India and in South Asia generally, and a lot of importance. It has to be a really dark maroon red as well, as I just love that color and the whole idea of red; it has such a significance for South Asian women. When you get married, you wear red, so I'd get one of them."
What advice would you give to students wishing to improve their style? "In terms of modesty dressing, a lot of people might think they're quite restricted in what they can wear, so it's about growing out of that mentality. On the high street you can find a lot of things that are modesty-friendly, so it's about finding your personal style. A basic starting point would be: what colors do you like? I ask myself, 'Do I like this color? Would this color look good on me?' and then build around that. Things like crop tops and sleeveless tops aren't completely off-limits, as you just have to layer them properly and see what works. Spend a couple of hours in a high street shop and try on different things without being afraid. If you have to, take a whole day off and do some shopping! Take a friend and try things on, see what works for you – I think once you've spent a while doing that, you have more of a sense of what your personal style could be."
Elements of Orin's Outfit
1. Hijab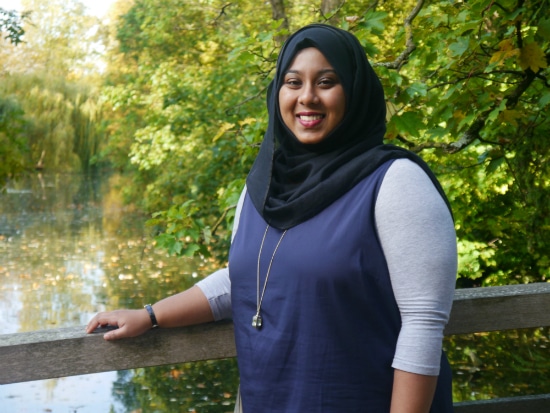 Orin loves to buy hijabs made from different fabrics at markets, as the scarves tend to be a lot cheaper and there's a better range available. Different styles of hijabs are becoming more popular under the category of "modest fashion," which is huge on Instagram.
2. Long Necklace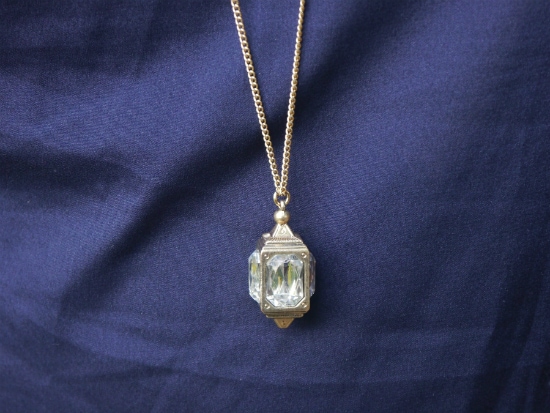 Long necklaces are ideal for Orin's outfits, as short chains disappear under her hijab. This cute lantern-style pendant was a gift from her friend and unobtrusively adds a personal touch to her simple outfit.
3. Bangle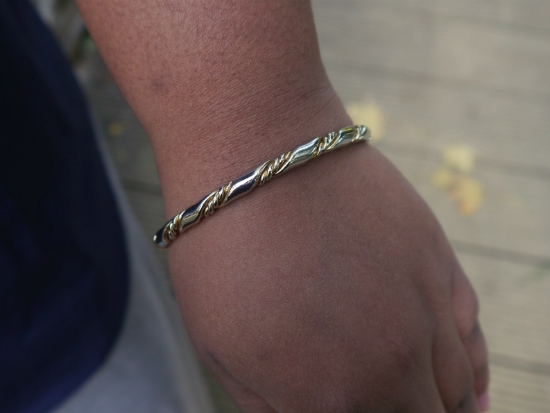 Orin admits that she's not one to accessorize much, but this bangle, passed down from family members to her mother and eventually to her, always makes it onto her wrist. It's simple, yet elegant – much like the rest of her style!
4. Layering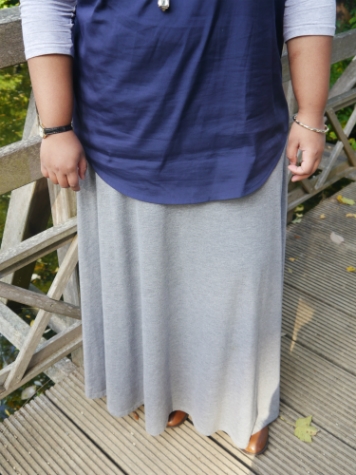 All of Orin's pieces for casual daytime looks like this are from ubiquitous high street brands like Primark and H&M, proving that you don't need to spend a fortune to achieve timeless elegance! By keeping to a consistent color scheme, Orin ensures the different elements of her outfit don't clash while still staying warm and comfortable.
5. Lipstick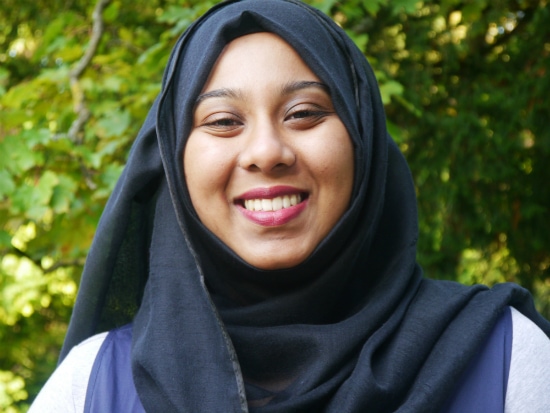 In keeping with her no-fuss approach to fashion, Orin has found one lip color that suits her complexion and her love for jewel hues, so she wears it every day! This plum lipstick is from a market, which can be a great place to shop for inexpensive beauty products.
Now we want to know what you think!
Do you love Orin's simple accessories and her sense of style? Comment below and share your thoughts with us!