Whitney's outfit caught my attention as I was leaving my favorite dining hall. Her bright floral print dress brought life to our otherwise dull and muddy surroundings. The effortless nature of her style and undeniable confidence compelled me to approach her. While spring is still dragging its feet in Amherst, Whitney exudes her own sunlight.
Whitney 101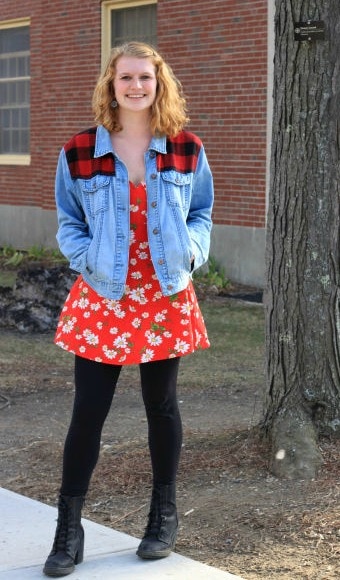 Name: Whitney
School: University of Massachusetts, Amherst
Year: Senior
Major: Comparative Literature & English
Let's Talk Fashion
Where do you like to shop? "I don't shop too often, but when I do much of my clothing comes from stores on the cheaper end, such as T.J. Maxx, H&M, or Forever 21. A lot of my clothes are spontaneous finds; something that catches my eye in a thrift store or in a friend's 'throw out' pile when they're cleaning out their closet."
How would you describe your sense of style? "My sense of style is bright, floral, and comfortable. I dress happy to feel happy."
Why did you choose this particular outfit? "It's one of my best and brightest dresses! This outfit nicely complemented this bright and sunny spring day. Also, the jean jacket is my favorite article of clothing I own. It encompasses both my love of plaid and jean material."
What fashion advice would you give to students looking to improve their style? "Take risks and don't bother following what has been prescribed as fashion 'rules'/do's & don'ts. For example, don't be afraid of mismatching your socks or wearing several patterns at once. Believe in yourself. You can and will pull it off."
What are your favorite trends right now? "Probably jean vests, since they go with everything. Also, floral combat boots."
Do you have any favorite fashion designers? "I'm sort of clueless when it comes to fashion designers, honestly. Does Project Runway count? If so, I can think of a few…"
​​What do you do for fun? Do you have any unique hobbies or interests? "I love biking, cooking, and hiking. I'm also drifting into craft-making, slowly but surely. I'm a barista and one of my favorite activities is making friendly peeps fancy drinks."
If you could raid anyone's closet, who would it be and why? "Definitely Stevie Nicks's closet. She is the goddess of black hats and flowy dresses. Her style is magic."
Elements of Whitney's Outfit
1. Denim Jacket with Flannel Patches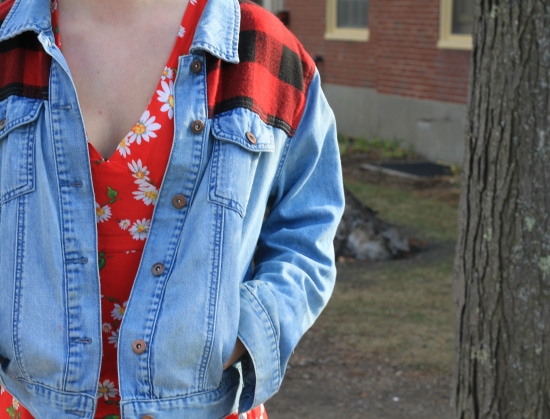 Whitney paired this floral print dress with her favorite jean jacket. The flannel inserts on this jacket add plenty of visual interest to her outfit. She has mastered the skill of wearing plaid, floral, denim, and leather cohesively and effortlessly — a feat not just anyone can pull off!
2. Dark Leggings & Combat Boots
I love the feminine yet edgy kind of style Whitney has created by pairing her traditional A-line floral dress with dark leggings and combat boots. Her combat boots have a bit of a heel, but these shoes are still comfy enough to walk around campus in.
Are you loving Whitney's style as much as we are?
Would you wear this outfit? What do you think of her chunky combat boots and grungy jacket? Comment below and share your thoughts!