Look out! This island girl is feeling country. People think that when you're a Lady Vulcan on the basketball team at the University of Hawaii at Hilo you have no time to dress up, but Whitney is out to prove everyone wrong with this darling number.
No matter how tropical the weather or how often she is found in the gym, Whitney still finds time to express herself through fashion – and she looks fabulous doing it, too!
Whitney 101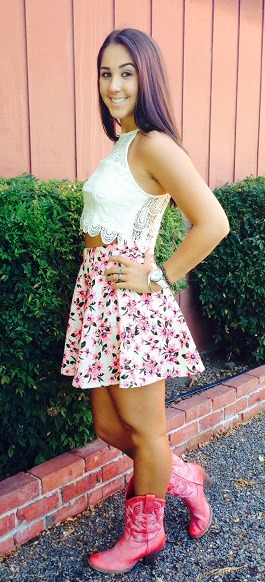 Name: Whitney
College: University of Hawaii Hilo
Year: Senior
Hometown: Cloverdale, CA
Major: Communications
Age: 21
Hobbies/Interests: Basketball, reading, hanging out with her girls
Let's Talk Fashion
Who or what inspires your style? "I really like Pinterest. If I want inspiration or outfit ideas, it's my first go-to."
Where do you like to shop? "My favorite place is American Eagle!"
How would you describe style? "[The] most important thing for me is to be comfortable. That's my number one. So if it's comfy, it's a winner! And if it's cute that's an added plus."
Why did you choose this outfit? "I went to a country concert and loved my comfortable boots, and basically I planned the rest of my outfit around that. I worked from the bottom-up."
What fashion advice would you give other students? "Beauty is pain my dears. But if it's comfortable, I guess it hurts just a little less."
What are your favorite trends? "I really like summer dresses. I have been into them a lot lately. I love how cute they look and it's summertime, so why not wear a dress?"
Who are your favorite fashion designers? "Lauren Conrad."
What do you do for fun? "Swim, tan, and basketball."
Elements of Whitney's Outfit
1. Lace Crop Top and Subtle Accessories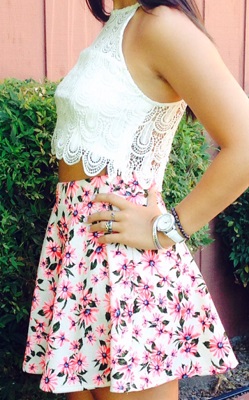 Whitney's lace crop top has a fun and flirty vibe that adds a stylish dose of texture to her ensemble. The top and skater skirt are both über-trendy, so Whitney keeps her accessories toned-down. A white watch, a couple of subtle bangles, and a homemade bracelet from the Big Island are all this outfit needs.
2. Pink Cowgirl Boots and Floral Skirt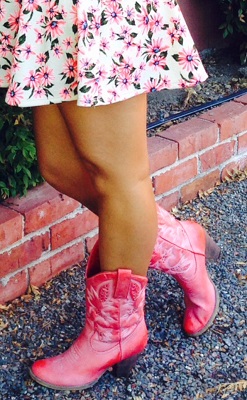 These boots add sass to Whitney's outfit and you can tell she has stomped on a couple of hearts in them. The pinkish-red boots look amazing with her island-tanned skin, and definitely give the outfit a country vibe. We also love how the color of her boots match her floral skirt. There's no doubt about it: this look is spot-on for any country concert.
What do you think of Whitney's country girl look?
Would you ever wear pink cowboy boots? Have you jumped on the crop-top and high-waisted skirt bandwagon yet? Let us know what you think and leave a comment below!