During finals week, the University of Florida campus was a ghost town. Most students either had their heads buried in books or were in their dorms preparing for departure following their last exam. And of course, even though winter break was right around the corner, it was still pretty hot outside in Gainesville.
Luckily, I found Wesnide celebrating the last Friday of finals in this colorful and warm weather-appropriate outfit.
Wesnide 101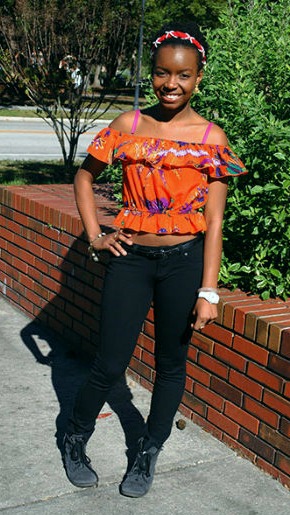 Name: Wesnide
School: University of Florida
Year: Sophomore
Major: Finance
Hobbies: Reading, doing homework, and watching television.
Let's Talk Fashion
Who or what inspires your style? "I inspire my style. I mean, there's always things that are popular, so I grab bits and pieces of it and put it all together."
Where do you like to shop? "I like to shop at Forever 21, but because it's so expensive I only basically shop at Ross and Marshalls; They're what I can afford."
How would you describe your sense of style? "Colorful but practical."
Why did you choose this particular outfit? "I chose this outfit because it's a little bit cold out today but it's still summer-y, so I like the top – and, you know, the pants and the boots have a fall and a summertime feel to [them]."
What fashion advice would you give to other students looking to improve their style? "Have fun. It's always nice to dress up, and as long as you're having fun and it makes you feel good, then try it!"
What are your favorite fashion trends right now? "My favorite trends right now are probably… I love the boots… I like the crop tops, but not for an everyday-type look."
Do you have any favorite designers? "Liz Claiborne. I don't go out to look for her stuff, but I look in my closet and I'm like 'Huh, this says Liz Claiborne, and this says Liz Claiborne!'"
Elements of Wesnide's Outfit
1. Crop top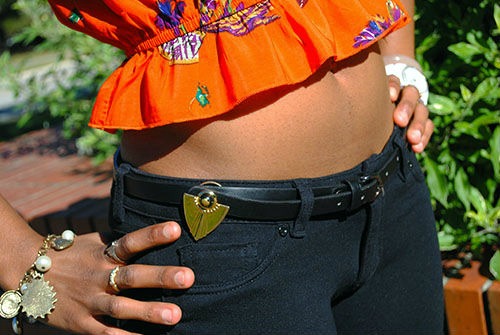 I love Wesnide's festive crop top from the Korean fashion website DressLink. Dark tones are predominate on campus during winter, so the bright orange hue of this top was a welcomed sight.
2. Eclectic Jewelry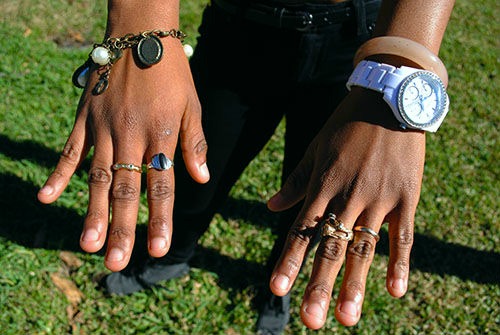 One very appealing thing about Wesnide's outfit is her eclectic selection of jewelry. She paired vintage earrings and rings from her mom with a Fossil watch and jewelry from Body Central and DressLink. This combination is unique, and she pulls it off flawlessly.
3. Headband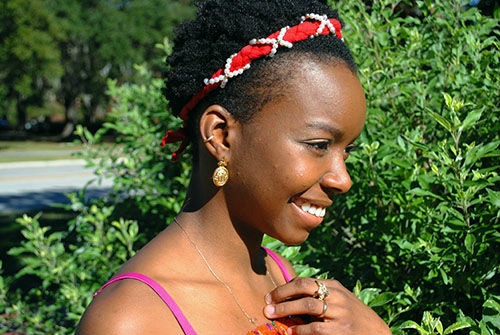 Wesnide completed her look with a statement headband. I was pleasantly surprised and impressed when she told me she made it herself! It proves that do-it-yourself pieces can really be a key element in any outfit.
What do you think?
What is (or was) your end of finals celebration outfit? What elements of Wesnide's outfit do you love? Do you wear crop tops on campus? Let us know your thoughts by leaving a comment below!