Lately, spring seems to be more reminiscent of winter, so it can be challenging to put together a warm-enough outfit that's seasonally spot-on. Wai Shan, a girl after my own heart, perfectly demonstrates the art of winterizing one's clothes on the UMCP campus. I'm a sucker for mixing grungy and feminine pieces, plus I hold a deep appreciation for getting the most mileage out of one's clothing. If you feel the same way, you'll love Wai Shan as much as I do — she's a master at both!
Wai Shan 101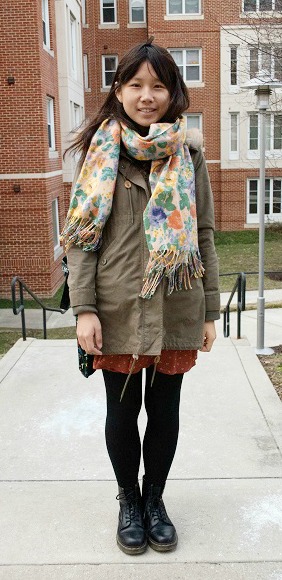 Name: Wai Shan
College: University of Maryland, College Park
Year: Senior
Major: Engineering
Let's Talk Fashion
Where do you like to shop? "I like Japanese style, so my clothes are mostly from Japanese brands, like Collect Point. My jacket and skirt are from there. In the U.S., I like to shop at Forever 21 and Urban Outfitters."
Why did you choose this particular outfit? "I like wearing this jacket with Doc Martens. They're a perfect match. I would look too sweet with this shirt and skirt, and this jacket balances it all. I also like the colors of my scarf. It's a spring item, and I put it on to match the season."
What fashion advice would you give to other students looking to improve their style? "Try to mix and match more, or layer your clothes — your results will be unexpectedly good! Others will notice the effort you put into your outfit, and will definitely appreciate it."
Who or what inspires your style? "There is no specific person that inspires my style, but I'm inspired by magazines. I mostly read ViVi — that's a Japanese magazine. It's easy to learn how to mix and match clothes that way. I also like checking the outfits of others on the street. You would be surprised that there are lots of people around you that have a good sense of fashion!"
Elements of Wai Shan's Outfit
1. Combat Boots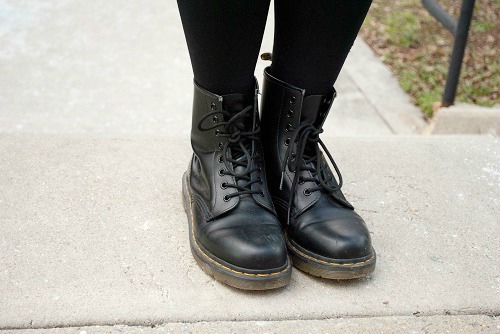 Wai Shan's Docs pack a punch in her ensemble, setting the stage for her grungy-meets-sweet look. Plus, they're the perfect footwear choice to battle the cold, not-quite-springlike weather.
2. Patterned Scarf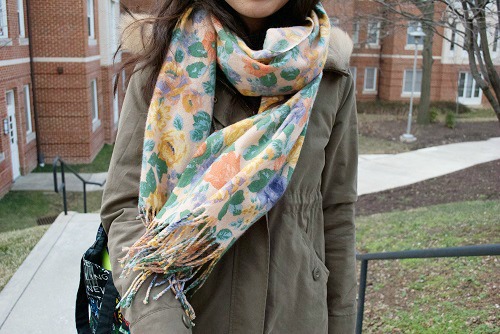 The floral pattern and colors of Wai Shan's scarf are true to the spring season, and play into the wonderful contrast found throughout her look. Her orange skirt coordinates with the orange flowers found on the scarf, which ties the entire outfit together.
3. Winter-izing!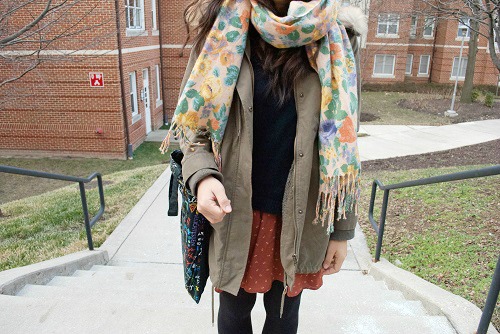 By layering her sweater with a sweet, berry-patterned skirt and basic black tights, Wai Shan demonstrates an easy way to winterize spring-appropriate bottoms. To top it all off, her cargo jacket adds another dose of grunge to balance out the girly skirt and scarf.
What do you think?
How do you like Wai Shan's outfit? Do you like the pairing of grungy and 'girly' pieces? How do you make the most of your clothes? Let us know in the comments below!