While browsing for notebooks, I was surprised to see a pair of spiked Jeffrey Campbell platforms walk into the bookstore. I had never seen such a bold heel on campus, so I knew I had to talk to the girl wearing them.
After chatting with Vivienne, I realized that her boots weren't the only part of her outfit worth observing: The rest of it was equally fabulous! Not to mention, she walked like a runway model in those platforms.
Vivienne 101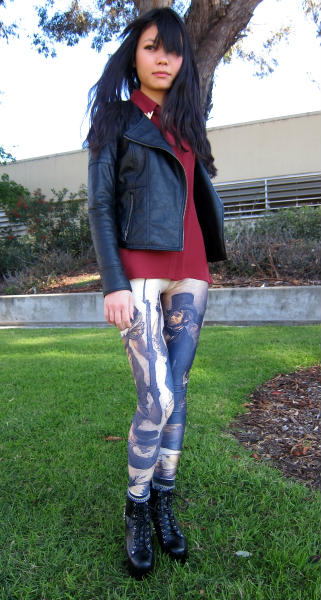 Name: Vivienne
College: California Polytechnic State University, San Luis Obispo
Major: Architecture
Year: Sophomore
Let's Talk Fashion
Why did you choose this particular outfit? "It was the first day I could try the shoes out and break them in. The leggings have been my favorite since I bought them because I really liked the concept of the French Revolution print. And the jacket was just to keep myself warm."
How would you describe your sense of style? "I would say radical. I like combining girly styles with cool and edgy styles. Some days I just go totally edgy."
Who or what inspires your style? "I just wear what I like. I sometimes check fashion show videos and fashion week pictures because they combine really unique styles. I pick a little bit of this and that to put into my style."
Where do you like to shop? "My favorite shop is definitely Forever 21 because it's affordable. As long as you pick the right materials and shapes, the pieces are just fine. I also like Urban Outfitters for their patterns and prints. Also, their sales are awesome!"
What fashion advice would you give to other students looking to improve their style? "Colors and patterns make a lot of difference. But I think the most important thing is to make sure your clothes fit. Make sure things are not too long, short, tight, or baggy. Choose the right fit for your body."
What are your favorite trends right now? "Patterned leggings, tights, and stockings. I really like vertical stripes."
Do you have any favorite fashion designers? If so, who? "I really like Ann Demeulemeester. Her designs are really simple but really beautiful. You can just wear one of her shirts and some pants and look fabulous."
Elements of Vivienne's Outfit
1. Spiked Jeffrey Campbell Litas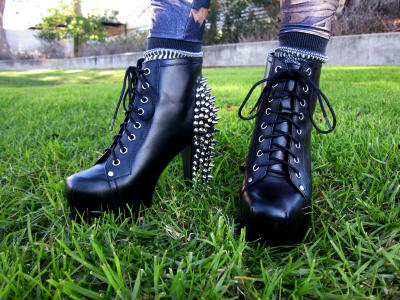 These heels are definite showstoppers: They turn heads and add that extra va-va-voom to any outfit. Vivienne's shoe choice accentuates the edgy feel of her look and sets the stage for the rest of the pieces.
2. Patterned Leggings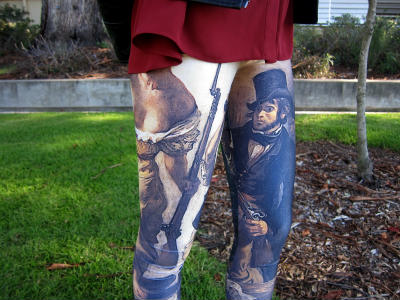 These French Revolution leggings turn Vivienne's outfit into a history lesson fit for the runway. The formfitting legging material works with her body type to create a streamlined look, while the color plays nicely with her dark red top.
3. Metal-Tipped Blouse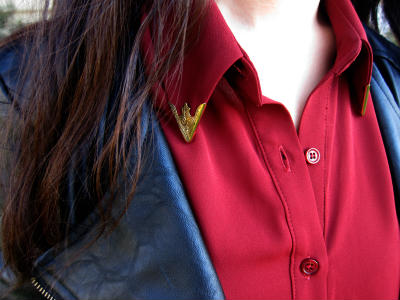 Although subtle, the detail on Vivienne's collar adds a touch of vintage flare to her classic red blouse. The design doesn't take away from the rest of the outfit, but instead carries the edgy theme through the top half of her look.
Your Thoughts?
What do you think of Vivienne's look? Would you wear her bold shoes on your college campus? Do you love her unique leggings as much as we do? Let us know with a comment!