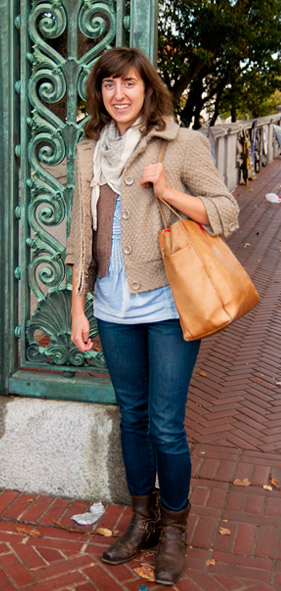 I was on my way to class on a crisp November day. Although the sun was out, it was actually quite chilly. As I was passing through Sproul Gate at UC Berkeley, I spotted Victoria's perfectly cozy fall ensemble from afar. I couldn't let her go on her way without first shooting her outfit and asking her some questions.
Victoria 101
Name: Victoria
Major: French Literature
Year: 2nd year graduate student
Let's Talk Fashion
How would you describe your sense of style?
"It's pretty low-key, kind of folk-y, with a mild French influence. Scarves are important to French style – and I love how they look effortlessly put-together."
Where do you like to shop?
"Anthopologie, thrift stores."
Why did you choose this particular outfit?
"I tried to create a monochromatic outfit by layering different shades of brown."
What do you do for fun – do you have any unique hobbies or interests?
"I like to cook and bake. I also like to sing – there are always bands on craigslist looking for singers!"
Elements of Victoria's Outfit
Layering and Color Matching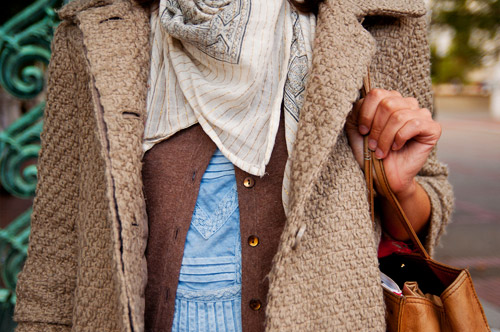 Victoria's outfit really epitomizes the art of layering and color matching. The shades of brown and the textures of each piece create depth and intricacy. I absolutely love how the pop of light blue peeking out from under her jacket adds a small dash of color while the shades of brown contrast and complement each other. Brown is also a great fall color and, since it's a neutral, will work with almost everything in your wardrobe.
Fall Scarf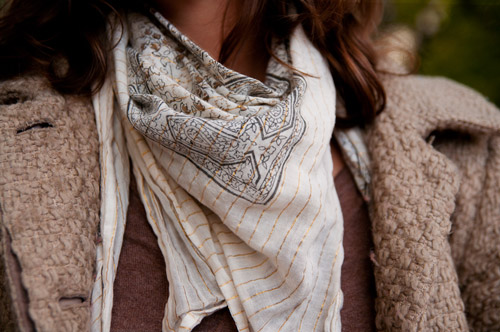 Victoria's scarf adds the perfect touch of vintage-chic to her look. The neutral beige color goes with the rest of her outfit, and the gold weaving and designs on the scarf add a splash of pretty detail.
Moto Boots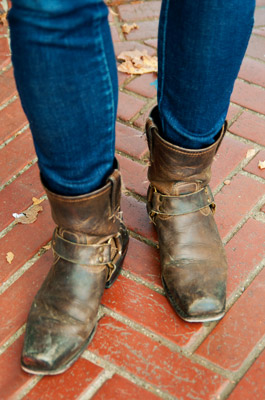 The last great element of Victoria's look is her amazing pair of scuffed motorcycle boots. Sticking to the brown color palette, these are a beautiful shade of chocolate, and since they're perfectly beat-up and worn looking, they create a wonderful contrast against the more feminine pieces in Victoria's look. As her ensemble shows us, wearing darker pieces on your bottom half and lighter pieces up top is a great way to achieve balance, and create a seamless and put-together ensemble.
What do you think?
Are you loving Victoria's ensemble as much as we are? Are you dying to try layering different shades of the same color? Is it too simple to only have two colors in an outfit? Share your thoughts below in the comments!