If you're a petite girl like myself, you know it can sometimes be a struggle to dress comfortably without looking like you went through your mother's closet.
That's why when I saw Victoria's stylish and tailored outfit, I knew I had to
feature her on College Fashion!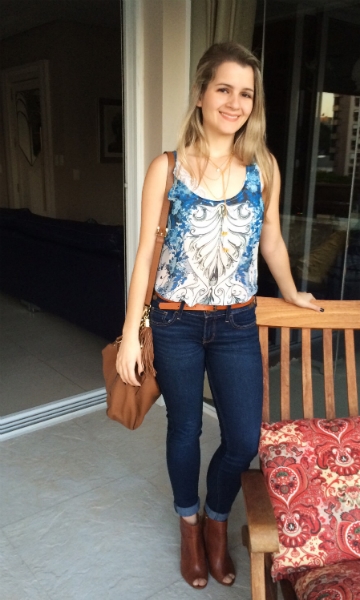 Victoria 101

Name: Victoria
School: Escola Superior de Propaganda e Marketing (ESPM)
Major: International Relations
Semester: Six
Let's Talk Fashion

Do you have any favorite fashion designers? If so, who? "I'm not sure if I have a favorite, but lately I've been loving Mary
Katrantzou's designs and prints."
How would you describe your sense of style? "I think I'd say it's
simple, comfortable and colorful!"
Where do you like to shop? "At so many places! But I guess if I had
to pick my favorites, I'd say Farm [Brazilian store] and Kate Spade."
What are your favorite trends right now? "I like these new
shapes of bras and bra tops that are meant to be visible and a part of
your outfit."
Elements of Victoria's Outfit

1. Print Top + Lace Bralette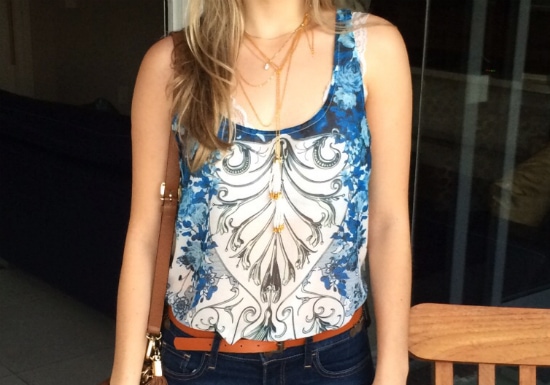 Victoria's printed tank top, which she bought at Farm, brings a fun element to her outfit,
bringing color and straying away from a minimalistic look. Adding a printed piece is
always a great way to quickly transform your outfit! Victoria accessorized her top with a white lace
bralette, a trend she says she's loving right now. Guess what? I think I now am, too!
2. Brown Hobo Bag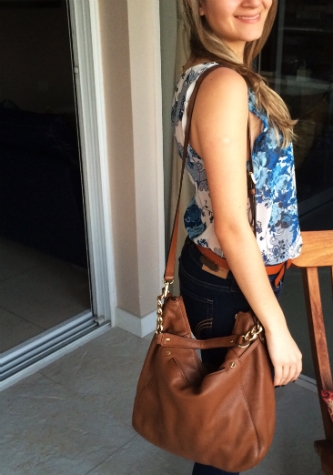 As a petite girl myself, I find it hard to pull off big bags. Victoria, however, does it with ease – she says she loves this one because it's big enough to carry what she needs for
class and it's still comfortable enough to carry through campus. Another thing I liked was that
she kept her accessories – shoes, bags and belt – in the same color range, without them
being the exact same tone, adding a modern touch to the overall look.
What do you think of Victoria's style?

What are your thoughts on prints and Victoria's look? Comment below and let us
know what you think!