While at home on the beach in California over break, I couldn't help but notice Vanessa's ability to pair understated accessories with cool pieces for a bohemian, laid-back look- a style she has perfected while living in Hawaii.
Although most of us are currently dressing for winter weather, Vanessa's look is fabulous inspiration for our upcoming Spring Break looks.
Vanessa 101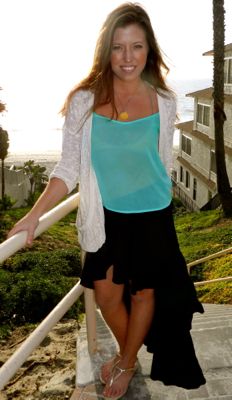 Name: Vanessa
Hometown: Carlsbad, California
Age: 19
School: University of Hawaii Manoa
Year: Sophomore
Major: Psychology
Hobbies & interests: "Running, surfing, art, writing."
Let's Talk Fashion
Describe your style in three words: "Casual, simple, comfortable."
Who or what inspires your style? "Bohemian influence."
Where do you like to shop? "I like local designers and boutiques. I like pieces that are unique to a place, ones that no one else will have."
What are your favorite trends right now? "I love sheer button-ups because they are so versatile. You can dress them up or down or even wear them as a beach cover up."
Is there a specific article of clothing that you can't wait to buy? "I want more loose pieces that I can wear at the beach. Pieces have to be functional so I can wear them in hot Hawaii weather."
What fashion advice would you give to other students looking to improve their style? "Wear what feels comfortable to you, choose timeless over trendy."
Elements of Vanessa's Outfit
1. High-Low Maxi Skirt
I love this new trend for spring. While some may be hesitant to wear a maxi skirt, the high-low skirt is asymmetrical and perfect for those who fear being swallowed by fabric. I have seen adorable high-low skirts in a variety of bold prints and bright hues for spring. I also love the idea of wearing one of these to the beach for Spring Break!
2. Bright, Sheer Tank Over Bikini Top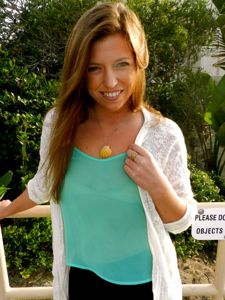 I love the pop of color this sheer, turquoise-hued tank adds to Vanessa's outfit – it's the perfect sophisticated way to cover up a bikini top! Pastels and brights dominated the runways for spring and are a perfect way to add an edge to any outfit when paired with neutral pieces.
3. Shell Necklace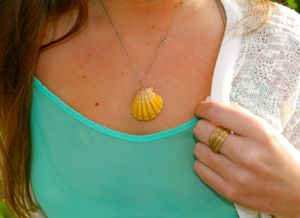 I like the earthy, bohemian feel of this unique shell necklace. Vanessa says it is her go-to piece and she wears it almost every day. She found the shell while diving and had it made into a necklace. How cool is that?
What do you think?
Would you wear something similar to the beach? Would you try a high-low maxi skirt? Do you have your Spring Break plans worked out yet? Let us know with a comment!