Valerie stuck out to me as the ideal UC Davis student. While the university is tough to get into, their students are talented, yet easygoing and well-rounded. Valerie combines all of those characteristics through her style.
It wouldn't be hard to realize that she pursues a healthy lifestyle once you notice her Fitbit, and her handmade accessories represent her passion for crafting. In addition, her Birkenstocks are an excellent representation of her nature-loving persona. Valerie truly expresses who she is through her thoughtfully-selected outfit.
Valerie 101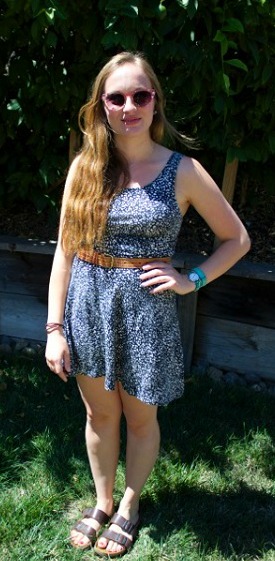 Name: Valerie
Year: Senior
School: UC Davis
Major: Statistics
Hobbies: Climbing, running, healthy cooking, crafting, and gardening
Let's Talk Fashion
Where do you find inspiration for your outfits? "I normally see cool styles online on sites like Buzzfeed and Pinterest. Whenever I see something I like, I try and recreate it using my own closet."
How would you describe your style? "I always go for comfort, but I want to look presentable, too. I think right now my look is youthful because I am young, but I know how to look professional in the right situations."
Where do you shop? "Davis has tons of thrift shops that I love shopping at. But when my mom is paying for the clothes I like to go to American Eagle and Forever 21."
What are currently your favorite trends? "Birkenstock sandals are my go-to trend right now. [They are] super comfortable and go with pretty much everything I own. They're amazing. I also am obsessed with geometric and tribal print patterns."
Why did you choose this outfit? "The weather is always in mind when dressing in Davis. It has been 100 degrees for the past week, so staying cool has been the most important part of getting dressed. This dress is comfortable enough and keeps me from constantly sweating."
Elements of Valerie's Outfit
1. Cutout Dress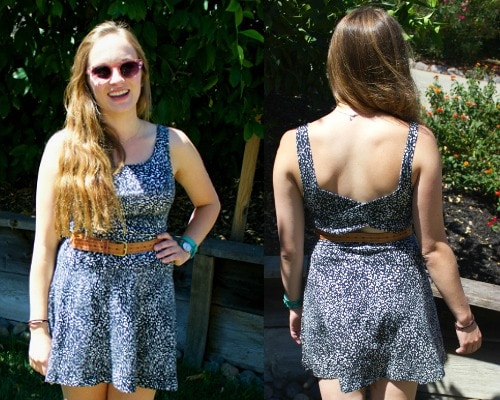 Valerie's dress is ideal for smoldering hot weather. It has a cutout in the back, which helps keep her cool and is flowy enough to allow a breeze. The cut of the dress is very flattering and was just made for layering on plenty of accessories. Plus, a little glimpse of back never hurt anyone!
2. Birkenstock Sandals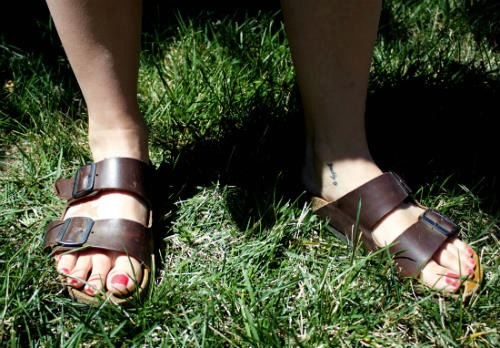 Birkenstocks are more than in right now, they are everywhere! Valerie knows just how to style them with this summer dress. These shoes are distinctive, make a big statement, and are ridiculously comfortable. Valerie looks so stylish in hers that I swore she was a Birkenstock model.
3. Original Accessories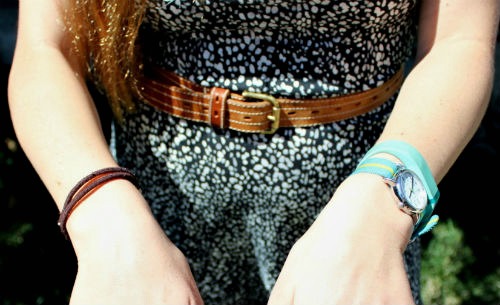 The accessories Valerie wore were so original and eclectic, but fit her lifestyle perfectly. She added pops of color to her look with a blue and yellow wristwatch, which matched her teal Fitbit. She owns multiple Fitbit straps in different colors because she likes to change them depending on what she is wearing.
Valerie completed her look by cinching her waist with a vintage belt she snagged from her mother's closet. It has a classic appeal, and Valerie thinks it's probably from the 1970s.
What do you think of Valerie's hot weather style?
Do you think Valerie knocks it out of the park with this look? Do you ever wear dresses with cutouts? How do you stay cool in the hot, hot heat? Comment below to tell us your thoughts!