It's funny how you can go so long without talking to someone who lives right next door. I'd seen Valerie strolling up the green in front of my building a couple of times, but I had yet to chat with her. When I spotted her around the dorms in this look, I knew I had to ask her about her style – and I'm so glad I did! Her personality is as fabulous as her wardrobe.
Read on to learn more about Valerie's boho-inspired outfit, as well as her fun take on personal style.
Valerie 101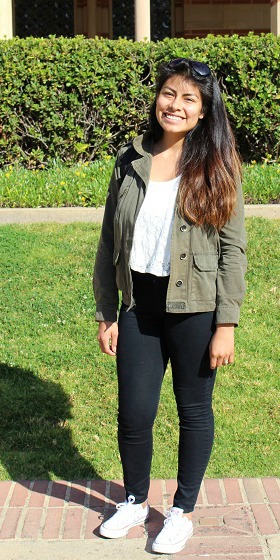 Name: Valerie
Hometown: Los Angeles, CA
School: UCLA
Year: Junior
Major: Sociology
Interests/Hobbies: Hiking, reading, window shopping, trying new restaurants/cafes, going to concerts, school, and traveling
Let's Talk Fashion
Who or what inspires your style? "I guess magazines and catalogs. And I like flowers a lot – I like to dress as if I was living in the forest. (I love the outdoors, basically.) I also like cutesy, vintage-y stuff, too, like mason jars and old world maps."
Where do you like to shop? "I like American Apparel and Urban Outfitters. I also like thrift shops, like Buffalo Exchange in Brea, CA and Crossroads in Santa Monica. Oh, and I also like to shop online at ASOS and Zara."
Why did you choose this particular outfit today? "I had not worn a dress in a while because it's been raining a lot lately. When I saw that it was warming up a bit, I was excited to finally wear a dress again! It just makes me feel happy."
What fashion advice would you give to other students looking to improve their style? "There's this quote I really like. I think it says 'don't try so hard to fit in, when you were born to stand out.' So basically, just don't feel the pressure to dress the way everyone else does. It's alright to be different. So just express yourself. I consider myself a very happy person, so I try to express it through my outfits. And when it comes to dressing for your body, I think that just as long as you buy things that fit, it's all going to work out. Every girl can wear whatever she wants as long as it's the right fit."
What are your favorite trends right now? "I don't know if people are still doing this, but I know that in the summer people around here were always wearing flowers in their hair. I still love that style. I also like knee-high socks and I'm really into watches right now."
Do you have a favorite fashion designer? If so, who? "Marchesa's gowns are amazing – I love how they are like Greek goddess dresses."
What do you do for fun? Do you have any unique hobbies or interests? "I love going to concerts. There's always a bunch of stuff going on in LA and my friend always knows about all these random places to see shows. It's so much fun!"
If you could raid anyone's closet, who would it be and why? "Lana Del Rey. I love her style and her music. I wish we were best friends."
Elements of Valerie's Outfit
1. Dress and Jean Shirt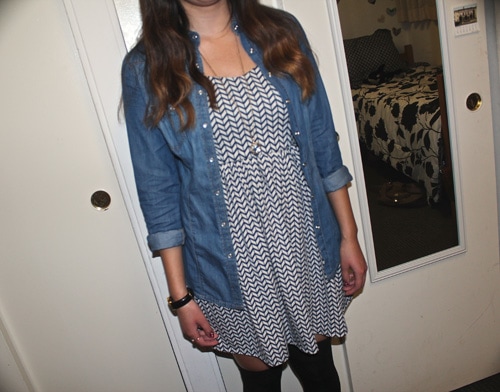 Graphic prints in neutral colors are a great base for any outfit. Valerie added a long-sleeved jean shirt to her printed dress rather than slipping on a regular jacket or sweater. This outfit combines feminine and masculine, as well as dressy and casual elements.
2. Knee-High Socks and Booties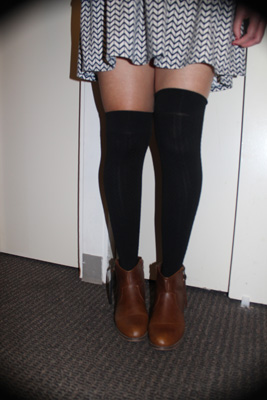 Valerie's black knee-high socks and copper-colored booties complete her vintage-inspired, feminine look. Knee-high socks are a great way to add some flare to a mini dress during cooler weather – don't be afraid to give it a try!
Your Thoughts?
What do you think of Valerie's look? Do you love her vintage getup as much as we do? Do you rock knee-high socks and ankle booties? Let us know with a comment!