It's winter break, and for me that means getting to fly back home to California. While it might be freezing cold everywhere else in the country, here in The Golden State, there's just a bit of a chill in the air nipping away at our sunny weather. We are lucky on the coast; it is a wonderful break from all the snow and storms icing up the rest of the country!
While checking out my mom's alma mater, Cal State Fullerton, I stumbled across Valerie, who was rocking this wonderfully layered outfit.
Valerie 101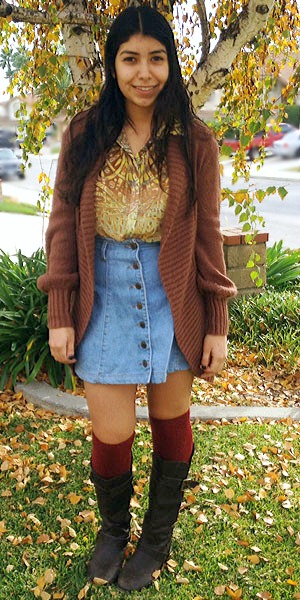 Name: Valerie
School: CSU Fullerton
Year: Sophomore
Major: Communications/Public Relations
Hobbies: Spending the night with Netflix and a cup of tea
Let's Talk Fashion
Who or what inspires your style? "Different cultures inspire my style choices. I'm always interested in exploring things that are new to me. I'm also really inspired by street style; I like to try and spot new trends I can try out."
Where do you like to shop? "Random boutiques. I like to try and find pieces that not everybody has, but I also like Target."
How would you describe your sense of style? "My style tends to be defined in two different realms. I'm always playing around with the bohemian look and a more sophisticated look. One day I like to be girly, with skirts and oxford shoes, and the next day [I'll wear] a chiffon dress with boots."
Why did you choose this particular outfit? "I chose this outfit because it's finals week for me, and I wanted to be comfy, yet upbeat and stylish! Plus, it's good to layer because you never know how cold it's going to be in the classrooms."
What fashion advice would you give to other students looking to improve their style? "Don't be too shy to try any of the new styles or trends out, because it helps you grow and develop your own style. You can either look back and say 'what was I thinking,' or you can learn what works and create a whole new style for yourself that you adore."
What are your favorite trends right now? "I don't see it too much, but I love mixing patterns. It can be hard to do, but I think it's worth the risk when it works because it looks awesome and edgy!"
Do you have any favorite fashion designers? If so, who? "I really love Elie Saab right now, if I could wear gowns every day, I definitely would. Especially from Elie Saab – they're utterly beautiful."
If you could raid anyone's closet who would it be and why? "I would absolutely love to raid Solange Knowles's closet. Being Beyoncé's younger sister, she's definitely interesting, but her choice of clothing, prints, and even the way she styles her hair is phenomenal. It's a style I wish I'd see more people trying."
Elements of Valerie's Outfit
1. Statement Shirt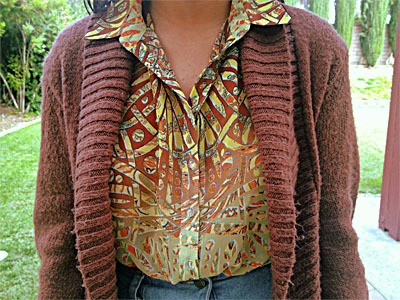 Valerie's shirt is an eye-catching piece that gives her comfy finals week outfit the edge she craves. The classic button-down is given a fashion-froward look thanks to the bold pattern and color, which she complements with a thick knit cardigan in a similar hue.
2. Skirt + Thigh Highs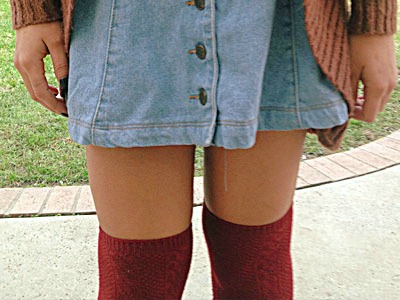 I absolutely love the schoolgirl trend that's popular right now, but it can be a little hard to pull off. However, Valerie shows us that pairing a denim skirt with maroon thigh high socks is a great way to channel the schoolgirl vibe without looking too over-the-top.
If you're interested in trying out this look for yourself, opt for a skirt that hits you mid-thigh, and layer on long cardigan like Valerie did here.
What do you think of Valerie's street style?
Is this a school-appropriate outfit for finals? Do you ever wear thigh highs with skirts? What are your go-to finals outfits? Let us know by leaving us a comment below!