I spotted Tzipora about 20 minutes before it started pouring rain. Although the day was gloomy, she was dressed in an adorable and summery look, complete with a smile and a whole bunch of positivity. I was lucky she had time to stop and talk about her airy outfit before heading to her psychology class.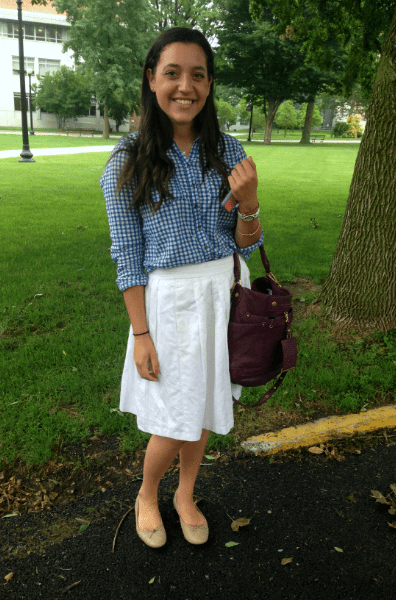 Tzipora 101
Name: Tzipora
Year: 2019
School: Queens College
Major: Psychology
Hometown: New York City
Let's Talk Fashion
Who or what inspires your style? "Kate Middleton. I love her clothes and my whole family adores her."
Where do you like to shop? "I'm not picky about where I go, but I love shopping at J. Crew and Zara."
How would you describe your sense of style? "Depends on the day and my mood, for sure. I like to look pretty classic, but still keep my outfits young and stylish."
Why did you choose this particular outfit? "I definitely thought it was going to be a lot nicer out today, but at least it's comfortable."
What fashion advice would you give to other students to improve their style? "I feel like everyone has their own style so I don't really have advice that I could give someone else other than to be yourself and wear what comes to you with confidence."
What are your favorite trends right now? "I'm really into making different arm parties, but I'm not so good at it. Also, I have these shoes in three colors: red, black, and beige. They've been perfect for summer and I tell everyone to buy them."
What do you do for fun? "I just spent an incredible year studying in Israel, and now that I'm home I like to go shopping and play basketball."
If you could raid anyone's closet who would it be and why? "Princess Diana and Kate Middleton definitely have very classy and beautiful clothes that I'd love to wear.
I know it sounds a little weird, but I also really love what the Kardashians wear! I wear skirts every day, so I'd love to raid Kim Kardashian's closet because she wears so many classy-looking pencil skirts and dresses. I also love her sister, Kendall Jenner, because she wears simple but very cool outfits."
Elements of Tzipora's Outfit
1. Blue-and-White Gingham Shirt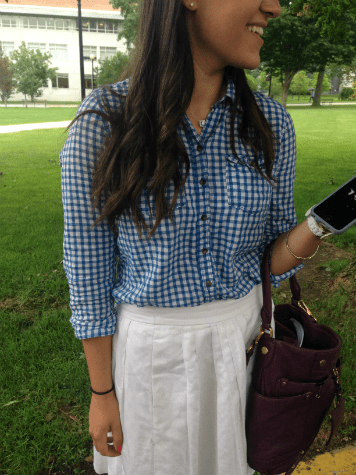 Tzipora's gingham shirt is a perfect summer piece. The bright blue lit up her face and looked so nice against her tan skin. A printed button-up like this is a good investment, since it can be worn with a skirt or shorts in the summer or under a knit sweater during winter.
2. Arm Party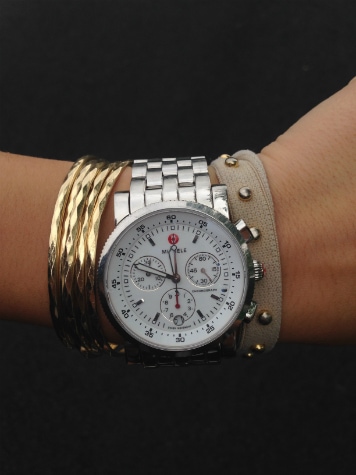 Tzipora mixed it up by incorporating gold and silver in her arm party and they worked really well together. The shine in her jewelry was eye-catching but not overwhelming and each piece perfectly matched her sweet and classic style.
3. Ballet Flats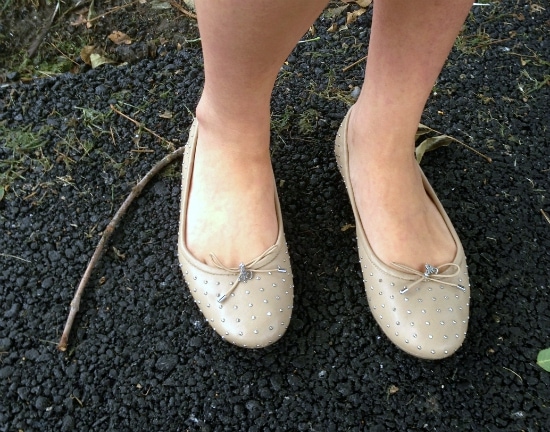 I love Tzipora's flats because they are the kind of shoe you should always have in your closet. The neutral color means these flats can be mixed and matched with multiple looks, plus the small metallic studs add some fashionable flair.
Let's discuss!
Comment below and tell us your thoughts on Tzipora's studded shoes, gingham shirt, and everything else.