Tricia was in a few of my classes last semester and she never failed to wear a chic ensemble to class, even at eight a.m. I recently caught her walking from her dorm and I couldn't help but acknowledge her ability to accessorize. I love the balance of her style. Here, she pairs a feminine dress with menswear-inspired accessories: a fedora, classic aviators and an oversized watch for a look that is playful, yet sophisticated.
Tricia 101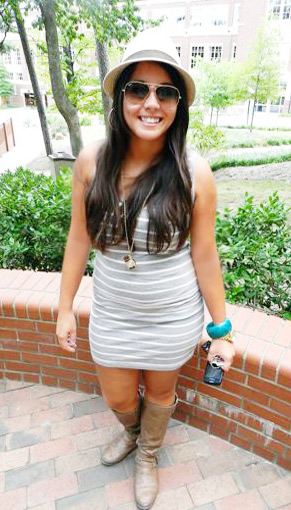 Name: Tricia
College: University of North Carolina at Chapel Hill
Hometown: Wilmington, North Carolina
Age: 19
Year: Sophomore
Major: Journalism
Hobbies/Interests: "Reading, writing, going to Carolina sporting events, playing with my puppy, fashion, journalism, mixed media art, tattoos."
Let's Talk Fashion
Describe your style: "My style is pretty broad. But I like adding an edgy flare to a really girly look. I just like what I like, is all I can say."
Who or what inspires your style? "I love love love Kate Moss and Rachel Bilson's everyday style and constantly look at pictures of them to inspire me. Also, fashion blogs and old movies like Breakfast at Tiffany's are really accessible ways to find new fashion inspiration."
Where do you like to shop? "I'm on a tight budget so Forever 21 is always good. For investment pieces, I like Urban Outfitters. My two favorite local boutiques in my hometown are Hallelu and Return Passage."
Who is your favorite designer? "My favorite designer is Karl Lagerfeld. Vivienne Westwood comes in second."
What are your favorite trends right now? "For fall I'm really looking forward to experimenting more with color blocking."
What fashion advice would you give to other students looking to improve their style? "My biggest advice is to know what looks good on your own body type. Don't try to make something look good on your body if it's just not made for it."
If you could raid anyone's closet, who would it be and why? "I would love to raid either of the Olsen twins' closets. I love that they go from crazy bohemian to chic business from day to day. Their style is so broad, I'd have so much to choose from."
Why did you choose this particular outfit? "I like the girly touch of the bows on the back of the dress paired with combat-inspired boots."
Elements of Tricia's Outfit
1. Cutout Dress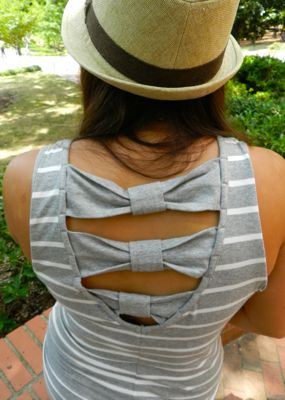 What I love about cutouts is that they show just the right amount of skin, without being too revealing. The girly bows on the back of Tricia's dress are adorable and add flavor to this otherwise simple cotton dress.
2. Boyfriend Watch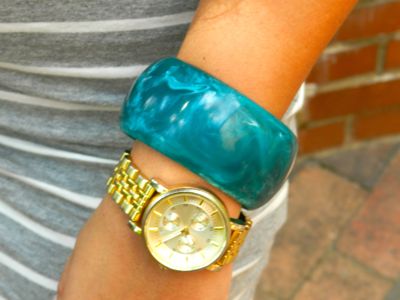 I love how Tricia wears her oversized, masculine watch loose on the wrist, like a bracelet. In gold, this piece is the perfect addition to any outfit. Here she pairs it with a chunky teal bangle for a pop of color. (Bonus: Teal is one of the hottest colors for fall!)
3. Flat Boots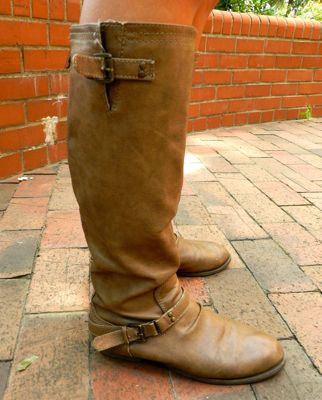 These riding-inspired boots are rugged yet structured. Boots like these are a perfect fall staple that every girl should have in her closet because they can dress an outfit up or down. The outfit parings are endless. I love the camel color, too – it truly goes with everything.
What do you think?
Would you wear a cutout dress like Tricia's? Do you like to pair dresses with boots? What kind of boots will you be wearing this fall? Let us know with a comment!