It was in that post-lunch, sleepy walk to my first afternoon class when I when I spotted Tori. With her edgy haircut, stunning smile, and unique sandals, she was impossible to miss! I knew I would regret not stopping to talk to her about her style, and I just had to know where she got those shoes.
Tori nailed the perfect back-to-school look for those lingering hot summer days. Her outfit caught my eye because it was professional enough for class, cool enough for summer, and very trendy to boot.
Tori 101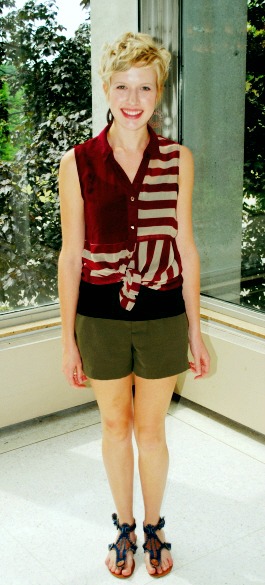 School: Mount Mary University
Name: Tori
Major: Fashion Design
Year: Sophomore
Let's Talk Fashion
Who or what inspires your style? "The weather plays a big part in determining what I'm going to wear each day. I like to be comfortable. I'm also not very girly when it comes to my style. I like things that are more edgy and that aren't very matchy-matchy."
Where do you like to shop? "I really like H&M, Forever 21, and TJ Maxx."
How would you describe your sense of style? "I'd say my style is confident, edgy, and bold."
What made you choose this outfit? "The weather mostly. It is hot out so I want to wear something that I'm not going to be regretting all day."
What fashion advice would you give fellow college students? "Own what you're wearing. Even if you're wearing a sweatshirt and sweatpants, own it. If you wear something that you're comfortable in, it's going to boost your self-esteem."
What are your favorite fashion trends right now? "I'm really into the dark fall colors. I'm excited for the deep reds. I also love a bright bold lip. Loafer flats are also one of my favorite shoe trends right now."
Do you have a favorite designer, if so who? "Alexander McQueen! I love it because it's wearable art. It's not something that you'd wear every day, but it is beautiful. It's just extravagant."
What do you do for fun, do you have any hobbies? "I love art and drawing. I'm reading Les Misérables right now and I'm doing an internship with Discovery World working with kids."
Where is your outfit from? "My shorts are from Banana Republic, my shirt is from Dry Goods, and my shoes are from Burlington Coat Factory."
If you could raid any celebrity's closest, who's would it be? "Lady Gaga! Her shoes are awesome and I'd love to try on some of her wigs! She's just fabulous."
Elements of Tori's Outfit
1. Wooden Earrings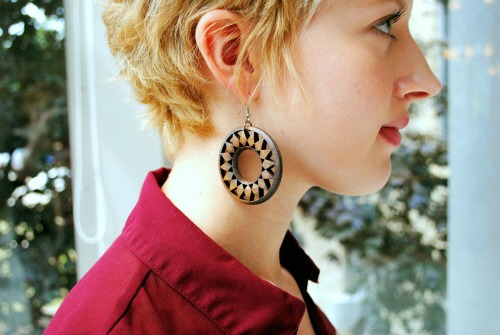 Tori told me that these earrings were a gift last year and let me just say, whoever gave these earrings to her has exceptionally good taste. They are quintessential bohemian-chic and complement her outfit perfectly. These earrings make a statement without going overboard.
2. Boho Sandals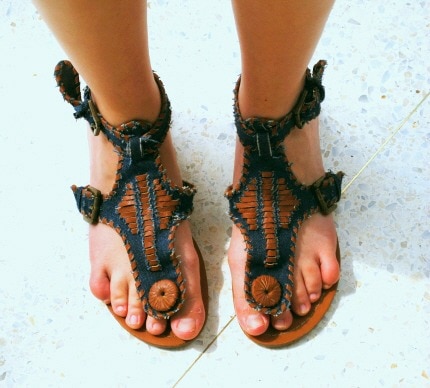 These unique sandals add a funky flare to Tori's overall look. Not only do they go well with the boho style of the earrings, but they also add an edgy vibe to her look.
3. Striped Blouse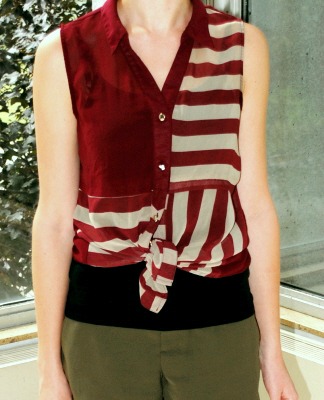 Mixing prints and patterns is a very popular trend right now, but that doesn't mean you have to mix your plaids, florals and stripes together. This asymmetrical patterned blouse from Dry Goods is a perfect way to ease into the trend. Plus, the deep red hue is on trend for fall.
What Do You Think?
What do you think of Tori's look? What do you wear to be professional at school, yet cool in the hot days of summer? Are you inspired by boho looks and mixed patterns? Let us know by leaving a comment below!