After about five days of cold weather and rain, North Carolina was blessed with a bit of sunshine. Tori took advantage of this beautiful day to wear one of her favorite dresses. I saw Tori outside of our Student Center – she was on her way to grab lunch with some newly accepted students. As I walked by, I immediately noticed her boots and knew I had to stop and talk to her about her sweet sense of style.
Tori 101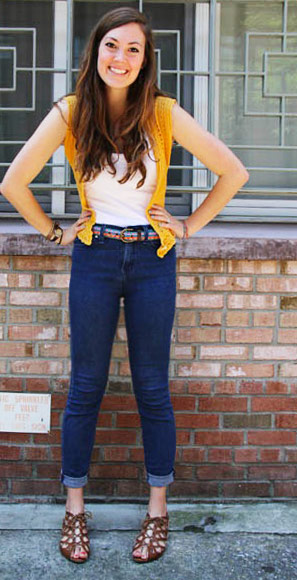 Name: Tori
Hometown: Wellesley, Massachusetts
School: Elon University
Major: Strategic Communications, minors in Digital Art & Business Administration
Year: Freshman
Let's Talk Fashion
What inspires your style? "Blogs and pictures often inspire my style, I also get inspiration from what I see other people wearing."
Where do you like to shop? "A few of my top favorites are Free People, Urban Outfitters and American Eagle."
Why did you choose this particular outfit? "I chose this outfit because these are some of my favorite pieces – I love this dress and I wear these boots all the time."
What fashion advice would you give to other students looking to improve their style? "Make sure you are comfortable and wear things that you feel confident in. That's my number one style tip."
If you could raid anyone?s closet, who would it be and why? "Blake Lively, I love everything she wears."
Elements of Tori's Outfit
1. Brown Boots
Tori's brown boots immediately caught my attention – while the rest of her outfit is light and delicate, these rugged boots provide a nice contrast. They give the ensemble just the right amount of country flavor.
2. Floral Pattern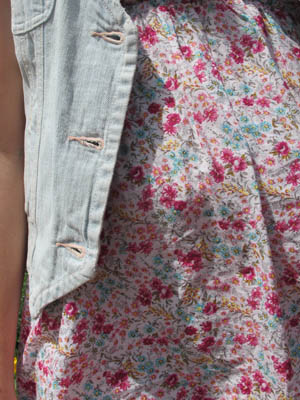 The reds and blues in the flowery pattern of Tori's dress are delicate and just the right shade for this spring day. This pattern is fun and girly and can be dressed up or down, depending on the occasion.
3. Denim Vest
The pattern of Tori's dress is sweet and girly, the boots are tough, and the denim vest is just the right mixture of both.Vests by nature give any outfit that menswear feel, but because of the light color and fabric, Tori's vest keeps her outfit perfectly balanced.
Share Your Thoughts!
What do you think of Tori's style? Do you wear boots in the spring? How are you incorporating florals into your spring attire? Let us know with a comment!