A few weeks ago, I was walking through Sproul Plaza at UC Berkeley on a Wednesday afternoon. Around this time Sproul is always littered with clubs tabling and students flyering. Although I usually ignore these solicitations, I noticed Tonia immediately because of her adorable and unique outfit, and had to drag her away from her flyering to interview her.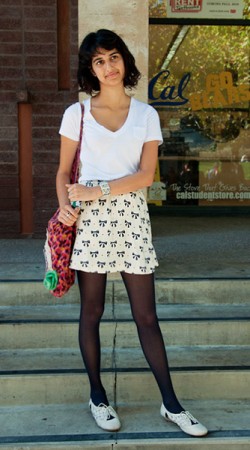 Tonia 101
Name: Tonia
Major: Development Studies
Year: Junior
Let's Talk Fashion
Why did you choose this particular outfit? "I was going for a nautical look, mixing a lot of blue, beige and red. I found this cute bow skirt at Urban Outfitters for only $19, so I tried to make it the focus of my outfit and kept everything else simple."
Where do you like to shop? "The sale section of Urban Outfitters, Buffalo exchange."
How would you describe your sense of style? "Every day when I wake up I try to imagine the kind of look I want to give off. Sometimes it's reminiscent of M.I.A., sometimes it's punky. For this outfit, I was inspired by the type of girls my friend likes, who are sort of vintage-y."
What do you do for fun – do you have any unique hobbies or interests? "I was flyering for Jericho Improv Comedy, which is an improv and sketch comedy I perform with."
Elements of Tonia's Style
1. Overall Sensibility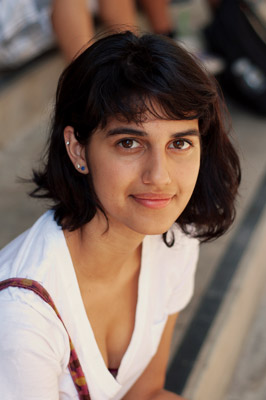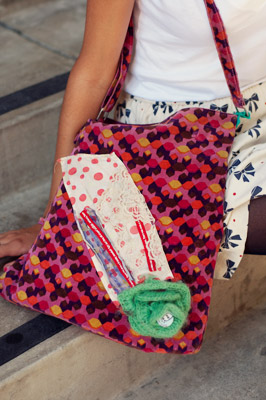 What I loved most about Tonia's outfit was how it looked casual yet stylish, while keeping to a mostly neutral and white color palette. However, little pops of color make the whole ensemble interesting. Here, you can see that Tonia's blue earrings matched the skirt, while her colorful bag contrasted with the white elements of her outfit. Even cooler, Tonia actually created the designs on her bag – she sewed on miscellaneous ribbons and bits of fabric to make the bag more unique.
2. Eccentric + Simple = Amazing Juxtaposition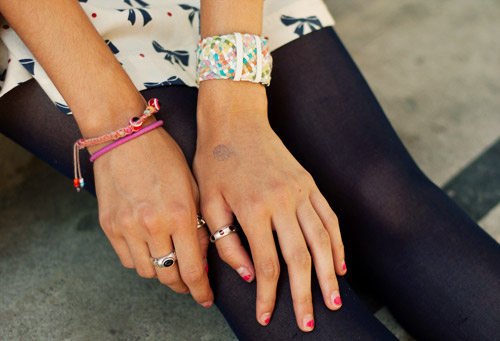 Tonia's jewelery really showcases her eclectic style. As you can see, her jewelry is comprised of all sorts of eccentric colors and designs, all mixed together – again, contrasting with the simpler pieces in her ensemble.
3. Oxford-Meets-Nautical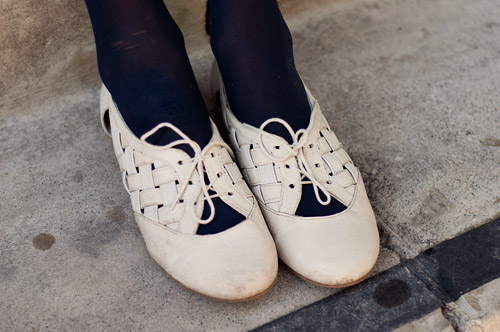 Tonia's oxford-style shoes had a really great weave detail that fit perfectly with the nautical theme of her outfit. Also, her tights are a very subtle navy color – adding more fabulous contrast to her look.
Share Your Thoughts!
Do you think Tonia's outfit is too plain or has just the right amount of detail and color? Do you love her accessories and patterns as much as we do? Share your thoughts!