Todd is a stylish freshman who made a huge splash on Kent State's campus as soon as he arrived. His bright personality means that everywhere he goes, someone knows his name. Along with a close friend, he created an Instagram account based on street style at Kent State University and the University of Cincinnati. After only two weeks of existence, this blog has been the talk of campus and everyone is dying to be featured on it.
Todd is smart, creative, and has huge goals he wants to reach before walking across the graduation stage in four years. I am excited to see how far he goes and how much he will accomplish during his time here. Todd's stylish outfit caught my eye because it is so uniquely him. Each piece is so simple, but when put together, creates such an awesome look.
Todd 101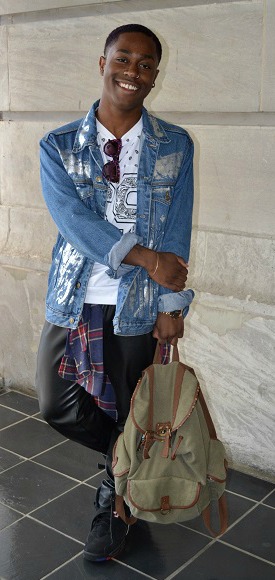 Name: Todd
Class: Freshman
Major: Fashion Merchandising
Hometown: Cincinnati, OH
Let's Talk Fashion
Who or what inspires your style? "I would say Brad Goreski. I love his style. I'm very preppy, but I also would say I am influenced by Kid Cudi. I love his street style and he gave me the confidence to wear crop tops."
Where do you like to shop? "Forever 21, Topman, second-hand stores, and American Apparel."
What do you do for fun? Do you have any unique hobbies or interests? "Thrifting is my number one favorite thing to do besides working on my Instagram blog, @thelookbook_campusedition. I love brainstorming and coming up with more ways to become a better stylist/creative director."
What are your favorite trends right now? "I love layering and denim on denim. I'm absolutely crazy about denim shirts or mixing plaids with denim. Another trend I'm obsessed with is oversized sweaters and jackets."
What fashion advice would you give to other students looking to improve their style? "Just be yourself."
Do you have any favorite designers? If so, who? "I love Diane Von Furstenberg."
How would you describe your style? "Preppy mixed with street/grunge."
Why did you choose this particular outfit? "When I woke up, the first thing I saw on my Instagram timeline was Kanye West wearing leather pants and I worked everything around that idea."
If you could raid anyone's closet, who would it be and why? "Pharrell's closet from 12am to 6am, then Kid Cudi's 6am to 12pm. Sleep until 3pm, then go link up with Brad Goreski to finish the night off in his closet."
Elements of Todd's Outfit
1. Bleached Denim Jacket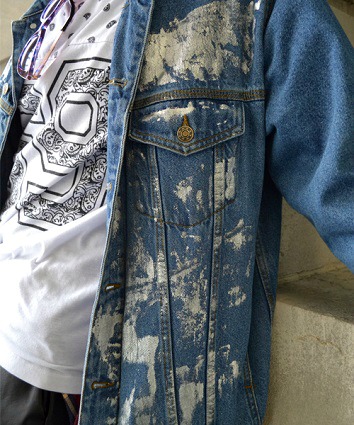 It was a chilly day on campus, so this denim jacket was a functional and essential choice. However, Todd doesn't dress solely with practicality in mind; the bleached denim has a cool and on-trend vibe that makes a fashion-forward statement. If you are inspired to add something similar to your own wardrobe, this look can easily be DIY'ed.
2. Plaid Shirt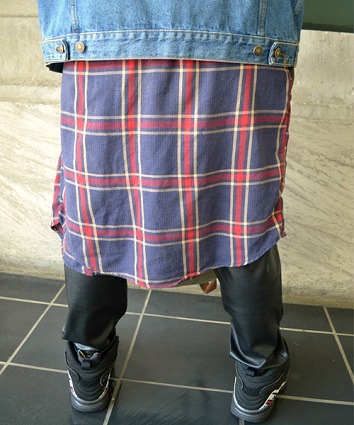 If you couldn't tell by the way he styled his look, Todd is a fan of layers. This plaid shirt really tops off his outfit and nods to the '90s grunge era that's so popular right now. It really "ties" his look together.
3. Watch, Bracelet, and Sunglasses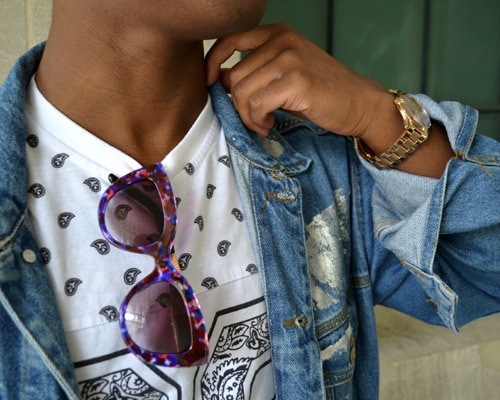 Accessories make an outfit and Todd's picks were perfection. His sunglasses are dramatic and bold, but his watch is classic. He also wore an Alex & Ani bracelet on his other wrist, which matched the gold tone of the watch.
4. Backpack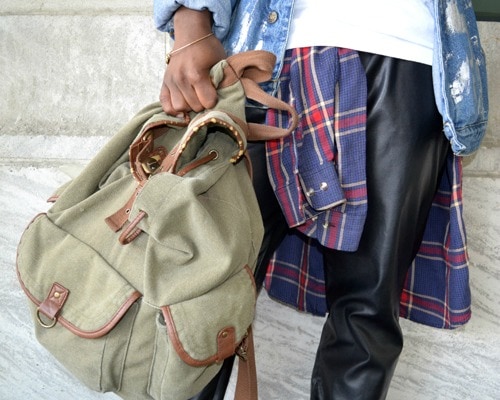 Every student needs a great bag and Todd is no exception. This canvas backpack has a very utilitarian feel, which complements his leather pants and classic watch. His look is all about mixing different textures and fabrics to create a one-of-a-kind outfit that looks effortlessly cool and stylish.
We want to know your thoughts!
Do you think Todd's style is perfect for a casual day on campus? What do you think of his bleached denim jacket? Would you wear an outfit like this? Let us know what you think in the comments section below!