Spring has sprung and is already on its way out here in Indiana! The weather is heating up and people are starting to show more skin around school.
I spotted Tiera on the outskirts of campus and loved her light and airy look. It was a great balance of spring and summer with just a pinch of bohemian inspiration.
Tiera 101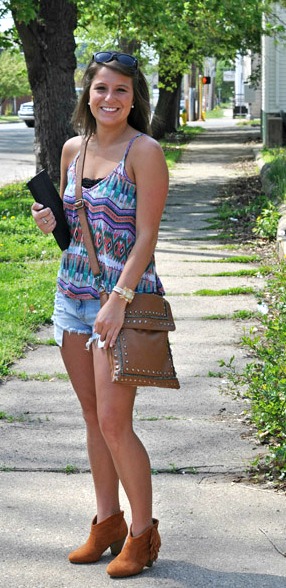 Name: Tiera
Year: Senior
Major: Elementary and Special Education
Hometown: Sullivan, IN
Let's Talk Fashion
Who or what inspires your style? "My style inspiration comes from things I see on TV. I really love trying to mimic outfits I've seen on Gossip Girl."
Where do you like to shop? "I like to shop at Forever 21, Nordstrom, American Eagle, and TJ Maxx. Mainly places I know I can find great pieces at great prices."
How would you describe your sense of style? "I would describe my sense of style as simple. It depends on what I'm dressing for, but I like to look laid-back and not too over-the-top if I'm going out. If I'm dressing for school I like to look classic with cardigans and blazers."
Why did you choose this particular outfit? "I was going for a bohemian feel today. The colors in this tank and my high-waisted shorts paired with my booties made the boho look I was going for come to life."
What fashion advice would you give to other students looking to improve their style? "Look for deals!"
What are your favorite trends right now? "High-waisted shorts, crop tops, maxi skirts, and I love TOMS!"
What do you do for fun – do you have any unique hobbies or interests? "I like to run, read educational blogs, and go out with friends."
If you could raid anyone's closet, who would it be and why? "I would raid Serena Van Der Woodsen's closet from Gossip Girl. She has a higher fashion [sense] than I do, and I would love to wear clothes like her!"
Elements of Tiera's Outfit
1. Cross-Body Purse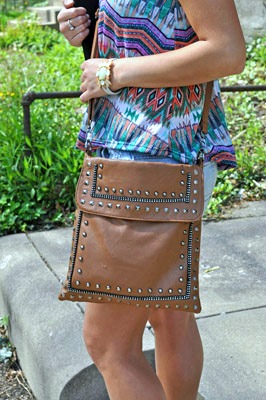 Cross-body bags are a must-have for college girls on the go, and Tiera's studded one stands out from the crowd. It's large enough for her to store the essentials while still making a stylish statement.
2. Bauble Bracelet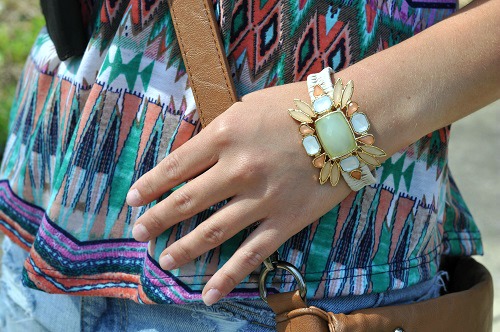 Tiera played up her colorful patterned top with this standout pastel bracelet. The bejeweled bauble is such an easy accessory to throw on in the morning, and the style payoff is huge.
3. Fringe Booties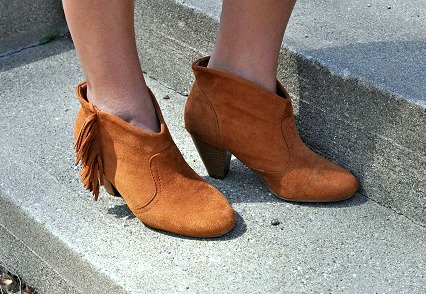 Tiera's fringe booties finish off her look perfectly and give her ensemble a boho-chic feel. Booties are such an unexpectedly chic footwear option for springtime, and are a fashion-forward alternative to the flip flops seen all across campus this time of year.
Do you love Tiera's boho-inspired outfit?
Would you wear a similar look? Do you love her bold bracelet and fringe booties? What's your go-to handbag on campus? Let us know by leaving a comment below!