It's midterms week for me at Virginia Commonwealth University, which, of course, means stressing and studying. Even some of my dance classes have midterms! Since it was a really nice day out, I decided to relax and de-stress by enjoying the sun in the Commons Plaza. Then I saw Taylor's fantastic outfit and just knew I had to feature her easy, breezy style here on College Fashion.
Taylor 101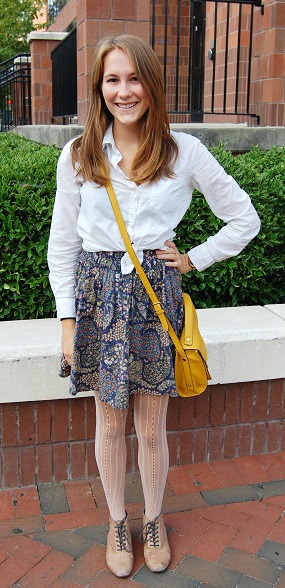 Name: Taylor
Major: Broadcast Journalism
Year: Junior
University: Virginia Commonwealth University
Let's Talk Fashion
Who or what inspires your style? "My inspiration comes from mostly musicians."
Where do you like to shop? "H&M, ASOS, Target, and Urban Outfitters."
How would you describe your sense of style? "I like to mix it up. Most of the time I dress more femininely. I really like florals and whimsy, loose things, but I also like black."
Why did you choose this particular outfit? "I knew it was going to be warmer than it's been. The last few days I've worn pants, so I decided to wear a skirt and also wear tights to keep warm."
What fashion advice would you give to other students looking to improve their personal style? "Always dress for your body type. Wear things that make you feel comfortable and wear things that reflect your ideas about life.
What are your favorite trends right now? "I like big sweaters, black-on-black, and high-waisted everything! Also, I like the trend towards things that are simpler now: solid colors, basic stripes, stuff like that."
What do you do for fun – do you have any unique hobbies or interests? "I'm a classically trained singer, so I like to sing. Also, I'm a food critic at the Shafer Bird."
Elements of Taylor's Outfit
1. Eye-Catching Purse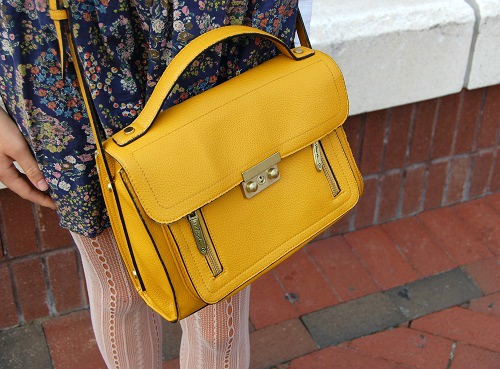 Taylor's purse (from the 3.1 Phillip Lim collection at Target) was my favorite part of her entire outfit. The bright yellow really popped against her blue patterned skirt. Yellow was a really popular color this summer and the purse serves as a great reminder of warm summer days now that we're headed into fall with darker colors and pumpkin spice lattes!
2. Distressed Oxford Flats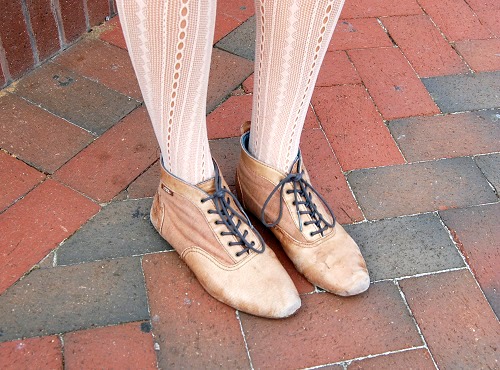 These lace-up oxford flats are perfectly distressed and look ultra chic. Their soles are not as noticeable as other styles, which makes them almost a hybrid of a jazz shoe. They keep this look comfortable yet on-trend.
3. Adorable Jewelry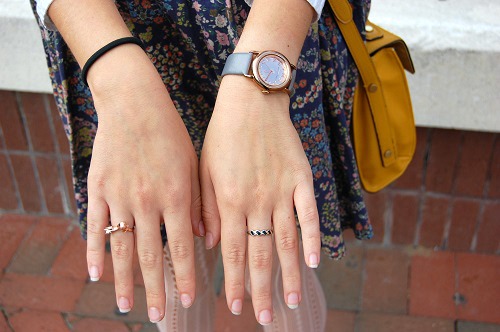 Taylor's jewelry is so chic and cute! Watches have really started to make a comeback in fashion and her elegant Marc by Marc Jacobs watch complemented her girly and whimsical ensemble. The coordination doesn't stop there – the same vibe was also captured with her delicate yet quirky rings.
What do you think of Taylor's on-campus style?
Would you wear this outfit to class? Do you love her oxford flats? What about her bright yellow purse? Let us know what you think by leaving a comment below!