While the rest of the country transitions into fall, Florida is left behind, still feeling like summer. Despite the warm weather (which is finally starting to slowly cool), the desire to dress in fall trends is overpowering.
I met Taylor at Starbucks in the Reitz Union (the student union on campus). Instantly, I gravitated towards her because of her chic yet laid-back look. Above all, I loved that she was rocking a style all her own.
Taylor 101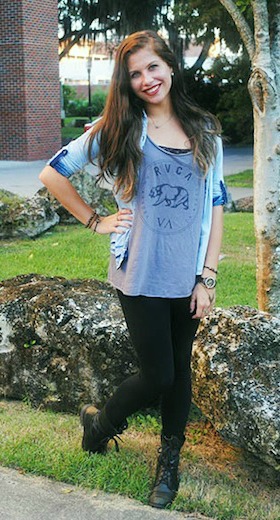 Name: Taylor
College: University of Florida
Year: Freshman
Major: Journalism
Hobbies: Writing, music, playing piano, volleyball, poetry and reading.
Let's Talk Fashion
Who or what inspires your style? "I get on Tumblr often and the inspiration I see is really cute. I like the laid-back, I-don't-really-have-to-dress-up look. I think it's good for every day."
Where do you like to shop? "I shop at PacSun all the time. I also really love Target, Cotton On, and Charlotte Russe."
How would you describe your sense of style? "Earthy is the best word for my look!"
Why did you choose this particular outfit? "The leggings are comfortable, this is my favorite shirt, and I was cold so I put on the denim over the outfit. I like to have layers, especially during the transition from summer to fall."
What are your favorite fashion trends right now? "I like combat boots a lot, so I'm glad that they are in style because they are totally 'me'. Slouchy shirts are also one of my favorite trends."
Do you have any favorite designers? "I don't, but for big name [stores], I really just like Fossil. It's very earthy and my vibe."
If you could raid anyone's closet, who would it be and why? "I guess Lana Del Rey's. I like the way she dresses at her shows."
Elements of Taylor's Outfit
1. Earthy Accessories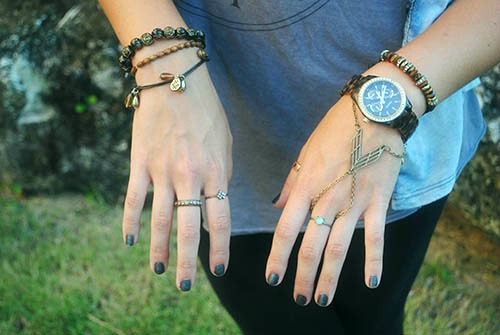 I'm deeply in love with Taylor's earthy look and her accessories really embody it. I really like how her eclectic bracelets and rings from PacSun are seamlessly paired with a more standard chunky watch from Fossil.
2. Combat Boots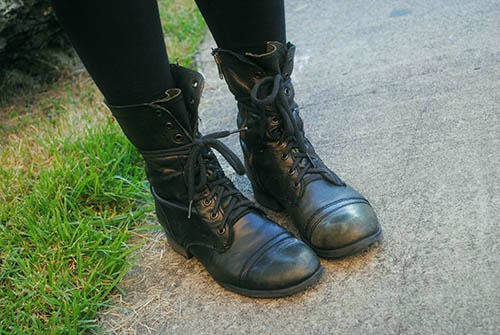 Taylor's Steve Madden boots are to die for. These boots are more streamlined than the styles I have seen around campus lately. Their sleek look complements her cool-girl persona perfectly.
3. Tank Top + Denim Overshirt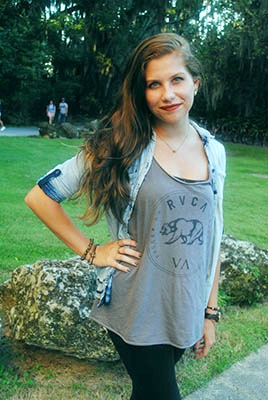 Taylor's unique tank top was the part of her outfit that initially captured my attention, since the gray pairs so well with her acid washed denim shirt. That added layer is ideal for the weather and for covering up in cold classrooms.
Now we want to know your thoughts!
What do you think of Taylor's outfit? Do you rock combat boots and funky accessories? How do you transition your wardrobe from Summer to Fall? Drop us a line below and let's discuss!