With the highly anticipated March issues of our favorite fashion magazines rolling into newsstands, readers everywhere are catching onto one of spring's biggest trends: bold colors. Balance them with neutrals, wear just a pop here and there, or simply mix as many together as you can find. Like the first robin of spring, Taylor emerged as the first Bucknellian to try out this new look, and it agrees with her.
Taylor 101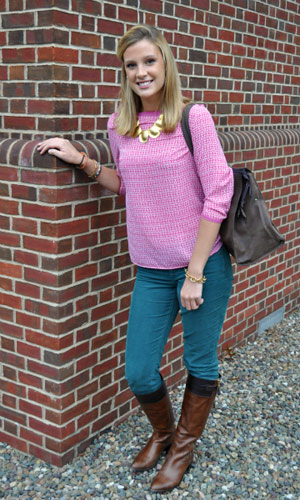 Name: Taylor
College: Bucknell University
Hometown: Darien, CT
Major: Sociology with a focus in Culture, Media & Leisure Studies
Year: Senior
Let's Talk Fashion
Where do you shop? "I absolutely LOVE Kate Spade and follow her blog daily. Other designers I like are Rachel Zoe, Tory Burch, Tibi and Milly."
Who or what inspires your style? "Kate Middleton inspires my style, because her ensembles are so simplistic, yet elegant and timeless. My good friend Melissa also inspires me – she picks outfits that are chic and cutting edge."

How would you describe your personal style? "My style varies depending on what mood I am in when I wake up. Most days I choose a classy and tailored look, but some days I choose a style that's more laid-back and casual. As I have changed over the years, my style has changed as well."
How did you chose today's outfit? "I believe the right amount of color makes any outfit a statement. I love my colored pants (I own a variety of colors) and pink is a great complement to turquoise."
Favorite item in your closet right now? "The statement necklace! Kate Spade has a great collection of these right now."
What are your favorite trends for the upcoming spring season? "The 'New Twenties.' If I could pick any decade to live in, it would without a doubt be the 1920s. I love that the '20s are making a comeback with sequins, flapper dresses, and statement earrings. Alice & Olivia has some great new flapper styled dresses with a modern twist."
What fashion advice would you give other students looking to develop their style? "Don't be afraid to experiment with different articles of clothing, then be confident with what you choose. Confidence is the key accessory to a great outfit."
Elements of Taylor's Outfit
1. Statement Necklace

Taylor's outfit only improves upon closer examination. The graphic pattern in her top is eye-catching, and the neckline is amplified by the hammered gold necklace.
2. Sweater Cape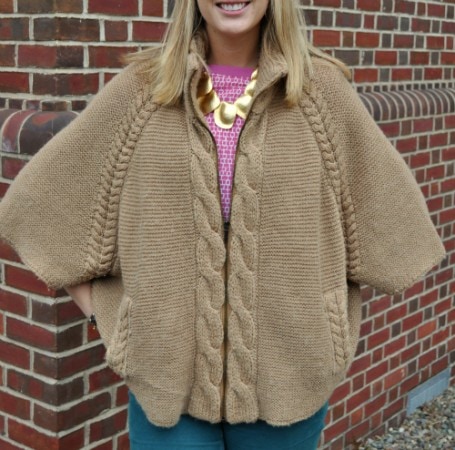 We're all excited to dress for spring but here at Bucknell, the temperature still demands a bit more fabric. Taylor's cozy cable-knit sweater cape was a perfect compromise for the climate, and a great alternative to a traditional jacket.
3. Equestrian Boots

Our romanticized view of the English equestrian lifestyle has persisted through multiple seasons of fashion. Luckily, this means riding boots are still the perfect way to finish off a daytime look. This two-tone pair caught my eye and left me wishing I could merge a few of my pairs into a similar look!
Share Your Thoughts!
What do you think of Taylor's style? Do you agree with the pairing of pink and turquoise? What colors are you looking forward to wearing this spring? Let us know with a comment!