As I was leaving class, I spotted Tayler walking towards me in her bright red pants, and I instantly fell in love with her outfit! After I photographed her, Tayler chatted with me about her love of the '80s, her bright and bold style, and her favorite fashion trends.
Tayler 101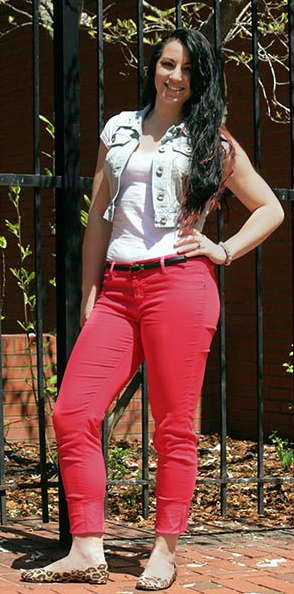 Name: Tayler
College: Point Park University
Year: Senior
Major: Biology
Hometown: Ashtabula, Ohio
Let's Talk Fashion
How would you describe your sense of style? "I would say it's inspired by the '80s, but definitely toned down. I love bold prints, bright colors, and embellishments!"
Why did you choose this particular outfit? "I chose this outfit because it's finally warm outside and it feels like spring!"
What fashion advice would you give to other students looking to improve their style? "I would say don't be afraid to dress how you like. Take a risk!"
What are your favorite trends right now? "I love combat boots and oversized, slouchy sweaters!"
What do you do for fun– do you have any unique hobbies or interests? "I played for my school's volleyball team."
Elements of Tayler's Outfit
1. Leopard Print Flats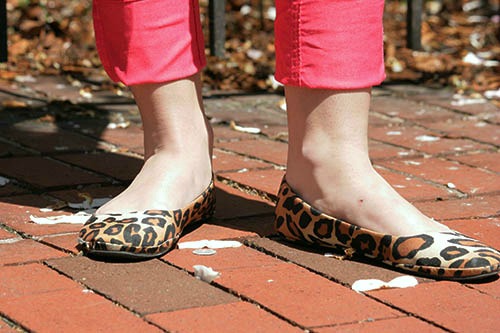 Tayler's leopard print flats are my favorite part of her outfit. Paired with her bright red pants, they create a bold look that catches eyes and is also perfect for spring weather.
2. Embellished Collar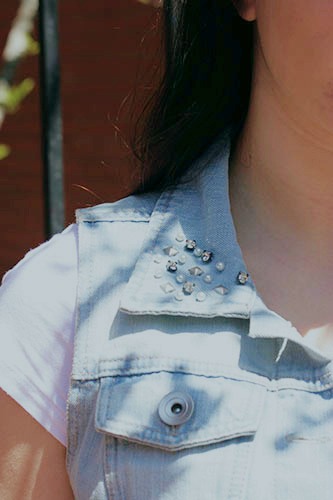 I love this detailing on Tayler's vest. A denim vest can give any outfit a summertime vibe, but the little studs, spikes and pearls on Tayler's vest absolutely make her outfit. These little details on the collar create a unique blend of edginess and glamor to finish her ensemble.
What do you think?
Are you guys loving Tayler's outfit like I am? Would you pair bright pants with a pair of cheetah print flats? Are you inspired by the funky styles of the '80s? Let us know in a comment below!