I ran into Tara this week in Italian class. She has a free-spirited style and she isn't afraid to experiment with funky colors. Her lace up boots were a unique twist on traditional knee-high boots, and added that little something extra to her look. I really liked the different textures in her outfit and her use of my favorite neutral, black!
Who I Spotted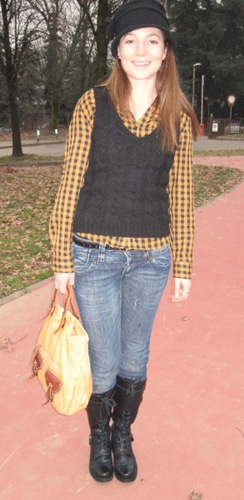 Name: Tara
Hometown: San Diego, California
School: CSU Chico
Age: 21
Year in College: Junior
Major: Interior Design, Business
Hobbies/Interests: I'm really athletic; I like swimming, running, snowboarding, backpacking, and soccer. I am also into diverse music and I love interior design and organizing things.
Describe your style: I think my style is uniquely ornate, colorful, and constantly changing.
Who/what inspires your style? I am inspired by people I come across and how they put together outfits. I like colors and patterns more than brands or symbols. When I shop, I first scan the racks for the colors I know complement my skin tone and then I focus on styles that I know look good on me.
I never wear white or gray.
Where do you like to shop/find clothes? I don't like to exclude stores when it comes to shopping because I think every store has something that I could possibly add to my wardrobe. I am a huge sale rack shopper because my mom taught me how to "dig" and be patient. I'd rather spend more time shopping and be able to come home with more things because they were on sale.
Elements of Tara's Outfit
1. A Unifying Neutral
Tara used black throughout her outfit to tie everything together. The black hat, vest, boots, and checkers in her shirt make her look cohesive.
2. Daring Accessories
Tara chose a hat with a flower and an interesting shape. Her bad-girl boots perfectly offset the feminine vibe of the hat.
Looks Inspired by Tara
Outfit 1: The lace-up boots are a key element to this look because they add some structure. In addition, lace-up boots are hot trend right now! Tara's jeans also had really cool stud details that added some more edginess to her look. Here is a bohemian version of Tara's look.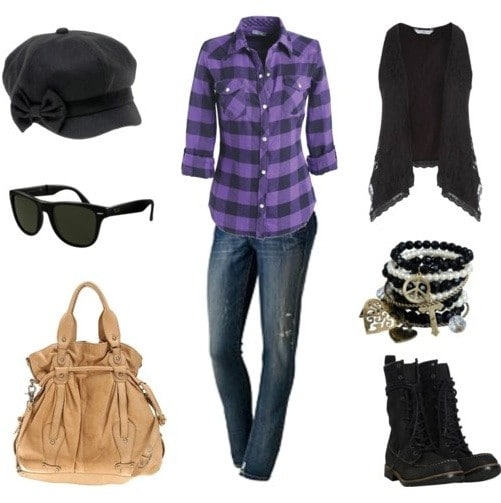 Product Information: Hat- Aldo, Wayfarers- Ray Ban, Flannel Shirt- Delias.com, Studded jeans- Kohl's, Satchel- Urban Outfitters, Vest- newlook.uk.com, Bracelets- pimkie.com, Lace up Boots- allsaints.com
Outfit 2: This is a preppier version of Tara's look for the girly girls out there like me.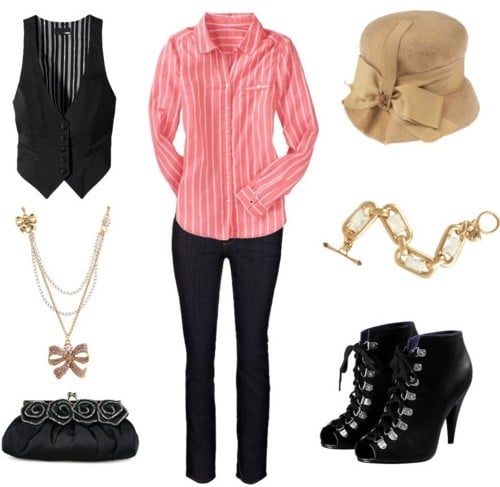 Product Information: Vest- H&M, Button Down- Old Navy, Jeans- Garage, Betsey Johnson Necklace- Zappos.com, Clutch- desireclothing.co.uk , Vintage hat- Modcloth.com, Juicy Couture Bracelet- Net-a-porter.com, Lace up Booties- H&M
What Do You Think?
Are you a free spirit like Tara? Do you own lace up boots and if so, how do you wear them? Let us know with a comment!