Tamara has the most amazing natural red hair, which initially grabbed my attention. It would be hard to miss a color like hers in a crowd!
Her 'do complemented her fall-centric outfit. I loved how well she incorporated cool weather trends and colors into her outfit. Her bright backpack even coordinated with her look. She's a fantastic source of casual campus style inspiration.
Tamara 101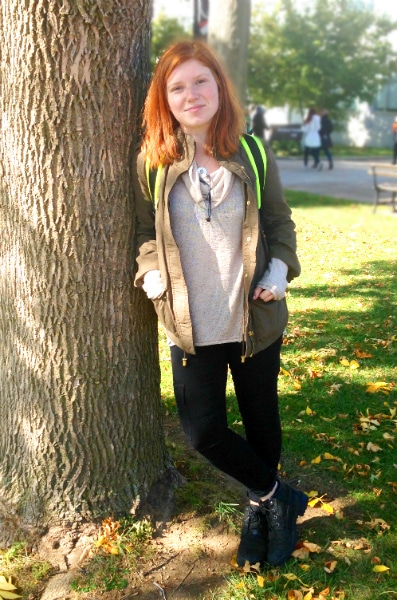 Name: Tamara
Major: Undecided (between being Pre-Med and Communications)
School: City University of New York, Queens College
Hometown: Cedarhurst, NY
Let's Talk Fashion
Where are you heading? "I'm done for the day; heading out to do yoga. I took it up about four months ago and I'm hooked."
Who or what inspires your style? "I'm into what my friends call 'hobo-chic.' I have a sporty side but at the same time I like to mix patterns and fabrics. I like making unlikely combinations, like Timberlands and soft, girly sweaters."
Where do you like to shop? "I love PacSun and vintage clothing shops. I love repurposing old pieces and using them with today's style."
Why did you choose this particular outfit? "Well, I really needed the layers and my 'Timbs' have become go-to. I also picked this jacket because I think it brings out the color of my eyes and contrasts with my red hair."
What are your favorite trends right now? "I love layering a bunch of my clothes. Sometimes I'll be wearing something like five shirts just to get the look I want, but I like to think it works out really well. Also, I love booties. I tell everyone about my hunt for the perfect pair."
What do you do for fun – do you have any unique hobbies or interests? "Currently a lot of yoga, [I love] watching the Mets, I sing in the Queens College acapella group, [and I enjoy doing] art. I draw a lot and paint, but if I'm out I just start making sharpie tattoos on all my friends which I call 'Tats by T.'"
If you could raid anyone's closet, who would it be and why? "Wow – I've never thought about that! Probably Gigi Hadid because she's youthful and carefree with her style but she can also be stylish and serious for red carpet events."
What are your favorite colors to wear? "Green, blue, and purple."
What fashion advice would you give to other students looking to improve their style? "Take risks! You don't need to ask a million of your friends if they like your outfit. If you like it, then trust your intuition."
Elements of Tamara's Outfit
1. Utilitarian Booties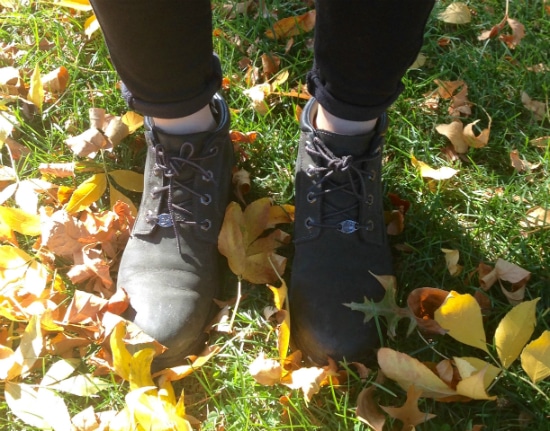 Tamara wore her rugged Timberland booties with cool, textured black jeans. She made her outfit edgy by wearing these highly functional work boots for a normal day on campus.
2. Cowl Neck and Jacket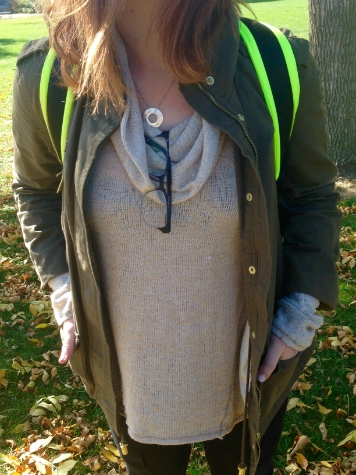 With her sleeves rolled up to show off the contrasting colors, Tamara put two of fall's most popular staples together and it worked really well. Her cowl neck sweater is the perfect neutral for her outfit and it enhanced her green jacket. Her neon green backpack even worked with her color scheme. Also, it's hard not to see how her jacket makes her red hair pop beautifully.
Do you love Tamara's sense of style?
Would you wear her casual weekday outfit? Do you have a utilitarian jacket or pair of booties? Comment below and let us know your thoughts!