As we all know, it can be difficult to put together a great outfit when the temperature drops and winter gear becomes a necessity. It's so easy to lose your look under layers of bulky sweaters and a winter coat.
That's why Sydney's bright outfit really caught my eye one dreary, chilly day. Sydney pulls off her winter look flawlessly, incorporating eye-catching cold weather essentials into her statement-making outfit. Read on to learn more about Sydney's style!
Sydney 101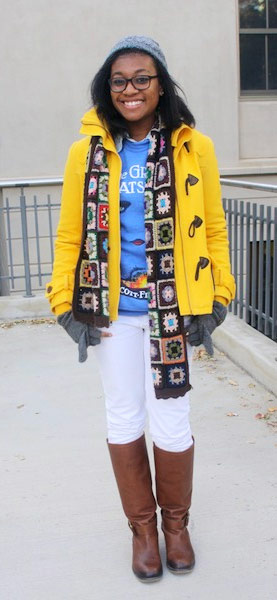 Name: Sydney
College: American University
Major: Print Journalism
Hometown: Cherry Hill, New Jersey
Year: Sophomore
Hobbies: Blogging, Photography, Writing, Campus Newspaper, Campus Radio Station
Let's Talk About Fashion
Who or what inspires your style? "I guess my biggest fashion inspiration has been Zoe Kravitz because she's really edgy and doesn't care what anyone thinks. But my favorite fashion inspiration of all time is Audrey Hepburn. Music inspires me for sure, just the scene and the genres that I listen to. When I started listening to Rock N' Roll, my style became more edgy."
Where do you like to shop? "I like to shop at Urban Outfitters because they have a bit of everything. I also love thrift stores if I can find them. Lucky Brand has a lot of basic essentials like jeans. I shop my dad's closet for things like oversized sweaters and jackets. And, of course, I love shopping online at stores like NastyGal and TopShop."
How would you describe your sense of style? "I would say classic with an edgy twist."
What fashion advice do you have for students looking to improve their style? "At all costs, avoid trying to be a fash-tastrophe: my word for fashion catastrophe. I'm not saying you need to be totally matchy all the time but some trends aren't meant for everyone, and I think you really need to dress comfortably and be as true to yourself as you possibly can be. If you aren't that confident [with putting things together], look at magazines — that helps a lot. Not necessarily to see what's trendy, but how people pair things together."
Who is your favorite fashion designer? "For a while, it was Betsey Johnson. She just knows how to rock pink and not make it super girly. I love her mantra, 'Girls do not dress for boys. They dress for themselves, and, of course, each other.'"
Elements of Sydney's Outfit
1. Bright Yellow Coat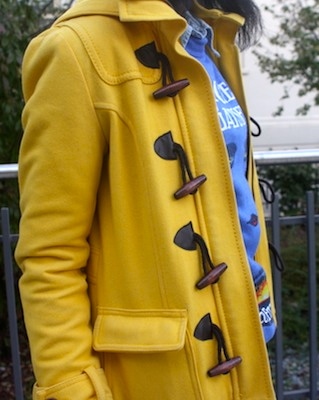 Sydney's coat is perfect for brightening up a chilly day. The bold color lets the coat become part of her ensemble, as opposed to covering it up. I love the toggle buttons on the bright yellow jacket; it gives a classic style some edge.
2. Great Gatsby Sweater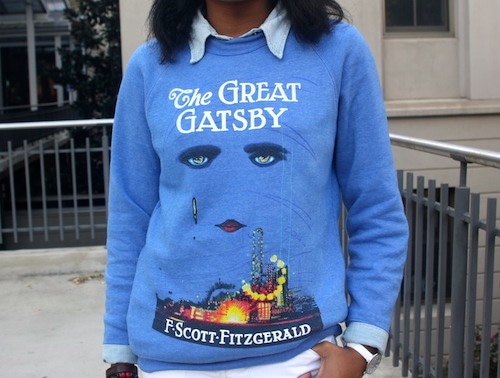 This sweater is cozy and whimsical, and depicts the iconic cover art of The Great Gatsby. The sweater is also perfectly timed with the hype about the upcoming release of the Great Gatsby movie!
3. Fingerless Gloves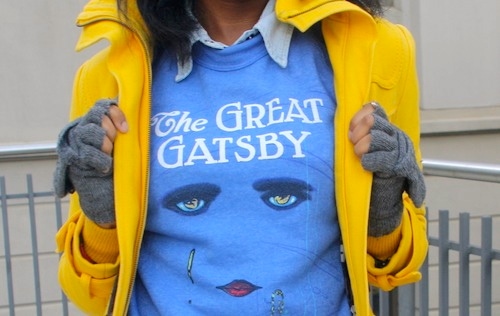 Sydney's gloves are perfect for keeping her hands warm in the cold weather, and their neutral color means they go with everything. Fingerless glove styles like Sydney's are especially useful when you need to use your fingers for texting or, say, browsing CF on your phone. 😉
Your Thoughts?
What do you think of Sydney's look? What color coat are you wearing this fall? Do you love Sydney's Great Gatsby sweater as much as we do? Let us know with a comment!