While out doing a little after Christmas shopping, I spotted Susie, a fashionable college student on winter break. Despite the hectic shopping atmosphere, Susie's ability to create a comfortable yet stylish ensemble caught my eye. If you too would like to create a cute and comfortable look like hers, keep reading!
Susie 101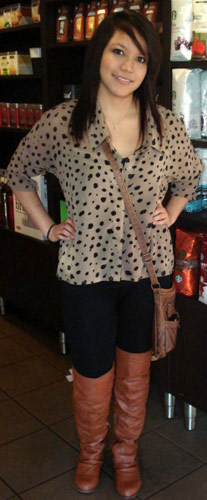 Name: Susie
School: Tarrant County College
Major: Communications and Broadcasting
Year: Sophmore
Let's Talk Fashion
Who or what inspires your style? "I like the edgy/rock look. I also love girly and indie styles. I like a mixture of everything."
Where do you like to shop? "Charlotte Russe, Papaya, and Forever 21."
Why did you choose this particular outfit? "I really liked the pattern (of the shirt). I went with darker colors for winter. I chose the over-the-knee boots because they are definitely in right now."
What fashion advice would you give to other students looking to improve their style? "Look at magazines for inspiration, choose unique pieces, put lots of outfits together, and explore different styles."
What are your favorite trends this season? "Scarves and riding boots"
What do you do for fun? Any unique hobbies or interests? "I am learning to play the guitar and I sing."
If you could raid anyone's closet who's would it be and why? "Sandra Bullock because she has a laid back style but also dresses up. She carries herself well. I also like Christina Perri."
What is one thing you can't leave the house without? "My purse or a scarf."
Elements of Susie's Style
1. Boots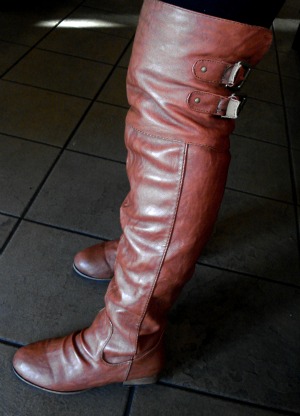 Susie's thigh-high riding boots are on trend and perfect for the season. The high-rise style helps elongate her legs and create a casual yet fashionable look. Not only are they "in", they are comfortable and perfect for an all day shopping spree.
2. A Simple Yet Bold Pattern
The pattern of Susie's shirt really completed her look. The print is simple with an animal print flare and acts as the bold statement piece in her outfit.
3.Purse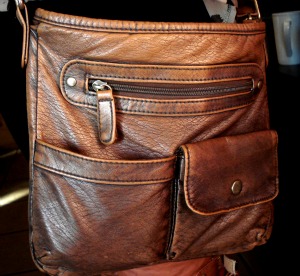 This purse has many compartments, yet is still small and worn close to the body – the perfect mix of style and function. A small purse like this is great for a shopping day, especially in a crowded place. Not only is it safer and easier to keep an eye on, it takes up less room and provides more arm space for tons of shopping bags!
What do you think?
Do you love Susie's look as much as we do? Would you wear her unique animal print? Have you added a pair of riding boots to your closet yet? Let us know with a comment!