Who says only girls can be stylish on campus? In fact, as the co-founder and co-president of our fashion club, Steven is THE college fashionista at UW. With his unique and daring style, it's difficult not to notice him even in such a populated school.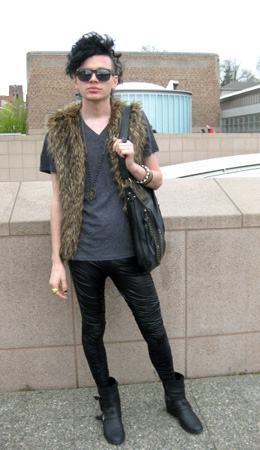 CLICK TO ENLARGE
Steven 101
Name: Steven
Class Standing: Freshman
Major: Journalism
Job: Student and Seattle Fashion Week volunteer
Hometown: Seattle
Hobbies/Interests: "Fashion is truly the one thing I am interested in above all other things. Outside of that, I'm passionate about the arts in general and living a beautiful life."
Let's talk fashion.
How would you describe your style? "It's androgynous with rock and roll and bohemian influences. I wear jeans almost every day and pile on the jewelry because I am certainly not afraid of a little sparkle. Sexuality often finds its way into my style as well. Sometimes it's a bit trashy and a bit 'too much,' but it's me."
Who or what inspires you in terms of fashion? "Models off-duty, Mary-Kate Olsen, Lady Gaga, Alison Mosshart, Giovanna Battaglia, hippies, my best friend Gillian, countless designers, The Factory, French girls, New York City, club kids, Vogue, glitter and other shiny things, sex, and rock and roll. A short list."
Where do you like to shop? "Urban Outfitters, Nordstrom, vintage stores, and my best friend Gillian's closet."
Any fashion tips? Or fashion dos and don'ts? "Wear what you want to wear. I don't believe in don'ts."
What motivates you to dress up? "I don't want to be another boy in basketball shorts and a t-shirt. For me, fashion is all about expressing yourself. I also take pleasure in living in a dreamland."
What are some trends you love now? "Two trends for Spring I particularly enjoyed were the lingerie touches seen at Marc Jacobs and elsewhere, as well as the military-inspired looks. The whole Proenza Schouler beach thing was a pleasant surprise as well."
Elements of Steven's Outfit
Now that you know a bit more about Steven, let's see how this fashionisto manages to pull off his effortlessly stylish look!
1. Get Wild.
As many of us have seen on celebrities and runways, a faux fur vest is such an easy way to spice up your look. It is not only trendy but also especially useful for those of us who are still experiencing seasonal transition and are not lucky enough to enjoy the warm breeze outside just yet.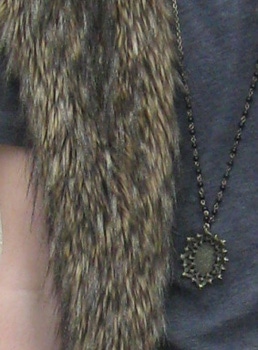 2. Sparkles, Sparkles, Sparkles!
Accessories are everything: simply put on a bundle of bracelets and a few rings, and you will be ready to go with just a t-shirt and jeans! Steven has some amazing accessories. I especially love his jaguar ring; the animal definitely boosts up the energy of the entire outfit.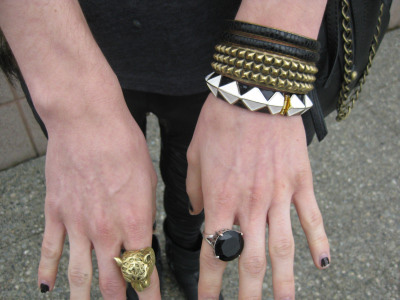 3. Rock the Versatile V.
If you still don't own a v-neck tee, you are probably missing out your chance to create many new favorite looks. V-neck tees are not only oh-so chic, but they're also comfortable and versatile! Not convinced? Check out other posts on College Fashion, including Zephyr's post, Spring Fashion Trend: V-Neck Tees to check out more ways to wear this piece.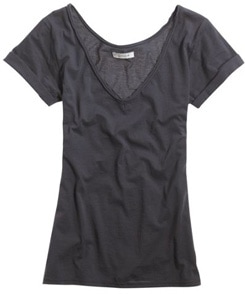 V-neck from American Eagle
Get Inspired
1. Model-Off-Duty Style
Channeling Steven's look is easy when you pair simple basics with standout accessories, like the fabulous bracelets and rings below. There's so much personality in accessories that can distinguish you from the others. Even better, this look is simple to achieve with many items you may already have in your wardrobe.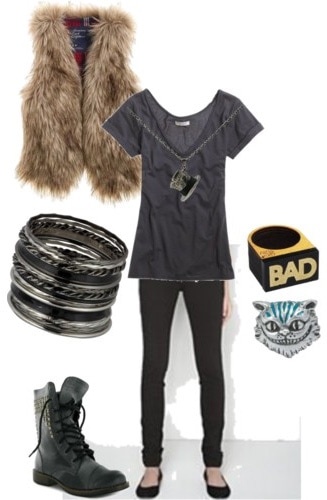 Products: Faux Fur Vest- NY & Company, Grey Tee- American Eagle, Black SkinnyJeans- Pac Sun, Military Lace Up Boots- My 1st Wish, Bangle Stack- Oasis Stores, Necklace- Disney , BAD ring- Lazy Oaf, Cat ring- Start London
2. The Cute (Asian) Style
Yes, it's still possible to attain a sweet look, even when your inspiration is Steven's rock-and-roll style. For this look, I was inspired by the fashions I've seen in Asia, where girls generally have a "cuter" and more feminine style. Although this might not be the type of look you're used to, if you are considering studying abroad in Asia, or simply want to feel more girly one day, why not give it a try? (On a personal note, I am dying to get this toast ring!)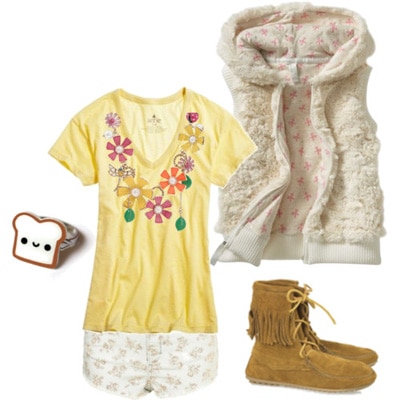 Products: Faux Fur Vest- Old Navy, Floral Hotpants- TopShop, Minnetonka Tramper Boots- Net-A-Porter, Necklace- Zappos, Toast Ring- Cute Plush
Share Your Thoughts!
What do you think about our first featured male Look on Campus? Do you often get fashion inspiration from men? And which inspired look(s) are you ready to rock? Let us know with a comment!