Here in CT, we've been experiencing some unpredictable weather lately. One week, we have high temperatures and lots of sunshine, and the next, we're graced with snow flurries and rain. "How could one dress under these conditions?" I thought. I later ran into Stephanie, whose outfit answered my question. Her ensemble showed me that you don't have to wait for warm weather to wear your summery pieces – by styling them correctly, you can make them work right now, no matter what Mother Nature has in store. Read on to learn about Stephanie and her style!
Stephanie 101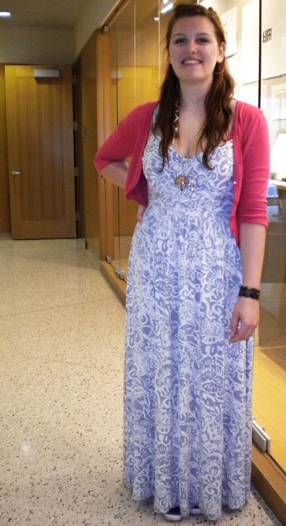 Name: Stephanie
School: Wesleyan University
Class Year: 2014
Hometown: Minneapolis, Minnesota
Majors: Molecular & Biochemistry and Biology
Let's Talk Fashion
Who or what inspires your style? "My style generally depends on my daily mood. However, each outfit tends to reflect the opposite of how I feel. On days when I'm feeling stressed, I tend to look very put-together, and I'll dress very primly. But on days when I feel good and have time to put an outfit together, I'll dress like a crazed hippie. I can be a bit inconsistent!"
Who are your favorite designers? "I really like Marc Jacobs, even though his clothes can be a bit on the expensive side. I'm also a fan of Pucci – the prints are just so wild!"
How would you describe your sense of style? "I wear mostly dresses and skirts. They're very flattering, and just so much fun to wear! They're also quite comfortable to wear throughout the day. I fully believe that comfort is a must when it comes to style. I don't like wearing jeans – they can feel really unpleasant!"
Where do you like to shop? "I love to get pieces from Goodwill. You can find really unique, one-of-a-kind items there that you'll never see on anyone else! I also love to shop at Gap, Banana Republic, and J. Crew. I get most of my essentials from Gap, like cardigans and tops. I try to pair them up with standout pieces to make them unique."
Why did you choose this particular outfit? "On mornings where I feel lazy, or don't feel like putting an entire outfit together, I just throw on a maxi dress! Today I chose this printed one by New York & Company. I love it, and I can wear it with so many things! I got this coral-pink cardigan from the Gap. It's simple, chic, and adds a pop of color!"
Elements of Stephanie's Outfit
1. Necklace, Bracelet, and Ring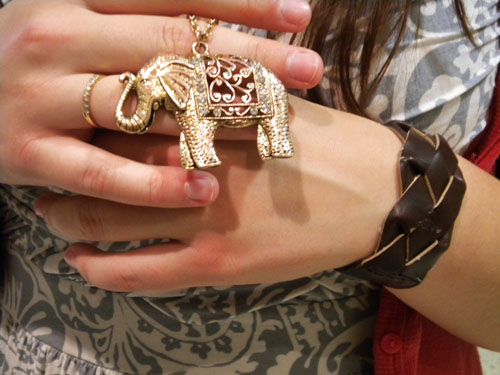 Stephanie's eclectic accessories were one of the first things that caught my eye – she wore a braided leather bracelet alongside a vintage diamond ring and a rhinestone-studded elephant pendant from Charlotte Russe. "I love elephants," she says, "they're so pretty, and a symbol of wisdom."
2. Keds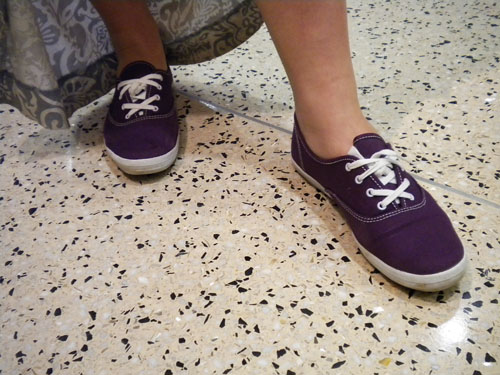 Like her hot pink cardigan, Heather's purple Keds give her outfit just the right amount of color, and are such a fresh choice to wear with a maxi dress! Stephanie told me that classic Keds are her absolute favorite guilty pleasure – she currently owns at least eight pairs!
Share Your Thoughts!
Do you own a maxi dress? Are you a big fan of Keds, too? What about wearing sneakers with maxi dresses? What do you think of Heather's no-jeans philosophy? Share your thoughts with a comment!