I still can't decide whether Stephanie's amazing hair or casual-cool outfit caught my attention first. Either way, on a Wednesday night when I had wandered into the Brandy Melville store in Soho, Stephanie stood out among all the cool gals there and had a fun chit-chat with me about fashion and her personal style.
Stephanie 101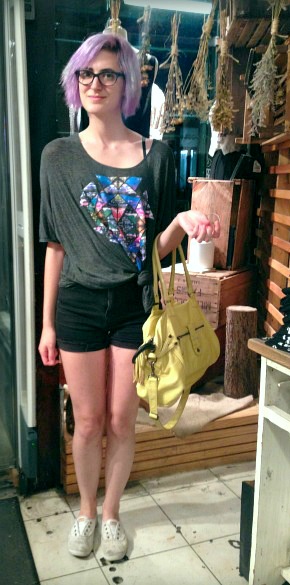 Name: Stephanie
Hometown: Fort Worth, Texas
Age: 23
School: Tarrant County College
Year: Senior
Major: Photography
Let's Talk Fashion
Who or what inspires your style? "Definitely Alison Mosshart. She's the lead vocalist in the indie rock band The Kills. I love her rock n' roll style. Just like her music, it's so hardcore and I love it!"
How would you describe your sense of style? "I'm very much a laid-back kind of gal."
Why did you choose this particular outfit? "This tee is a piece from my wardrobe that I haven't worn for a while. So, when I saw it this morning, I was actually a little surprised about it! So, I figured why not? Oh and the shoes, I love my Keds because I can slip them on and off so easily at my summer job. I do freelance music photography for mostly rock bands, so it's super important I'm comfortable in what I'm wearing."
Where is your outfit from? "My t-shirt is from Buffalo Exchange. I got my shorts from Urban Outfitters. Shoes are from Keds. And the bag is a gift."
What fashion advice would you give to other students looking to improve their style? "If you want to follow trends, always interpret them in your own way. Wearing whatever makes you feel comfortable with a creative spin is the key."
What are your favorite trends right now? "I think platform shoes. They are so comfortable to walk in and give you height too. I own a pair of 7-inch high heels with a 4-inch platform and another pair with a 5-inch platform. They are both from Jeffrey Campbell. And I walk around the city with them on all the time!"
Where do you like to shop? "I go to Urban Outfitters and Brandy Meville a lot. I also love thrifting. There are several spots in Williamsburg I love, such as Stella Dallas. How funny, I'm from Texas!"
If you could raid anyone's closet, who would it be and why? "I would love to have a community closet with all my friends – boys and girls! I'd have thousands of cool band tees to choose from then."
What is the one piece in your wardrobe that you always invest in? "Definitely jeans. A pair of good jeans last you forever. I only wear high-waisted skinnies and cut-offs, mostly in black. That has never changed over the years! I can never go wrong with Cheap Monday and Levi's."
Elements of Stephanie's Outfit
1. Classic White Keds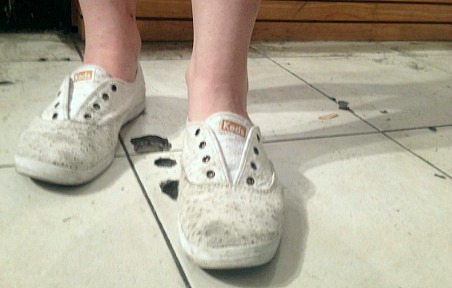 Well-made and well-worn flat shoes are definitely a girl's best friend in New York City. Stephanie's Keds channel her casual and edgy vibes, while also tying the whole summer-concert-ready outfit together!
2. Bright Yellow Handbag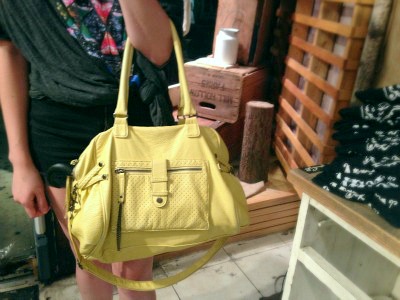 Who says a rock n' roll girl doesn't wear color? Stephanie breaks out of her otherwise-monochromatic color palette with a bright yellow accessory. It's just the right amount of color for you rock chicks out there to stay cool.
What do you think?
What do you think of Stephanie's outfit? Do you love her hair color? How do you incorporate rock'and'roll elements into your style? Ever go shopping in Soho? Let us know in the comments!