When I spotted Stephanie in the library last week, I practically ran over to ask about her style – after all, a girl this fashion-forward belongs on CF! Looking on-trend while writing an English paper, Stephanie told me that she puts in fashion effort no matter where she goes… and the lib is no exception. This girl is totally fashion obsessed, so we obviously had a lot to talk about…
Stephanie 101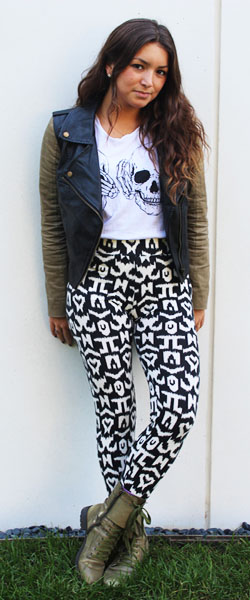 Name: Stephanie
School: Penn State
Year: Senior
Major: English with a minor in Political Science
Hobbies: Writing, reading, dancing and shopping
Let's Talk Fashion
Who or what inspires your style? "I get a lot of inspiration from street style photography, bloggers like Arielle Nachmani and Leandra Medine, social media outlets like Instagram and Tumblr, and also from ad campaigns of brands I like. I love keeping up with runway trends, too and whenever I see an opportunity to mimic an element from the latest season's collections, I jump right on it. However, my biggest style influence is my mom. She is elegant, sophisticated, and possesses a timeless chicness that I strive for. I value her opinion over anybody's!"
Where do you like to shop? "Honestly, everywhere! I frequent Zara, BCBG, and Urban Outfitters, but my wardrobe is really an eclectic assortment that ranges from boutique finds to department store investment pieces to T.J.Maxx steals. When I'm at school, though, it's all about online shopping: Tobi, Shopbop, ASOS, NastyGal…I love them all."
How would you describe your sense of style? "I certainly like to look trendy and current but there's also a part of me that loves the simplicity of a great pair of jeans and a flattering t-shirt. I like neutral tones (anything beige especially), leather, and minuscule details. You'll never see me in small floral patterns or the color purple. I like to push the envelope but with an elegant edge, always."
Why did you choose this particular outfit? "Well, these pants have been a go-to item for me lately. My mom actually picked them out for herself and insisted I get a pair, too. She has a way of choosing things for me that I would never select on my own, but they almost always become instant favorites when I put them on. These pants are so fun in place of basic black leggings and are comfy for hanging out around campus. I love bones and skull motifs so this shirt was an obvious pick, and I liked it paired with the pants. I added this moto jacket because it is the perfect topper for this weather and it complements my olive combat boots."
What fashion advice would you give to other students looking to improve their style? "Don't just buy the first thing you see on a mannequin. Use your imagination, wear what makes you feel good, and dare to be different! Start off by setting aside time to create one really thought-out outfit a week and remember how good it makes you feel when you wear it. Eventually, you'll want to put in that effort every day. You'll not only look stylish but feel fabulous, too."
Do you have any favorite fashion designers? If so, who? "If I could afford pieces from any designer, I'd go for Chloé, Stella McCartney, Balenciaga, and Cushnie et Ochs."
What do you do for fun – do you have any unique hobbies or interests? "Apart from being a compulsive shopper, I love to write, dance, read, and exercise. I'm obsessed with weddings, interior design and my dog, Teddy."
If you could raid anyone's closet, who would it be and why? "Victoria Beckham and Nicole Richie. They have very different styles but I love them both. I fawn over Nicole's boho-chic look and Victoria Beckham is the epitome of modern elegance. I wouldn't mind dipping into Victoria's Birkin collection either!"
Elements of Steph's Outfit
1. Military Jacket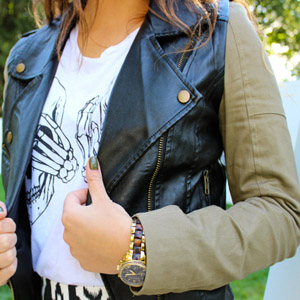 Many designers used varied military elements during New York Fashion Week last spring, and the trend has caught on in a big way. As you can see, Steph is looking very "right now" in her contrast sleeve military jacket (double trend points) from Tobi. The black in Steph's jacket matches her shirt and leggings, tying the whole outfit together.
2. Arm Candy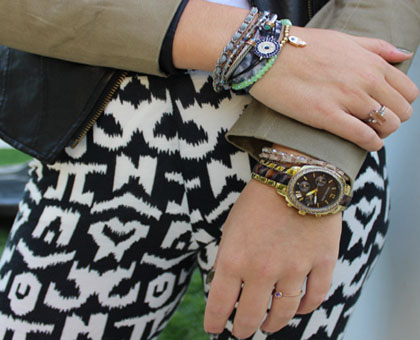 I'm obsessed with Stephanie's personal and varied jewelry: Each piece has its own special meaning to her. From her tortoiseshell watch to her 'evil eye' symbolic bracelets, Stephanie is all about mixing and matching jewelry, no matter the color or design. She wears most of these bracelets every day, she explained, because they are a part of her personality and mesh with most outfits. Silver and gold mixes have been trending, so don't be afraid to mix metals for an eclectic look like Stephanie's.
3. Patterned Pants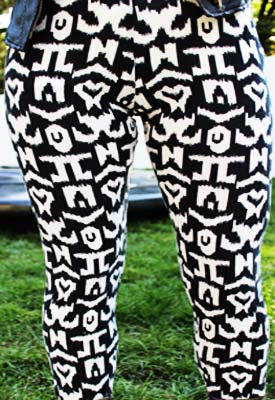 Patterned pants have been quite popular over the past few years, but the trend is perhaps at its hottest right now. Stephanie was lucky to find these bold black and white pants at Forever 21. Patterned pants like hers make a bold statement on their own, so they're easiest to wear with simple tops in neutral tones. For black and white pants, though, introducing a bolder color in your top would also work nicely to spice up the outfit.
4. Combat Boots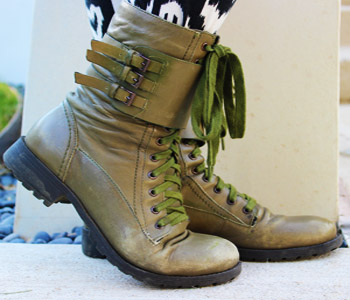 Combat boots (like our fave Doc Marten 1460s) give you a feeling unlike any other style of shoe. If you're a frequent wearer of these bad-boys, you know exactly what I'm talking about. They have the ability to make you feel grungy, yet sexy, and timeless, yet fashion-forward.
As I mentioned earlier, military-inspired looks are very "in" right now, and Stephanie is right on trend with her lace-up boots (which she purchased at Solestruck). The green laces match the sleeves of her jacket to create a cohesive look.
Your Thoughts?
What do you think of Steph's look? Have you added patterned leggings to your wardrobe yet? How do you incorporate the military trend into your wardrobe? Let us know with a comment!